On March 14th, Dexcom users were pleasantly surprised to find a new software update availability for the Dexcom G5 Mobile app. The release notes mention that the Dexcom G5 fully supports Apple Watch compatibility for the first time. In addition, they added a Watch Glance view and a quick-launch Complication.
Prior to the software update, Apple Watch users had to use a workaround by using the separate Dexcom Follow app to view their sugars on their wrist.
In addition, the update brings a Today View widget for the iPhone, so non-Apple Watch owners get some goodness as well. See below for a description of these new features.
Apple Watch Glance View
For quicker access to view your blood sugar, the G5 Mobile Apple Watch app has a "glance view" so users can swipe up on their watch face to instantly pull up an instant look at their sugars. Having such valuable information just one swipe away is powerful.
Apple Watch Complication
As complications often do (heh heh), the G5 Mobile's Apple Watch complication disappoints. Unlike the watchSugar app which directly displays your glucose reading and trend arrow directly on the watch face, the official Dexcom G5 complication only has a static shortcut to the watch app. As such, it's virtually useless because the previously discussed "glance view" is faster and more graceful.
iPhone "Today View" Widget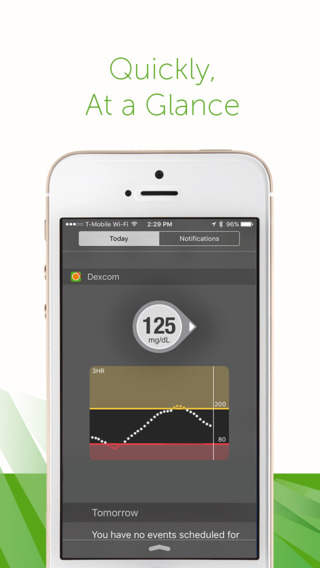 Similar to the Apple Watch "glance view", the "Today View" widget allows users to view their live G5 reading on their iPhone by swiping down from the top of their lockscreen.
With the latest software update to the Dexcom G5 Mobile app for iPhone and Apple Watch, there's a whole lot to like.
Feature Request for Dexcom: please add a live-updating watch face complication!