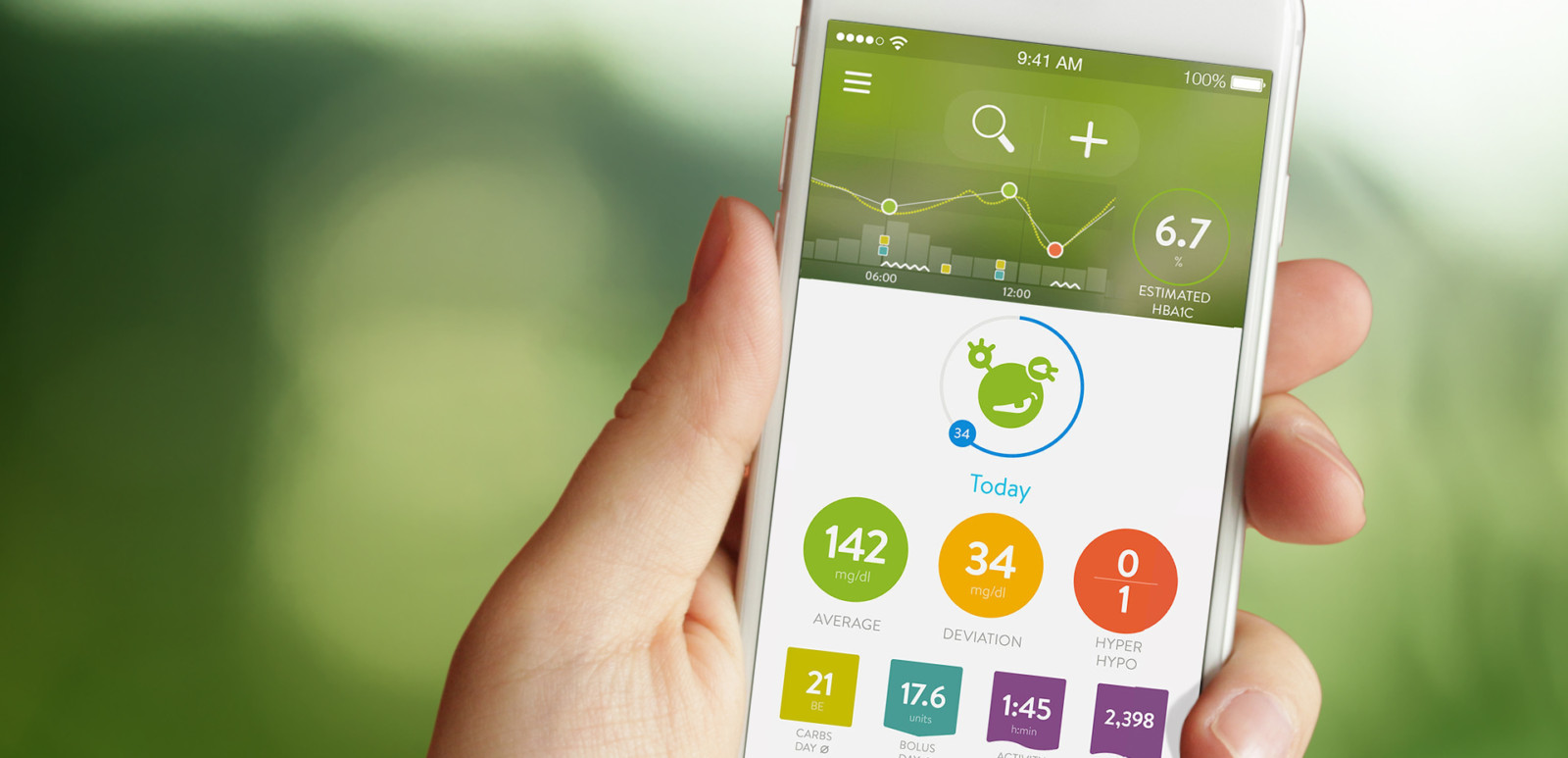 The App Store is crowded with diabetes apps for both iPhone and Android, but how do you know which ones to choose? That's why we tested them out and created a list of our favorites.
MyFitnessPal (iPhone, Android) – For Tracking Nutrition/Carbohydrates
MyFitnessPal (Free) is the most popular health app of all time, and for good reason! It has the largest searchable food database, with over 5 million different items, from home-made recipes to fast-food chains and restaurants.
But it's also one of the best diabetes apps available. Users can track their nutrition for the purpose of weight-loss and/or counting carbohydrates. It's like carrying a Calorie King guide in your pocket, but it's searchable and constantly updated.
To simplify the hassle of logging food, MyFitnessPal can even use your smartphone's camera to scan barcodes and instantly record nutrition information!
MySugr (iPhone, Android) – For Monitoring Diabetes
Built by a team of people with diabetes, MySugr (Freemium) is an adorable app that helps users log their sugars, carbohydrates, and medications. This app features statistics and graphs, including an estimated hemoglobin A1c that updates as you record your sugars.
Like all the other diabetes apps in this article, MySugr includes support for Apple Health, meaning that glucose data can be imported automatically from newer wireless glucose meters like the Accu-chek Connect.
For $2.99 each month, Pro Mode adds reminders to check your blood sugar and the option to generate PDF and excel reports for your doctor's visits.
Diabetes Kit (iPhone, Apple Watch) – For Monitoring Diabetes
Similar to MySugr, the creator of Diabetes Kit (Freemium for iPhone) built the app on his own to help keep track of all his various numbers such as sugars, medications.
The unique aspects of Diabetes Kit are its companion Apple Watch app and its number-driven user interface, with multiple useful graphs and dashboards to help learn from your data. Unfortunately, unlike the other diabetes apps listed here, Diabetes Kit does not include a feature to estimate A1c.
Also similar to MySugr, $9.99 a year unlocks Pro Mode, which includes reminders and the option to generate PDF reports.
Sugar Streak (iPhone, Apple Watch) – For Motivation to Check Sugars
Sugar Streak (Free) is great for people who have a hard time remembering to check their blood sugar. During setup, users pledge to check their sugar anywhere from once to four times each day.
By recording their sugars and fulfilling their pledge each day, users build a sugar streak! As their streak gets longer without being broken, they earn points more quickly, and the points can be redeemed towards small prizes like gift cards.
Meanwhile, the app creates a glucose logbook with real-time statistics like estimated A1c, and can generate reports to assist with future doctor's visits. Unlike the previous two diabetes apps, Sugar Streak does not track activity/nutrition/medications.
Disclosure: I am the creator of Sugar Streak.
Conclusion
These are just a few of our favorite apps for managing the various aspects of diabetes. While using a diabetes smartphone app might not be for everyone, we think many of our readers will enjoy at least one of our suggestions.   The quality of diabetes apps have a come a long way from just a few years ago, and they should only continue to improve!