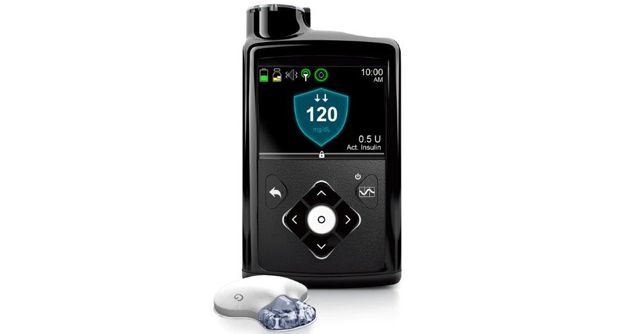 So you've read all the headlines about an artificial pancreas and how it's supposed to change the world for diabetes, but what does it really mean? We understand the skepticism… Remember: Medtronic previously claimed to have released an artificial pancreas system back in 2013.
But this time, the Medtronic 670G actually is a big deal. It's a major step forward towards the artificial pancreas, and scientific studies back up its bold claims. (Note: it is NOT a true artificial pancreas, though)
But instead of repeatedly saying how important it is, we're going to tell you exactly why it matters.
An "artificial pancreas" is like a "self-driving car"
The quest toward an "artificial pancreas" closely parallels that of the "self-driving car." The names do a good job in describing their futuristic vision, so long as you understand that the pancreas is the body organ that produces insulin. (In Type 1 diabetes, the pancreas no longer functions properly and stops making insulin, causing blood sugar to go out of control.)
So continuing the comparison, having Type 1 diabetes is like owning a car with just an engine; no steering wheel or brake. Not good. Thanks to modern medicine, people with diabetes have the opportunity to "drive their car" by checking their blood sugar and injecting insulin appropriately.
Much like a self-driving car, a true artificial pancreas would be an autopilot for navigating the highs and lows of blood sugar. With an artificial pancreas, the user would not have to devote any effort to controlling their blood sugar. It would take care of itself, just as a self-driving car would get you from point A to point B on its own.
But now the next question…
Is the Medtronic 670G an artificial pancreas?
No, but it's halfway there. If a true artificial pancreas is like an autopilot for self-driving cars, the Medtronic 670G is similar to "adaptive cruise control." (If you don't know what that is, adaptive cruise control allows a car to automatically accelerate and decelerate to maintain a safe distance from the car in front of it). If you want to drive on a straight stretch of road without making any lane changes, adaptive cruise control requires virtually no user interaction.
Similarly, the Medtronic 670G's breakthrough feature adjusts basal insulin delivery (by speeding it up or slowing it down) to maintain a normal blood sugar of 120 mg/dL. It might not be as obvious during the day with meals and periods of exercise, just as adaptive cruise control plays a more subtle role when making many turns during city-driving.
But overnight and between meals is when the 670G's adaptive cruise control truly shines, when circumstances are relatively stable, without the need to "change lanes" for meals or exercise. And keep in mind, unlike a car that you only use for trips, people with diabetes live with their disease 24 hours a day, 7 days a week. So a significant portion of their day is spent during those in-between and overnight periods.
Medtronic 670G's "Adaptive Cruise Control" Works
Studies have clearly shown that wearing the 670G improves sugar control by reducing time spent in both high and low blood sugar range and lowered average A1c from 7.4% to 6.9%.
People who have worn insulin pumps with "dynamic cruise control" features particularly rave about its benefits on improved sleep overnight. Restful sleep is a big deal (and why mattress/pillow companies make a killing!), and it's even more elusive with Type 1 diabetes due to the fear of overnight hypoglycemia or hyperglycemia. It's not uncommon to be woken up several times a week in the middle of the night to check blood sugar or to have to eat a snack to avoid hypoglycemia. And even when sleep is not interrupted, waking up with higher or lower sugars than desired can start the day off with a thud.
As you can see in the graph above, adults using the 670G algorithm (highlighted in red) had a much narrower range of blood sugars, especially at night, when compared to standard pump users (the shaded grey area). They also headed into their mornings closer to target, and with a more stable glucose trend.
Medtronic 670G is just the beginning…
The top reason we're excited for April 2017 (when the Medtronic 670G becomes available) is that it is just the first of a wave in the movement towards a true artificial pancreas.
While Medtronic has the advantage of manufacturing both its CGM and insulin pump, many future competing artificial pancreas systems are partnering with Dexcom's highly rated, iPhone-compatible continuous glucose monitors.
The long list of such artificial pancreas systems includes a variety of approaches such as Bigfoot's iPhone-based user interface, the more altrustic public benefit company BetaBionics' iLet, and collaborations between Tandem and TypeZero.
These projects are in various stages of advanced development, most of which are being currently worn and tested in clinical trials and research labs. The initial feedback of test subjects has been exceedingly optimistic, and the future of the "self-driving" artificial pancreas is just around the corner.
No matter which company (or companies) win, the type 1 diabetes community is the biggest winner.
Stay tuned for more coverage of the Medtronic 670G and other artificial pancreas devices…