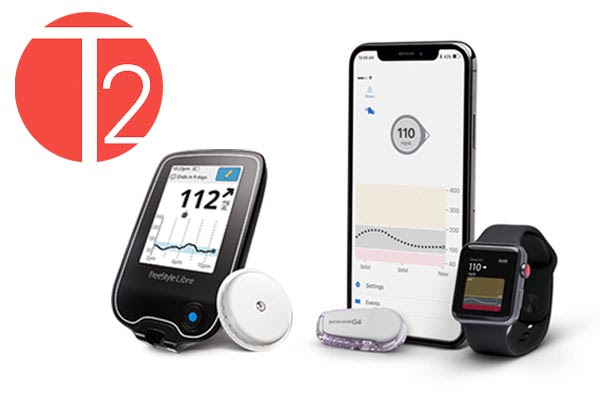 Glucose monitoring has come a long way from urine kit testing in the 1950's to home glucometers with finger pricks in the 1980s to continuous glucose monitors (CGM) in the 2000s. Wait a minute – what is a continuous glucose monitor and why haven't I heard about it yet? CGMs have been around for a while now, but have been used much more frequently in type 1 diabetes. However, in 2018, there are now plenty of great options for CGMs for type 2s!
3 Parts of a CGM:
1. A glucose sensor:
This is inserted under the skin. It's a small wire about the size of a tiny piece of hair that is inserted under the skin. It checks the glucose in the tissue under your skin every 1-5 minutes. The sensor is worn on the skin for 7-10 days. You can't feel it under your skin and it can even be worn in the water (shower, pool, ocean, etc.)
2. A transmitter:
This is attached to the sensor on the outside of the skin. It transmits information to a receiver, smart phone, or Apple watch.
3. The receiver:
This collects and displays the glucose data on a screen. The receiver may look similar to the glucose meter you are used to carrying. For some CGMs, a smartphone or Apple watch can also be used as the receiver.
3 Types of CGMS: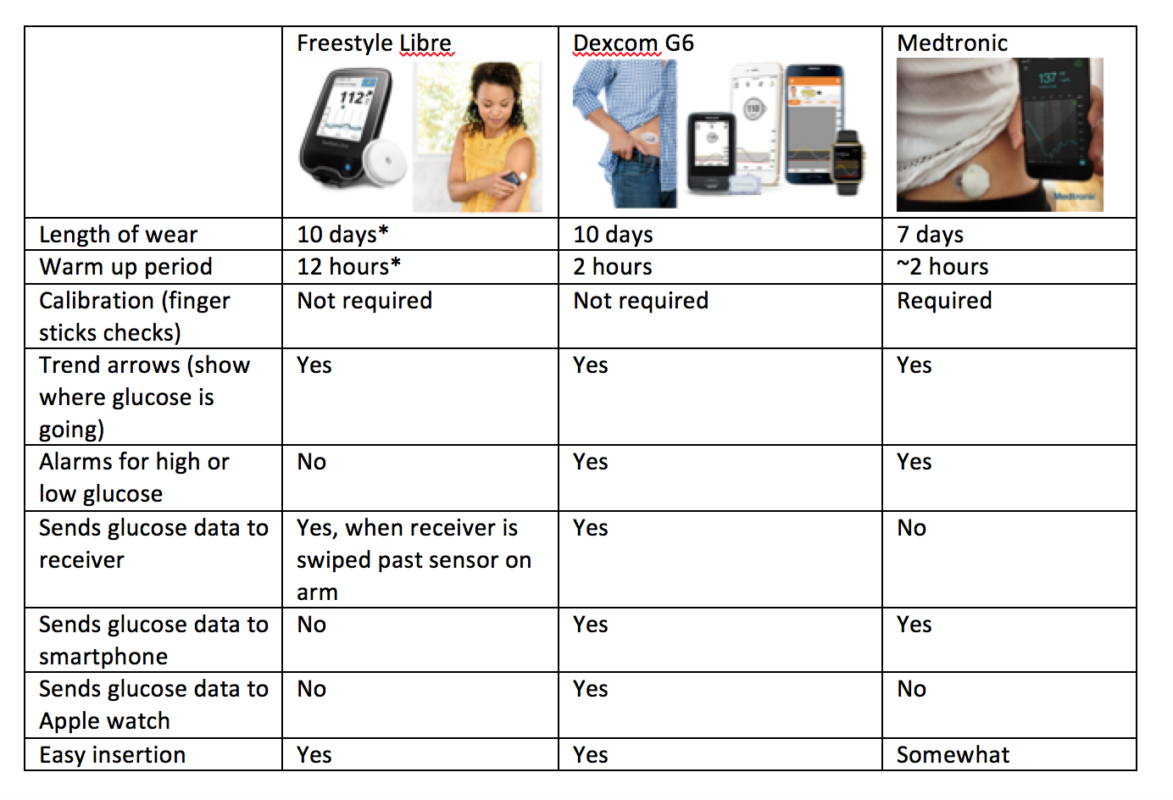 In my opinion, the advantages of CGM outweigh the disadvantages, but let's talk about both. CGM is expensive if it is not covered by your insurance, so you should check this out with your insurance company. CGM is now covered by Medicare for patients who are on multiple injections of insulin daily. Some people fear they will have issues with the adhesive used to keep the sensor on the skin. Most people actually tolerate this just fine. If you do have adhesive issues, talk with your healthcare provider (HCP) about barriers you could use to help. Some patients are also worried about the appearance or what to do during times of intimacy. However, the current CGMs are quite small and usually do not bother most people.   While the package inserts will suggest wearing the CGM on your stomach or arm, you can talk to your HCP about other areas that may work better for you.
The Benefits of a CGM:
It turns out the CGM can actually lower your A1c without changing your medication. Wow, great news! This can happen because by paying attention to data from your CGM, you can learn about which activities and foods are best for your blood sugar.
No more messy, painful finger sticks! That is, of course, if you are talking about the Libre or Dexcom CGMs (Medtronic still requires finger sticks.)
Trends…and we aren't talking fashion here folks. Your CGM can tell you where your glucose is going. This can be very helpful to avoid serious lows and highs with certain foods or activities. It can even help change your medication dosing if you are on insulin. Talk to your HCP to get more information about how to use these arrows.
Alarms…the good kind! Alarms on the Dexcom and Medtronic CGMs can alert you to a low or high blood glucose before it gets in the danger zone.
Having all of this information at your fingertips can absolutely help you Take Control of Your Diabetes. Don't forget that some folks are a bit surprised at what they see when they first start wearing a CGM. For example, your numbers may look pretty good most of the time if you are only checking fasting glucose first thing in the morning. So it may be eye-opening to see what actually happens throughout the day. Also, remember that your number on your CGM will not exactly match the number on your meter if you prick your finger. Not to worry. It turns out that both meters and CGMs have a margin of error. This means that the numbers you see may not be the exact number, but rather more of an estimation. And meters aren't perfect either, so you should not be surprised if the numbers do not match perfectly.
Overall CGM is a wonderful new technology that can really help make both your life, and your diabetes management, easier. Stay tuned – even more advances in home glucose monitoring are on the horizon!
*The Libre just received FDA approval for 14 day wear time and 1-hour warm up, so look for the upgrade coming soon.