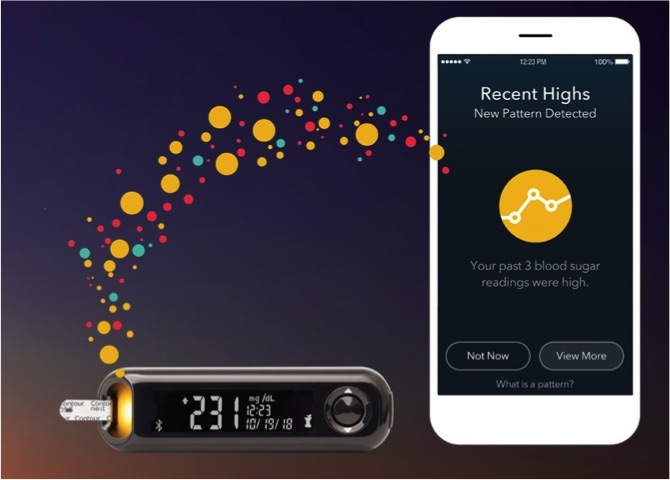 Diabetes management today is primarily based on self-management, so it is critical that people have the tools that can help them better manage their diabetes and use the blood glucose data from their meter in a smarter way. That is why the CONTOUR®NEXT ONE blood glucose monitoring system (BGMS) has been specifically designed to meet the needs of people in the new age of smart diabetes management.
The system has two parts: the wireless-enabled CONTOUR®NEXT ONE smart meter and the CONTOUR®DIABETES app which can be downloaded onto a compatible* smart mobile device. The meter has been designed to be highly accurate and seamlessly connects to the CONTOUR® DIABETES app using Bluetooth® technology. The app collects, stores and analyzes the blood glucose measurements received from the meter, to give insights and recommendations that can help people manage their diabetes in a better way.
SUPPORTING BETTER TREATMENT DECISIONS WITH HIGH ACCURACY
For a person with diabetes, the accuracy and quality of the blood glucose readings they collect are important. If blood glucose readings are accurate, it means that the person with diabetes can be confident that they can base their treatment decisions on the number they see on their meter.
The CONTOUR®NEXT ONE is the most accurate system developed by Ascensia Diabetes Care to date. The system has been shown to produce highly accurate blood glucose readings, with 95% of results within ±8.4 mg/dL or ±8.4% of the laboratory reference values for glucose concentrations < 100 mg/dL or ≥ 100 mg/dL, respectively, when tested in patients with diabetes via subject obtained fingerstick results.[1]
FEATURES TO SUPPORT PATIENT NEEDS
The meter also includes features that have been specifically designed to meet patient needs and help them manage their diabetes more effectively.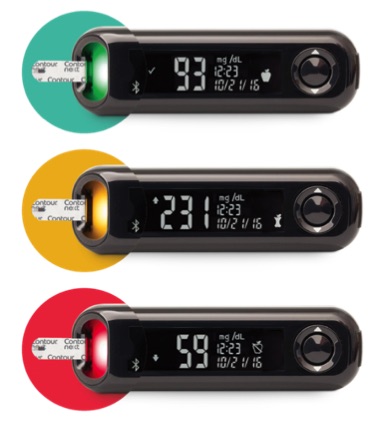 Second-Chance™ sampling may help minimize waste by giving patients 60 seconds to reapply blood to the same test strip. The meter prompts blood to be reapplied to the same strip if there is not enough the first time.
The smartLIGHTTM feature gives instant feedback on blood glucose readings, comparing a result with previously agreed-upon and set target levels. The light on the meter illuminates green for within target range, yellow for above target range and red for below target range. The light also shows successful pairing between the meter and app and can be used for low-light testing.
EFFECTIVE SELF-MANAGEMENT, ENABLED BY TECHNOLOGY
The latest version of the CONTOUR®DIABETES app includes the new My Patterns feature, which provides smart diabetes management support.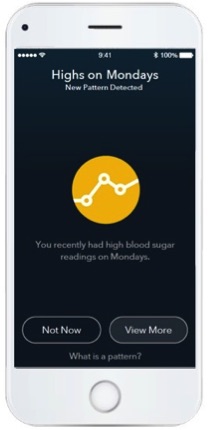 This feature uses innovative algorithms to more intelligently analyze blood glucose results from the meter. The result is personalized meaningful feedback for people with diabetes that is designed to help them improve diabetes self-management and maintain positive lifestyle changes.
The My Patterns feature works by reviewing the blood glucose readings received from the meter to identify patterns in their readings that could advise a person to manage their diabetes differently. Once it has notified the person about the pattern, the app will suggest possible causes and make suggestions about how to make positive changes. The pattern could be due to food, exercise or treatment, so it allows patients to set personalized reminders or use testing plans to help improve their blood glucose readings, and it tracks their progress to see if the pattern improves over time.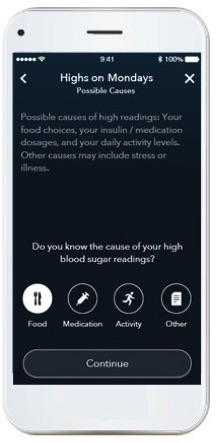 This new feature takes the mobile diabetes management app beyond just an electronic log book. By identifying sub-optimal patterns and enabling people to make changes to address the causes, it can provide real value to people with diabetes. It can help people with diabetes stay on track between visits to their doctor and can provide meaningful information for more informed consultations.
Overall, the combination of the CONTOUR®NEXT ONE smart meter and the CONTOUR®DIABETES app are a real advance in patient care for diabetes. It is a user friendly system that helps people gain meaningful insights about their diabetes based on meter readings that have been shown to be highly accurate, and the system supports persons with diabetes to make changes to improve their self-management. The CONTOUR®NEXT ONE meter is available through commercial insurance, through Medicare Part B or at an affordable over-the-counter cash option, and can be found at all major retailers and independent pharmacies.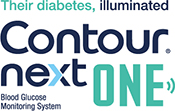 Ascensia Diabetes Care will be featuring their CONTOUR®NEXT ONE meter at ONE: The Ultimate Conference & Retreat for Adults with Type 1, August 17th-19th in San Diego.  Stop by the Sponsor Lounge for more information on their full line of diabetes care devices.
[1]Christiansen M et al. J Diabetes Sci Technol. (2017) 11;3:567-573
*For compatibility information please go to: http://compatibility.contourone.com