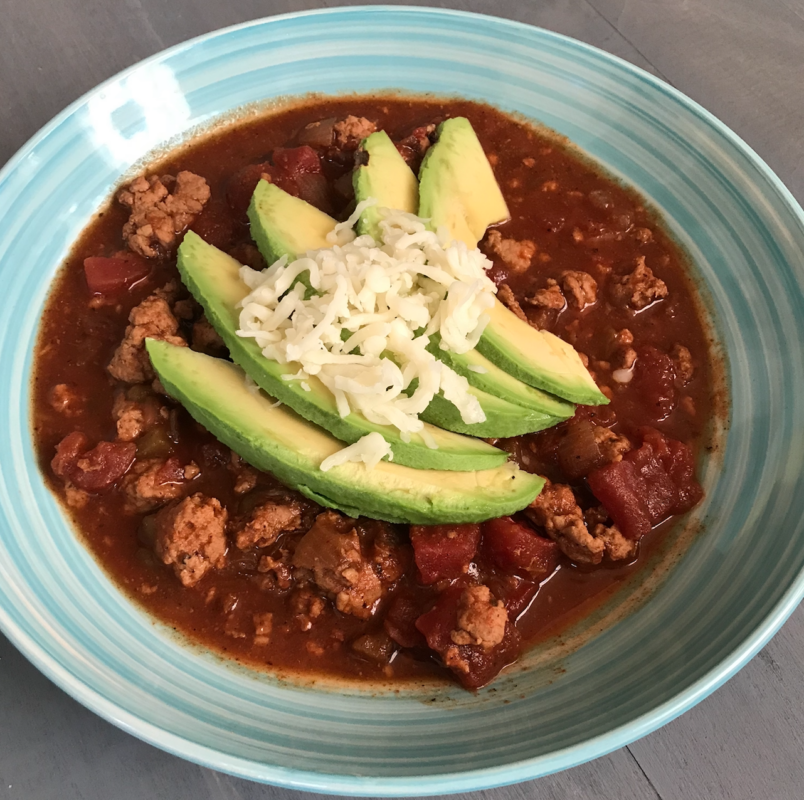 As fall begins to roll in and the weather starts to cool down, this chili will keep you warm and keep your blood sugars in check!
Servings: 4
Ingredients:
1 lb ground turkey
1 cup chopped onion
2 Tbsp minced garlic
1 15-oz can diced tomatoes (with liquid)
1 6-oz can tomato paste
1 4-oz can green chiles (with liquid)
1 Tbsp Worcestershire sauce
3 Tbsp chili powder
1 Tbsp cumin
1/2 Tbsp dried oregano
2 tsp sea salt
1 tsp black pepper
1 avocado (optional)
1 cup shredded mozzarella cheese (optional)
Directions:
Brown onions in a non-stick skillet for about 5 minutes.
Add garlic and turkey to onions. Break apart turkey and cook until browned.
In crockpot, add all ingredients except avocado and mozzarella. Mix in skillet contents as well.
If you'd like your chili done a little more quickly, cook on high for 3-4 hours. If you have time, cook on low heat for 7-8 hours.
Once chili is done, cut avocado into slices.
Divide servings into bowls and place ¼ avocado and ¼ cup mozzarella on top of each bowl.
Nutritional info (with optional avocado and mozzarella) for 1 serving:
Calories: 350, Fat: 13g, Carbs: 21g, Protein: 39g