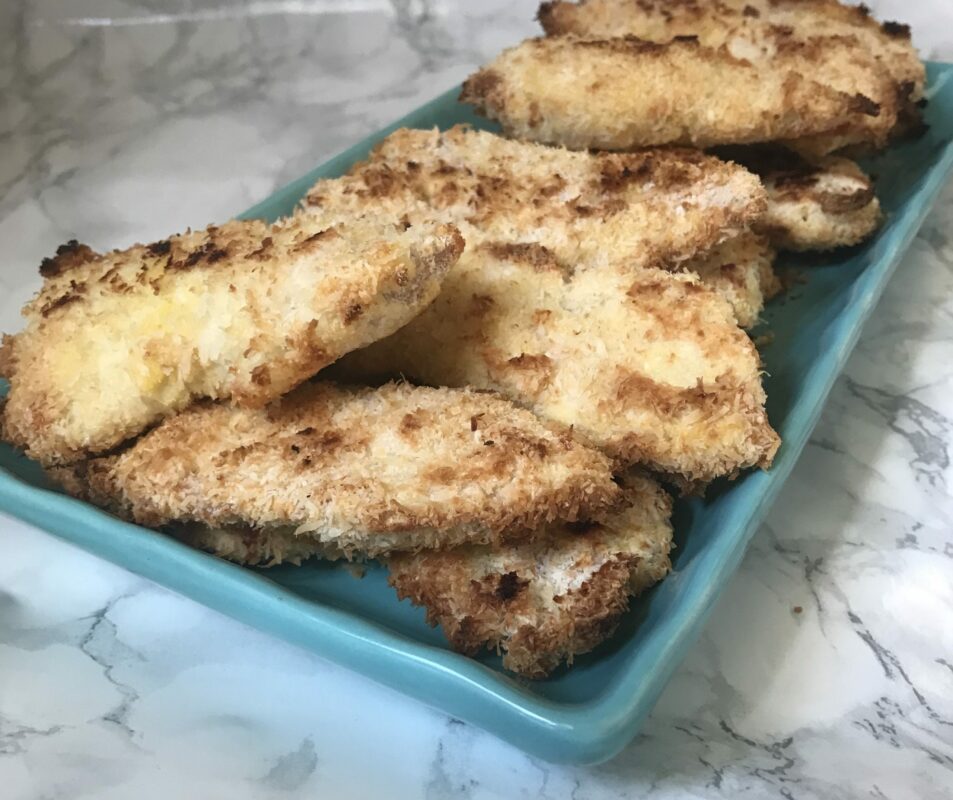 This is an awesome twist on an old favorite, with less carbs and more flavor!
Servings: Makes (4) 4oz servings
Ingredients:
1lb. chicken breast
1 cup shredded coconut
½ cup coconut flour
2 eggs
pinch of salt and pepper
parchment paper (if desired)
Directions:
Preheat oven to 400 F.
Slice chicken breast into thin strips.
In a bowl, beat two eggs.
In a bowl or on a plate, mix coconut flour with salt and pepper. Put shredded coconut in a separate plate or bowl.
For each piece of chicken breast, follow this sequence:

Roll in coconut flour until completely covered.
Immerse in beaten eggs.
Roll in shredded coconut until completely covered.
Place on a parchment paper covered pan (or non-stick pan if preferred).

Bake for 10 minutes, remove from oven, flip tenders, and bake for another 2 minutes or until golden brown. Thinner sliced strips will take less time, while thicker strips will take longer.
Enjoy!
Alternatively, for a crispier tender, these can be fried in coconut oil on the stove.
Nutritional Info (per 4oz serving):
calories: 286, fat: 12g, carbs: 11g, protein: 32g