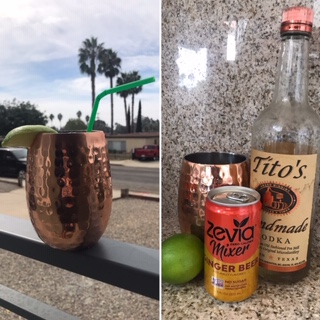 I've always loved Moscow Mules, but they can be a nightmare on blood sugars. The main mixer is ginger beer, which typically contains a ton of sugar.
So, when I was in the soda aisle of my local grocery store, looking at different Zevia flavors that may be a good mixer, I was ecstatic to see that Zevia started making mixers for drinks! And what do you know? They had a zero sugar ginger beer! Typically I look for low sugar mixers in the alcohol aisle, so I was surprised to find them in the soda aisle. Should you be looking for these cans, I would recommend checking both the soda and mixer aisles. Stores that already carry Zevia will be the most likely to have them.
This recipe is easy and super tasty!
Servings: 1
You will need:
1 lime
1.5 ounces vodka
1 can ginger beer
Ice
Optional: Copper cup
Directions:
Start by cutting the lime into four pieces. In your cup, mix the vodka and ginger beer with half of the lime (2 pieces), squeezed. Add ice until the cup is full and mix again. Use ¼ of the lime to garnish, by placing on the rim of your cup.
And that's it!  Enjoy!
-Megan, The Diabetic Bartender
Nutrition Info (for one serving):
Calories: 118, Fat: 0g, Carbs: 4g, Protein: 0g