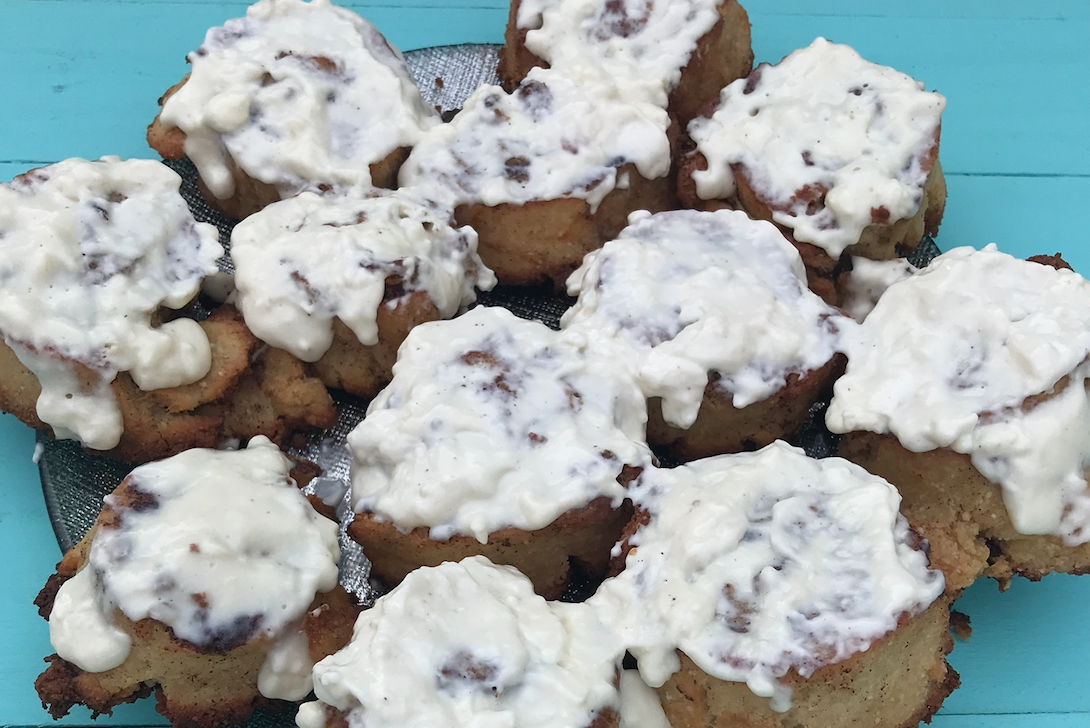 Ingredients:
Dough:
2 cups mozzarella cheese, part skim, shredded
3 ounces cream cheese
2 eggs
1 tsp vanilla extract
1/2 tsp vanilla liquid stevia (regular can be substituted if you do not have vanilla)
3/4 cup coconut flour
1/2 tsp gelatin
1/4 tsp salt
1 tbsp baking powder
1/4 tsp stevia sweetener
Cinnamon "Sugar":
1/2 cup butter, melted
½ tsp stevia sweetener
2 tsp cinnamon
Cream Cheese Frosting:
3 tbsp heavy cream
3 ounces cream cheese
1 tsp liquid stevia
1/2 tsp vanilla extract
Directions:
Preheat the oven to 400 degrees F.
Combine the mozzarella and cream cheese and melt together on the stovetop on low heat. Stir until smooth.
Add the remaining dough ingredients, with the coconut flour being last. Slowly mix in the coconut flour.
Place the dough on a piece of parchment paper and top with another sheet of parchment before rolling out.
Slice dough into 12 strips.
Combine the melted butter, stevia and cinnamon. Pour about half over the dough slices.
Roll dough slices into individual buns, and place on a non-stick, or lined pan. Pour the rest of the butter mixture over the top of rolls.
Bake 15-18 minutes.
To make the frosting to top the rolls, microwave the cream cheese for 30 seconds – 1 minute to soften. Using a hand blender or small blender, mix the cream cheese, heavy whipping cream, liquid stevia, and vanilla. If you would like a runnier consistency, add a small amount more of the whipping cream until desired consistency is reached.
Once rolls are out of the oven, spread frosting over the rolls.
Enjoy!
Nutrition Facts:
Calories: 232, Fat: 19g, Carbs: 6g, Sugars: 1g, Protein: 7g