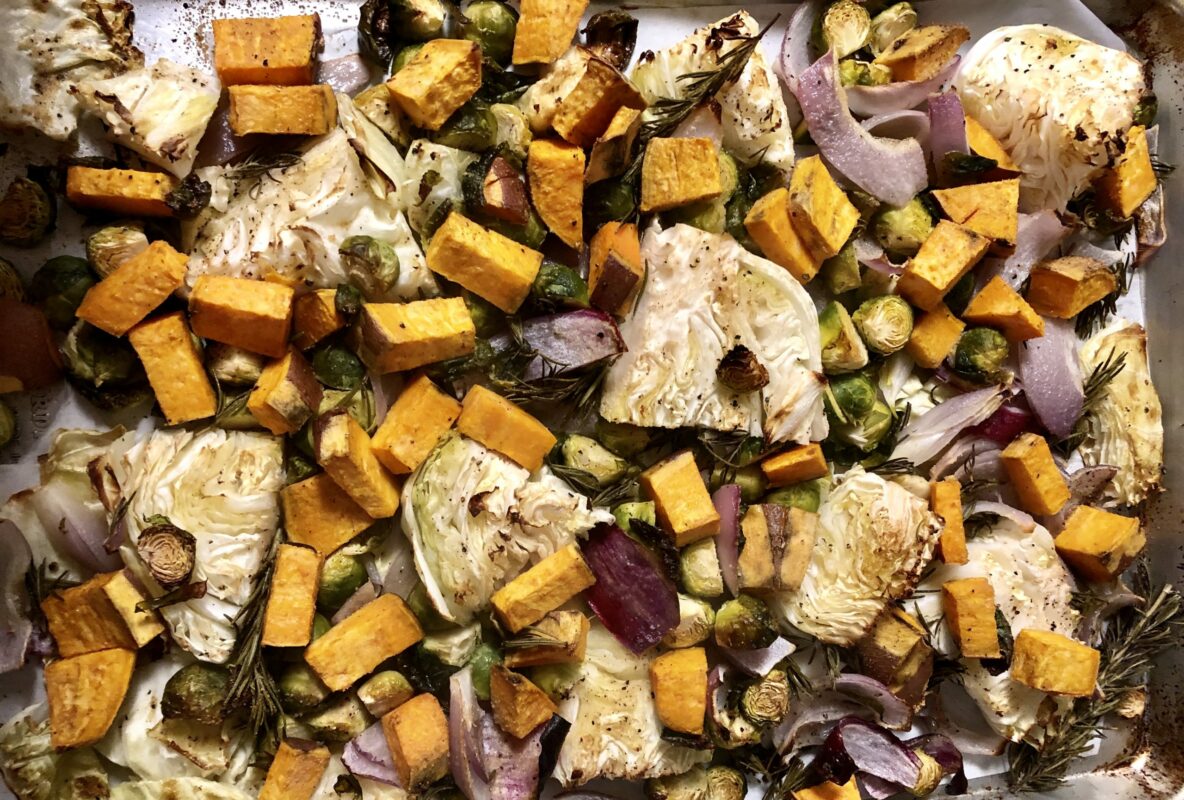 Cooking seasonally is not just instinctual at times, but can also be more affordable as well. For this meal, we used winter vegetables to create an aromatic platter of delicious roasted veggies. These can be enjoyed solo, or as a side to your favorite main dish.
Ingredients:
1 small head of green cabbage
1 large purple onion
~1 lb of Brussels sprouts
1 large sweet potato
5 sprigs fresh rosemary
¼ cup avocado oil (or olive oil)
salt, pepper, and garlic powder to taste
Directions:
Preheat oven to 400 degrees.
Start by chopping the head of cabbage into manageable chunks. I ended up dividing the head into about 8-10 pieces.
Trim and slice each Brussels sprout in half.
Chop onion into large petals.
Chop the sweet potato into bite sized chunks.
Spread out all the veggies on a large sheet pan (you may choose to line with parchment paper).
Drizzle with avocado oil and mix/toss veggies by hand until they are evenly coated lightly with oil (adjust as needed depending on your exact amount of veggies).
Sprinkle with salt, pepper, and garlic powder. I LOVE garlic, so I used the garlic powder quite generously.
Strip some of the rosemary from the sprigs and sprinkle evenly over the pan, leaving 2-3 sprigs whole, placed in the pan amongst the veggies.
Roast for ~40 minutes, or until tender.
If you're a veggie lover like me, a plate of these veggies could easily be its own hearty meal. If you have a main dish prepared, this is the perfect accompaniment as well!
Leftovers keep well in the fridge for several days. You could even heat and blend them with stock to make a roasted veggie soup!