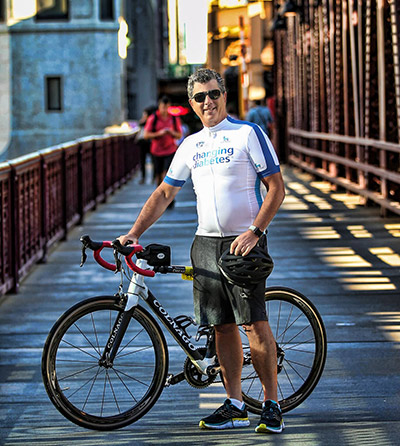 Financial analyst David Kliff started Diabetic Investor – the ultimate information source on the business of diabetes – over 20 years ago after he was diagnosed with type 1 diabetes. He began educating himself about the disease and, bringing his unique perspective as both a patient and an analyst, blazed the trail with Diabetic Investor as there were no other information sources at that time devoted exclusively to the diabetes industry.
David began participating in triathlons a number of years ago "basically because [he] was nuts" and he never looked back. After his wife passed away, he put a new emphasis on why he continued participating in these events and how he could help other people. David decided that with each race he would raise money for a worthy charity. He has done so for organizations supporting lung cancer, colon cancer, cleft palate and breast cancer and felt it was time to raise money for diabetes and specifically for Taking Control Of Your Diabetes (TCOYD).
David will be participating in his 8th triathlon on March 31, 2019 at the Lavaman Triathlon in Hawaii. He will be raising money for TCOYD in support of our mission to improve the lives of people with diabetes through education, motivation and empowerment.
To support his efforts and TCOYD, please visit: TCOYD.org or DiabeticInvestor.com.