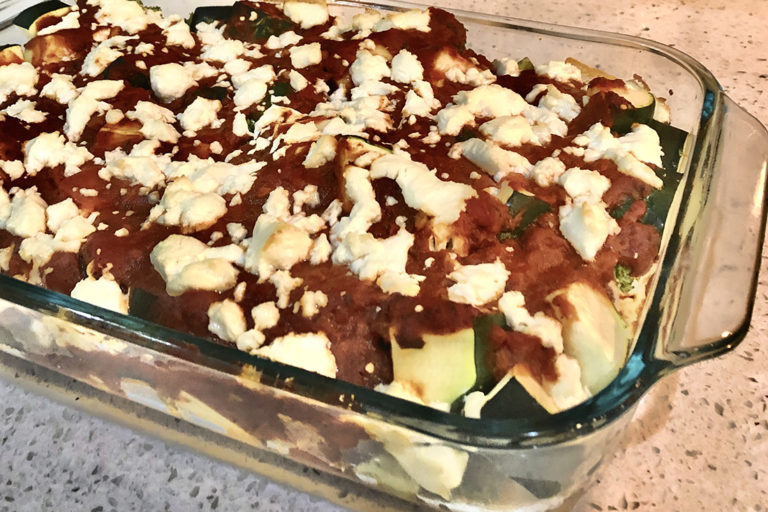 This recipe only takes about 10 minutes to prep and 30 minutes to bake. It's quick, easy, and affordable!
Servings: 6
Ingredients:
12 oz bag pre-washed/cut broccoli florets
1/2 large cauliflower head, chopped (you can also purchase this pre-washed/chopped but it happened to be less expensive to buy the full head so we chopped it ourselves)
1 large zucchini
32 oz tomato sauce of choice (try to get one with no added sugar!)
5-6 oz goat cheese (we purchased an 11 oz log of goat cheese and used about half)
Directions:
Preheat oven to 350 degrees F
Lightly spray a 9×13 baking dish with non-stick spray/cooking oil (not necessary but recommended)
Slice zucchini into about 1″ thick slices, and quarter for large chunks
Chop cauliflower (if not pre-cut)
Add all veggies to baking dish
Pour entire jar of sauce evenly over veggies
Break apart goat cheese and evenly distribute on top of dish
Bake for 30 minutes
Season with salt/pepper to taste
Note: You may opt to add garlic powder or Italian seasoning at any stage of preparation, and you can substitute any vegetables you like (mushrooms, onions, etc).
Estimated Nutritional Info for 1 serving (will vary depending on ingredients used):
Calories: 204, Fat: 3g, Carbs: 20g, Protein: 10g, Fiber: 7g, Sugar: 10g