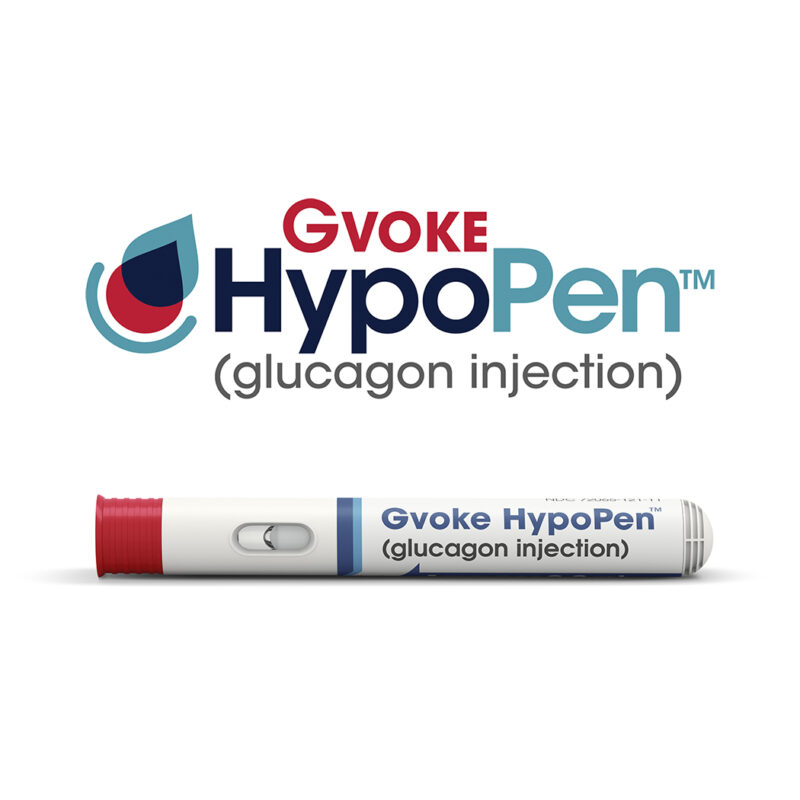 Information on Gvoke for Healthcare Providers
Patient and provider discussions around how and when to treat severe hypoglycemia with glucagon have not historically been a priority. This discussion has been challenging due to time constraints, competing management priorities, and the complex nature of traditional glucagon delivery. Frequently the topic isn't addressed until the patient experiences a severe event, and then only if they tell the clinician about it. Yet in a typical year 30-40% of persons with type 1 diabetes experience 1-3 severe lows and 1 in 5 persons with type 2 diabetes using insulin experience at least 1 severe low.1,2 Severe hypoglycemia occurs at all ages, level of glucose control, and duration of diabetes. Insulin pumps and continuous glucose monitoring (CGM) have reduced the frequency of severe lows but not eliminated them.1,3,4  Why then do only 1 in 3 persons with diabetes say their provider brought up the topic of glucagon in a clinic visit?5  And why are there fewer than 660,000 prescriptions filled for glucagon each year? 6
Preparing patients to be ready and confident to manage severe hypoglycemia with carbohydrates or glucagon will keep patients safe and healthy. Fortunately preparing patients to confidently use glucagon became easier in the past year with the availability of new premixed formulations. Xeris Pharmaceuticals has just released Gvoke HypoPenTM the first premixed ready to use autoinjector.  With no visible needle and simple administration, the autoinjector requires little to no training and offers users the efficacy and certainty of delivery they need.
Severe Hypoglycemia Risk Is Ubiquitous
The American Diabetes Association Standards of Care recommend that all patients at risk for Level 2 hypoglycemia (BG <54mg/dL) be prescribed glucagon.7 This would include almost every patient on insulin in any combination, either with type 1 or type 2 diabetes. Even persons with type 2 diabetes on basal insulin and metformin have an elevated risk for severe hypoglycemia resulting in hospitalization or a visit to the emergency department. 8
Fear of hypoglycemia and severe hypoglycemia is identified as one of the primary reasons for therapeutic inertia—the failure to progress medication therapy when glycemic goals are not met. Patients tend to refuse or avoid intensification of insulin therapy for fear of hypoglycemia and will choose to "run high" to avoid hypoglycemia. In turn, providers identify hypoglycemia as a barrier to intensifying therapy and achieving optimal diabetes control.
Why does the glucagon discussion get delayed or not happen at all? We know severe hypoglycemia is always a life-threatening possibility. However, for nearly 60 years there were really only two treatment options for severe hypoglycemia: call 911 or use the traditional glucagon kit.  Educating and training patients and family members to use the intimidating 9-step glucagon kit has been fraught with challenges as providers and users alike wonder if glucagon could be successfully delivered in an uncooperative or combative individual.  Indeed, studies of glucagon administration with the kit show only 30% of users could deliver the full dose correctly. 9
New Normal: Glucagon Options That Meet Patients' Needs
Ready-to-use glucagon options provide patients and family members with a choice in how they prefer to use glucagon–an autoinjector, a prefilled syringe, nasal delivery, or the kit. This "new normal" for glucagon delivery in diabetes means persons with diabetes, family, friends and coworkers no longer need to be intimidated by a complicated regimen that, even when trained, can be quickly forgotten in a stressful emergency. Now decision-making discussions around glucagon can explore a patient's skill and confidence in a product's ability to provide the ease of use, reliability, and efficacy they desire.
What is very exciting is that ready-to-use options for glucagon delivery can better meet patient's individual needs than previously thought possible. Traditionally caregivers were taught to provide assistance treating severe hypoglycemia by delivering glucagon when an individual was unable or unwilling to consume carbohydrates, seizing, or passed out.  Yet persons with diabetes learn to recognize and analyze their own severe hypoglycemia symptoms and blood glucose responses to carbohydrate treatment.  Furthermore, they often have CGM technology to alert them to severe hypoglycemia that is stubbornly not responding. As a result, many individuals are choosing to self-administer glucagon before they require assistance. For example, Andrew Young, a busy executive with type 1 diabetes, has self-administered glucagon on at least two occasions. He knew his trend arrows were staying below 50 mg/dL and he chose to administer glucagon after no response from consuming extra carbohydrates. Andrew lives alone. Nearly one in three people in the U.S. live alone. Now that we have reliable ready-to-use versions of glucagon, health care providers can expand severe hypoglycemia treatment discussions to self-administration of glucagon.  This offers individuals the important confidence needed to manage severe hypoglycemia and improve health outcomes and quality of life.10
Gvoke HypoPen
On July 1st Xeris Pharmaceuticals announced the availability of another ready-to-use glucagon – Gvoke HypoPen. The Gvoke HypoPen autoinjector, like the Gvoke Prefilled Syringe (PFS), is indicated for the treatment of severe hypoglycemia in pediatric and adult patients with diabetes. Gvoke is available in two doses: 0.5 mg/0.1 mL for children ages 2 to under 12 years old who weigh less than 100 pounds and 1 mg/0.2 mL for adults and children who weigh 100 pounds or greater. Gvoke is easy to use because its premixed and ready-to-go. The 2-step administration process involves taking off the red cap and pressing the yellow end down on the skin for 5 seconds.
Studies With Gvoke HypoPen Show It Is:
A reliable method of delivery: 99% of people were able to use it correctly. 9 The autoinjector window turns red when the full dose is administered.
Proven efficacy: 99% of adults and 100% of kids in studies had their blood sugar raised to safe levels.11 The average maximum increase in blood glucose following Gvoke was 123 mg-176 mg/dL. 11
Since severe hypoglycemia can occur almost anywhere and anytime, most individuals and caregivers like the convenience of having glucagon not only at home but also in their purse, gym bag, at school or at work.  Both dose versions of Gvoke HypoPen are available as a two-pack and stable at room temperature for 24 months after manufacture.
Action Over Reaction
Persons with diabetes (PWD) have a life of constant preparation and necessity for readiness to act. We as health care providers can help to simplify their readiness to manage severe hypoglycemia in four steps:
Assess frequency of severe hypoglycemia with the PWD and their loved ones. ADA Standard of Care suggest that hypoglycemia should be assessed at every patient visit.7 Assess where, when and how severe hypoglycemia occurs and is managed.
Discuss and inform on available options for treatment including when to use glucagon, how to use it, and what to do afterward. Recognize that some PWD should know how to self-administer if desired. Make sure loved ones are trained.
Share in decision making with PWD and their loved ones in determining which glucagon option is best for them. Do they prefer an autoinjector option without a visible needle? Do they need to see the product delivered in a syringe? A powder through the nose? Patient and loved ones comfort and confidence is crucial to successful outcomes.
Prescribe the glucagon formulations that meet the patient's needs and preferences. The ADA Standard of Care recommends that if a patient is at risk for stage 2 hypoglycemia (BG <54mg/dL) they should be prescribed glucagon.7
For more information on Gvoke HypoPen go to https://www.gvokeglucagon.com/hcp.
References:
Foster N, Beck R, Miller K, et al: State of type 1 diabetes management and outcomes from the type 1 diabetes exchange 2016-2018. Diab Tech & Ther. 2019;66(2):66-72.
Edridge CL, Dunkley AJ, Bodicoat DH, etal. Prevalence and Incidence of Hypoglycaemia in 532,542 People with Type 2 Diabetes on Oral Therapies and Insulin: A Systematic Review and Meta-Analysis of Population Based Studies. PLoS One. 2015 Jun 10:10(6).
Lind M, Polonsky W, Hirsch I, et al.: Continuous glucose monitoring vs conventional therapy for glycemic control in adults with type 1 diabetes treated with multiple daily insulin injections: the GOLD randomized clinical trial. JAMA 2017;317:379-387.
Pettus JH, Zhou FL, Shepherd L, et al. Incidences of Severe Hypoglycemia and Diabetic Ketoacidosis and Prevalence of Microvascular Complications Stratified by Age and Glycemic Control in U.S. Adult Patients With Type 1 Diabetes: A Real-World Study. Diabetes Care 2019;42:2220–2227.
LaManna J, Litchman M, Dickinson J, et al.: Diabetes education impact on hypoglycemia outcomes: A systematic review of evidence and gaps in the literature. The Diabetes Educator 2019;20(10):1-21.
Xeris Pharmaceuticals, Inc., Data on file.
Glycemic Targets: Standards of Medical Care in Diabetes—2020. Diabetes Care 2020;43(Suppl.1)S66-S76.
Jensen M, Kjolby M, Hejlesen O, et al. Risk of major adverse cardiovascular events, severe hypoglycemia, and all-cause mortality for widely used antihyperglycemic dual and triple therapies for type 2 diabetes management: A cohort study of all Danish users. Diabetes Care 2020; Mar;dc192535. https://doi.org/10.2337/dc19-2535.
Valentine V, Newswanger B, Pestrelski S, et al Human Factors Usability and Validation Studies of a Glucagon Autoinjector in a Simulated Severe Hypoglycemia Rescue Situation. Diabetes Technology & Therapeutics. 2019 21:9.
Polonsky W, Fortmann A, Johnson K, Nguyen A, Beebe C: Hypoglycemic confidence in the partners of adults with type 1 diabetes. Diab Tech & Ther. 2020;20(4):1-7.
Gvoke Prescribing Information 2019