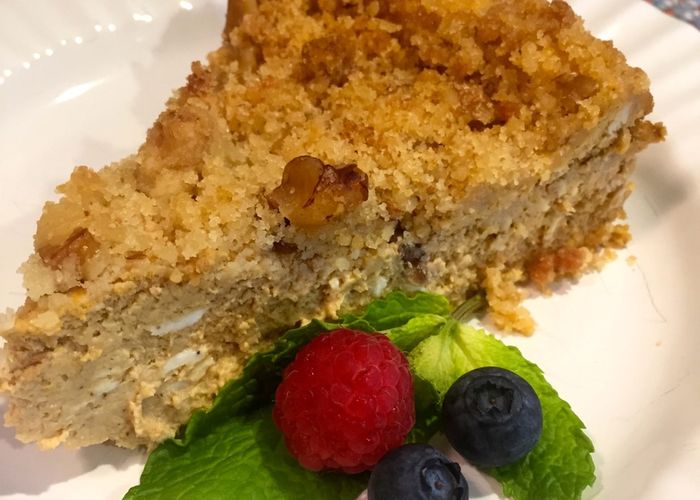 Yield: 16
INGREDIENTS:
 Cake:
3  8oz. packages reduced fat cream cheese, softened
1/2 cup SPLENDA® Brown Sugar Blend
3 large eggs
1  15oz. can pumpkin
½ cup lowfat vanilla Greek yogurt
2 tablespoons almond flour
1 ½ teaspoons ground cinnamon
½ teaspoon ground ginger
1 teaspoon imitation maple flavoring
2 teaspoons vanilla extract
1 teaspoon almond extract
Crumble Topping:
1 cup almond flour
2 tablespoons chilled butter
½ teaspoon vanilla extract
4 tablespoons SPLENDA® Brown Sugar Blend
DIRECTIONS:
 Cake: Preheat oven to 350° F. Coat the bottom and sides of a 9-inch spring form pan with non-stick cooking spray. Using an electric mixer, beat cream cheese and ½ cup of SPLENDA® Brown Sugar Blend until smooth. Beat in eggs one at a time. Blend in pumpkin, yogurt, 2 tablespoons of flour, cinnamon, ginger, maple flavoring, 2 teaspoons of vanilla, and almond extract. Pour batter into prepared pan.
Topping: Mix all of the topping ingredients by hand, or in a food processor until crumbly. Sprinkle on top of the cheesecake. Bake in preheated oven until firm, about 1 hour and 10 minutes. Remove from oven and run a butter knife around the inner edge of the pan, but do not remove the pan side. Let stand at room temperature for 30 minutes. Refrigerate at least one hour.
Servings/Yield: 16 servings
NUTRITION FACTS Per Serving (1/16th of cake):
Calories: 220, Total fat: 13g, Saturated fat: 5g, Cholesterol: 65mg, Sodium: 170 mg, Total Carbs: 17g, Dietary Fiber: 2g, Sugars: 14g, Protein: 8g