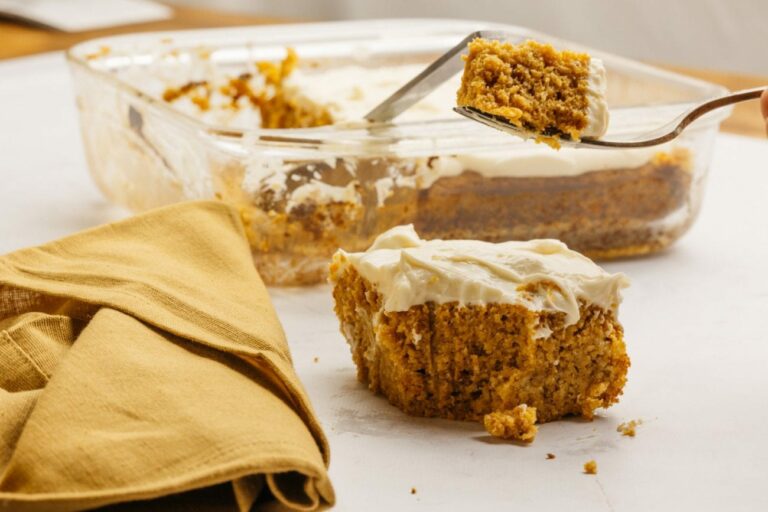 This recipe is from KetoConnect, where you'll find lots of delicious, low-carb recipe ideas. Here is the full Keto Pumpkin Bars recipe with additional notes, ingredient links and videos.
Yield: 9 servings
Ingredients for the pumpkin bars:
2 cups almond flour
3/4 tsp baking powder
1 tbsp pumpkin pie spice
1 cup sweetener
1/4 tsp pink Himalayan salt
1/4 cup butter, melted
4 large eggs
1 cup 100% pumpkin puree
2 tsp vanilla extract
Ingredients for the cream cheese frosting:
8 oz. cream cheese, at room temperature
1/2 cup powdered sweetener
1 tsp vanilla extract
Instructions for the pumpkin bars:
Preheat oven to 375.
In a medium bowl, beat together the pumpkin, butter, sweetener, vanilla, and eggs using a hand mixer or whisk.
Once mixed, add in the almond flour, baking powder, pumpkin pie spice, and salt. Stir well to break apart any clumps.
Pour into a greased 8×8 dish and bake for 40-50 minutes, or until a toothpick comes out clean.
Allow to cool before icing.
Instructions for the cream cheese frosting:
Mix together the softened cream cheese, vanilla, and sweetener.
Frost the cooled pumpkin bars and serve immediately, or store in the fridge.
Nutritional Information per serving:
Calories: 319, Fat: 28g, Carbs: 9g, Fiber: 4, Sugar: 3, Protein: 10