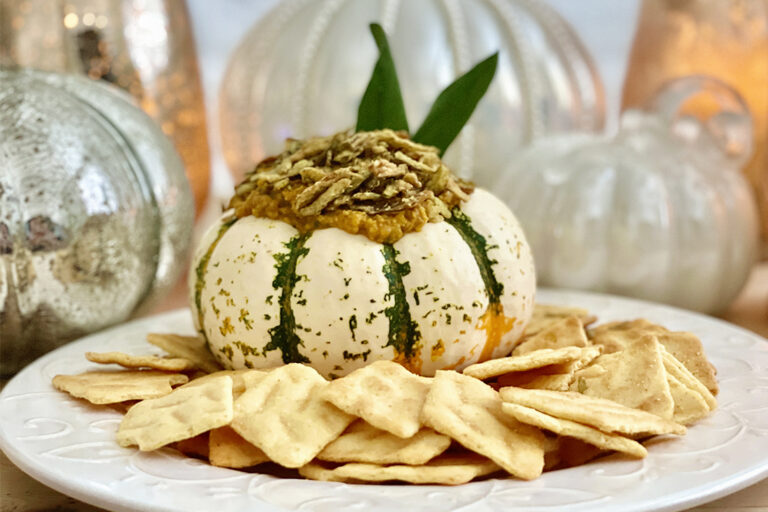 Place this pumpkin flavored dip inside of a hollowed out gourd so it can own its name! Serve with your favorite crackers as a party app or a fun after school snack. A savory dip like this one can be a nice change of pace from sneaking trick-or-treat candy all month long.
Ingredients:
1 can pumpkin puree
1 cup pumpkin seeds, toasted (or any nut of choice)
2 shallots
1/2 white onion
6 cloves of garlic (more or less, to taste)
1 cup crimini mushrooms
5 sage leaves
2-3 tablespoons cooking oil of choice (for sautéing)
Salt and pepper (and/or other seasonings if preferred)
Splash of vinegar of choice (white, balsamic, red wine, apple cider…depending on your preference and flavor profile of your add ins)
Crunchy jalapeño pieces
Crackers of choice (I used cornbread crackers from Trader Joe's)
Optional Add-Ins:
goat cheese
feta cheese
green onion
crushed red pepper flakes
bacon
Directions:
Lightly toast pumpkin seeds (or nuts) in a dry (no oil) frying pan, until lightly browned and aromatic.
Chop and sauté shallots, onion, mushrooms, sage leaves and all of the garlic.
Add puree, toasted seeds, and sautéed veggies to a food processor or high-speed blender, and blend until smooth.
Add a splash of vinegar, salt and pepper, and any remaining seasoning, and pulse again until well mixed.
Hollow out a small pumpkin, add dip to the pumpkin, and top with crunchy jalapeño pieces (or other toppings of choice).