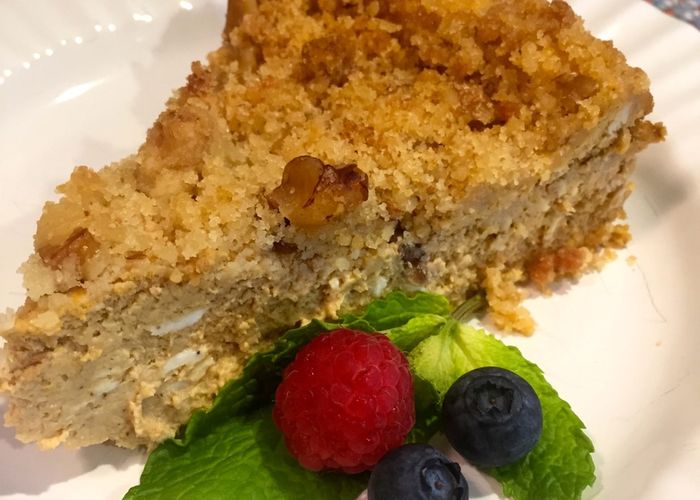 Chef Robert Lewis, the Happy Diabetic Chef, shares one of his favorite holiday desserts. Be sure to check out his website for more recipe ideas, cookbooks, and links to his podcast!
Yield: 16
Ingredients for the Cake:
3  8oz. packages reduced-fat cream cheese, softened
1/2 cup SPLENDA® Brown Sugar Blend
3 large eggs
1  15oz. can pumpkin
½ cup low-fat vanilla Greek yogurt
2 tablespoons almond flour
1 ½ teaspoons ground cinnamon
½ teaspoon ground ginger
1 teaspoon imitation maple flavoring
2 teaspoons vanilla extract
1 teaspoon almond extract
Ingredients for the Crumble Topping:
1 cup almond flour
2 tablespoons chilled butter
½ teaspoon vanilla extract
4 tablespoons SPLENDA® Brown Sugar Blend
Directions:
Preheat oven to 350° F.
Coat the bottom and sides of a 9-inch springform pan with non-stick cooking spray.
Using an electric mixer, beat cream cheese and ½ cup of SPLENDA® Brown Sugar Blend until smooth. Beat in eggs one at a time. Blend in pumpkin, yogurt, 2 tablespoons of flour, cinnamon, ginger, maple flavoring, 2 teaspoons of vanilla, and almond extract.
Pour batter into prepared pan.
Mix all of the topping ingredients by hand, or in a food processor until crumbly.
Sprinkle on top of the cheesecake.
Bake in preheated oven until firm, about 1 hour and 10 minutes.
Remove from oven and run a butter knife around the inner edge of the pan, but do not remove the pan side. Let stand at room temperature for 30 minutes. Refrigerate at least one hour.
Nutritional Info Per Serving (1/16th of cake):
Calories: 220, Total fat: 13g, Saturated fat: 5g, Cholesterol: 65mg, Sodium: 170 mg, Total Carbs: 17g, Dietary Fiber: 2g, Sugars: 14g, Protein: 8g