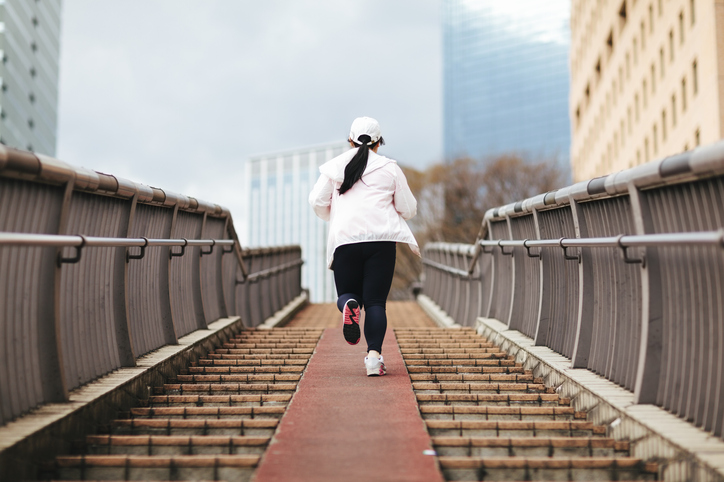 By Charlotte Hayes MMSc, MS, RDN, CSSD, CDCES, ACSM CEP
Head of Diabetes, Wellness & Education, Team Novo Nordisk
PRO CYCLING
www.teamnovonordisk.com
Endurance, or aerobic, exercise is very beneficial to people with type 2 diabetes, but all too often is not prescribed. Whether you are a beginner or an advanced level athlete, doing endurance activity offers both health and performance benefits (see Box 1).  Examples of endurance exercise include distance running, swimming, cycling and brisk walking or hiking.


When you do endurance activities, you exert effort by consistently repeating muscle movements over time. Depending on the amount of muscle work you do, energy output increases to a greater or lesser degree. The level of exercise effort you do also affects blood glucose response. Depending on whether your primary goal is to participate in competitive sports or to improve health and fitness, using sound training principles and focusing on self-care will improve your exercise performance.  No matter what your level of prior exercise experience, staying focused on four aspects of an activity routine is key to being successful and staying healthy. These are: exercise training itself, nutrition, rest and recovery, and blood glucose management.
Exercise Training
The FITT Principle is used to guide exercise training and to establish individualized exercise goals that will lead to performance success and improved overall health.  Using the FITT Principle, an exercise plan outlines:
Frequency:  How many times per week (or per day) to exercise
Intensity:     The difficulty of the exercise or how much physical effort is required
Time:           How long an exercise session lasts
Type:            Type of endurance exercise being done
For general fitness and health improvement, individuals with type 2 diabetes are encouraged to exercise at least 3 – 5 days per week, going no more than two consecutive days without exercising. Exercise duration should last at least 10 to 30 minutes per session, totaling 150 minutes per week of moderate-intensity, or 75 minutes per week of vigorous activity.
Beyond achieving general fitness goals, those participating in sports and competitive events should have well-outlined training plans that develop their potential to reach individual performance goals. Training plans are also based on the FITT principle but are strategically designed to improve physiologic measures like maximum oxygen consumption (V02 max), lactate threshold, functional threshold of power (FTP) and muscular endurance.  As these measures improve through targeted training, individuals are able to perform at higher, more competitive levels.  No matter your level of exercise, it is always important to work with a well-qualified exercise professional who has experience working with individuals with diabetes.
Nutrition
Having a sound nutritional plan is key to success with both exercise performance and glucose management. Paying close attention to types, amounts, and timing of food and nutrient intake is important for fueling and recovering from exercise, and for keeping glucose in range.
Nutrition periodization is a concept that recognizes that exercise and training plans vary from day-to-day and week-to-week, and that nutrition plans must be flexible and adaptable to match nutrient and energy needs for specific types and amounts of training and recovery. The Athletes Plates are an easy-to-use tool that show how food intake can be adjusted for light, moderate, and hard exercise days in order to meet (and not exceed) nutrient and energy needs for the amount of planned exercise. See: https://www.teamusa.org/nutrition. Timing of meals, snacks, and sports foods before, during and after exercise is also a key part of a sound nutrition plan.
With respect to blood glucose management, exercising 1 – 2 hours after a meal, when post-meal blood glucose is rising, is a safe time to exercise, and can help keep your post-meal blood glucose rise in check. During exercise, intake of carbohydrates may be necessary to fuel muscles and to keep blood glucose from falling too low.  Box 2 summarizes recommendations for carbohydrate intake based on planned amounts of exercise.


Having a hydration (drinking) plan that outlines types and amounts of fluids to drink before and during exercise is also important. Finally, recovery is a critical part of a nutrition plan.  The three "Rs" of recovery nutrition are refuel, repair and rehydrate. The first one-to-four hours after an intense or long-duration exercise session is a time to maximize recovery nutrition and begin preparation for your next exercise or training session.  To achieve the "three Rs", a recovery meal or snack should combine high-quality carbohydrate and protein sources along with plenty of fluids.
Rest
Building rest time into your routine is just as important as the time you spend training and exercising.  Rest days are built in for physical and mental renewal. On these days you may focus on doing light activity or taking a day completely off. Doing stretching, yoga or other mindful, activities are good alternatives to build into rest days.  The important role of quality sleep to diabetes management, exercise recovery and overall health is currently getting a lot of attention.  Develop a sleep routine that helps you fall asleep and stay asleep in order to not just recover and reach exercise goals, but also to function well day-to-day.  If you feel fatigued or notice reduced performance, that's an indication that you may need to re-evaluate your rest and recovery strategy.
Glucose Management
Though endurance exercise has undeniable health benefits and in general has a glucose lowering effect, doing long duration and/or high intensity exercise efforts may result in out-of-range glucose values.  Frequent glucose monitoring, by fingerstick, or use of a Continuous Glucose Monitor (CGM) will enable you to see how your glucose responds to various exercise scenarios, and to figure out actions you can take to keep your glucose in an optimal range for the amount and type of activity you plan to do.  Timing of exercise in relation to your nutrition plan and understanding how glucose lowering medications you take affect your glucose response is essential.  Fortunately, many medications now prescribed for type 2 diabetes glucose management do not contribute to hypoglycemia. However, if you take insulin or a sulfonylurea, you are at higher risk of experiencing glucose lows.  Intense exercise and hard intermittent efforts can contribute to a rise in blood glucose as can pre-competition anticipation. These exercise-related glucose rises tend to be fairly short-lived and to resolve as the stress (adrenalin) response lessens. In these cases, closely monitor your glucose to identify how much it tends to rise and how long the elevation lasts. Then determine what strategies, including warming-up or cooling-down from exercise, manipulating timing and amounts of nutrition, hydration, adjusting medications or using relaxation techniques work best for bringing your glucose back into range.
This article has focused on endurance exercise primarily for those who are experienced exercisers and may compete in endurance events. No matter what your level of exercise experience, think about how you can apply these principles as you strive to include more activity in your lifestyle.  Many types of physical activity offer benefits.  In addition to endurance exercise, fitting in strength and conditioning activities 2 – 3 times per week and doing stretching/flexibility and balance or skills training are other central parts of a well-rounded fitness routine.