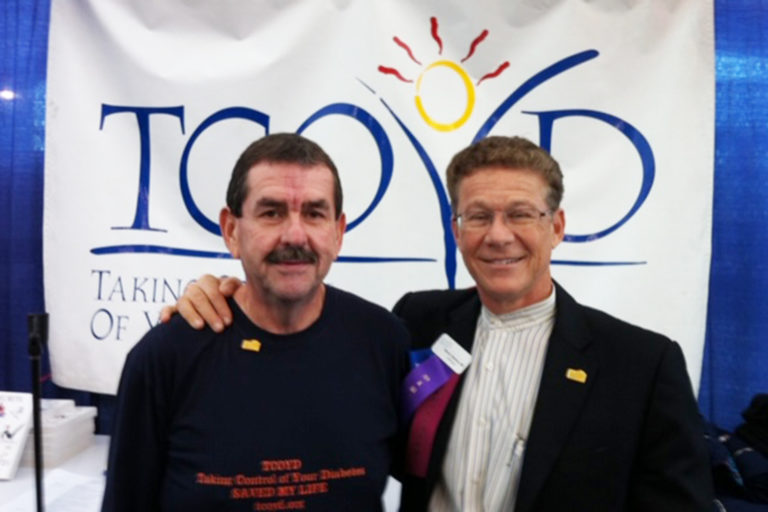 (picture above from a TCOYD conference in 2010)
Diagnosed with type 2 diabetes after coming home from a tour of duty in Vietnam, Randall Brown became a student of diabetes after meeting Dr. Edelman, and Randall's passion for education and self-advocacy play a big role in how he personally takes control.
How long have you been living with diabetes?
This is my 50th year!
What do you find most challenging about living with diabetes?
Every day is different, so you have to have a mindset to be in control. Also, being aware of exercise, food intake, medications…just life in general can be a challenge.
What's one positive thing that's happened in your life because of diabetes?
Meeting Dr. Steve Edelman. I met Steve for the first time at the La Jolla VA (Veterans Affairs Medical Center) at my endocrinology appointment. I had actually flown in from Indiana for the appointment. On my first meeting with him, I was hooked! Then my wife and I went to a Mini Series Conference the next night and we learned a bunch of great new info. I have attended 47 additional TCOYD conferences since, and I'm still learning. Dr Steve and I have become friends as well as doctor & patient. I tap his mind all the time for help, info, etc.
How did you first learn about TCOYD?
My local endocrinologist Dr. Kurt Alexander told me about the TCOYD conference he had been to in San Diego. Dr Alexander wanted me to tell my story to Steve about the extreme lows I was having (as well as car wrecks, etc.) so he had me write Steve a letter in 2006 and then I came out to meet him.
How has TCOYD had an impact on your life?
My wife and I have attended 48 TCOYD conferences all across America! Each and every one has taught me something new about diabetes, and just to take control. I started walking up to 15 miles a day and did this for 11 years until I had two open heart surgeries In 2018. I now only walk around 5 to 7 miles a day, but I do it 7 days a week. In August of 2012 Steve was instrumental in starting me on glucagon in my pump due to frequent and severe lows. I have been on glucagon for seven years now to survive. This is why I say over and over Dr. Steve Edelman has saved my life.
If there was a cure for diabetes tomorrow, what would be the first thing you would eat?
I already pretty much eat what I want, just in moderation. My great endocrinologist (Dr Steve) taught me that!
What's the best advice someone has given you about living with diabetes?  
Keep living. Do not give up! Fight back, listen to your doctors and take control!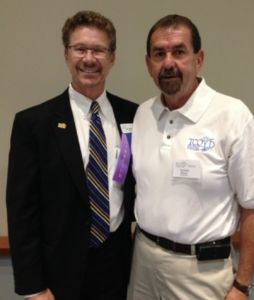 Randall and Steve at a TCOYD conference in 2015
If you would like to make a tax deductible donation to TCOYD, please: visit tcoyd.org/donate.