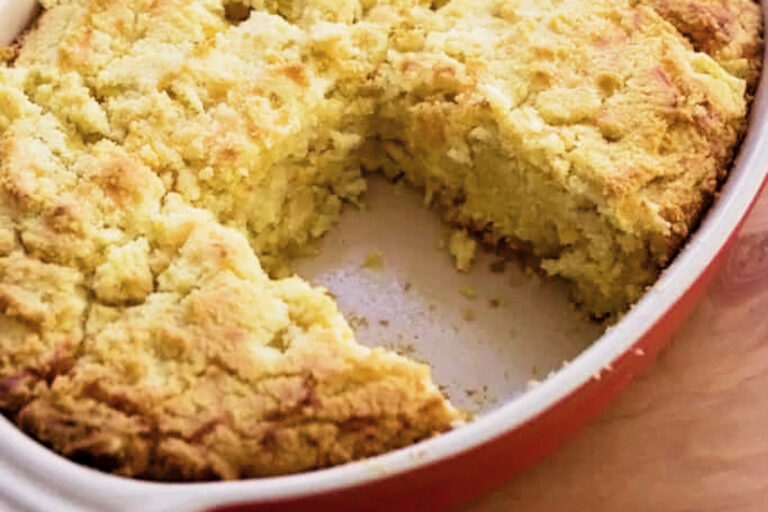 This recipe is from KetoConnect, where you'll find lots of delicious, low-carb recipe ideas. Here is the full Low Carb Keto Cornbread recipe with additional notes, ingredient links, and instructional videos.
Servings: 12
What You Need:
electric hand mixer
9×13 casserole dish
Ingredients:
2 cups almond flour
1/4 cup coconut flour
3 tsp baking powder
1 tsp pink Himalayan salt
3 large eggs
1/2 cup butter, melted
1/4 cup sour cream
25 drops liquid stevia
1 cup shredded cheddar cheese
2/3 can baby corn, roughly chopped
Directions:
Preheat oven to 350 degrees and grease a 9-inch casserole dish.
In a medium bowl combine the almond flour, coconut flour, baking powder and salt. Whisk together and set aside.
In a large bowl combine the eggs, melted butter, sour cream and liquid stevia. Whisk until fully incorporated. Add the dry ingredients to the wet in two batches as you combine.
Fold in the cheddar cheese and chopped up baby corn. Transfer to a casserole dish and bake for 37-40 minutes.
Allow to cool for 15 minutes and slice into 12 pieces.
Nutritional Information for 1 Serving:
Calories: 254, Fat: 23g, Carbs: 6g, Fiber: 3g, Protein: 8g