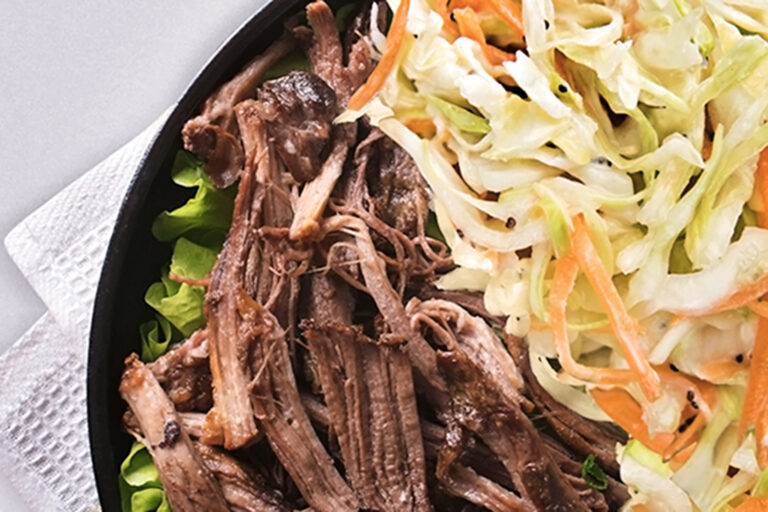 This recipe is from Teaming Up for Diabetes, a website dedicated to helping people with diabetes reach their management goals. Learn more about the support available at Teaming Up for Diabetes.
Servings: 4
Ingredients:
For the Pork:
1 teaspoon paprika
1 teaspoon chili powder
1/4 teaspoon salt
1/8 teaspoon cayenne
1 pound pork tenderloin, trimmed of all visible fat
3 teaspoons olive oil, divided
1 small onion, diced
1 garlic clove, minced
1 (8-ounce) can no-salt-added tomato sauce
2 tablespoons apple cider vinegar
1 tablespoon honey
For the Slaw:
2 cups thinly sliced cabbage
1 medium carrot, peeled and coarsely shredded
1 small Gala or other red apple, cored and cut into thin strips
2 teaspoons apple cider vinegar
1 1/2 teaspoons olive oil
1/4 teaspoon salt
1/8 teaspoon celery seeds
pinch of black pepper
Directions:
To make the pork, stir together the paprika, chili powder, salt, and cayenne in a small bowl.
Cut the pork across the grain into 2-inch slices. Sprinkle half of the paprika mixture all over the pork.
Heat 2 teaspoons of olive oil in a large skillet over medium heat. Add the pork and cook, turning occasionally, until browned on all sides, about 6 minutes. Transfer the pork to a plate.
Add the remaining 1 teaspoon of olive oil to the skillet. Add the onion and cook, stirring often, until it begins to soften, about 3 minutes. Add the garlic and the remaining paprika mixture and cook, stirring constantly until fragrant, about 30 seconds.
Add the tomato sauce, vinegar, and honey to the skillet and stir to mix well. Add the pork and any accumulated juices, reduce the heat to very low, cover and simmer, stirring occasionally, until the pork is tender, about 25 minutes.
Remove the skillet from the heat. Using 2 forks, shred the pork apart into chunks in the skillet. Stir to combine with sauce.
Meanwhile, to make the slaw, toss together all the ingredients in a large bowl. Cover and refrigerate up to 1 hour. Serve the pork with the slaw.
Nutritional Info for 1 serving: (2/3 cup pork and 1 cup slaw)  
Calories: 251, Fat: 8g, Carbs: 19g, Fiber: 4g, Sugar: 13g, Protein: 26g