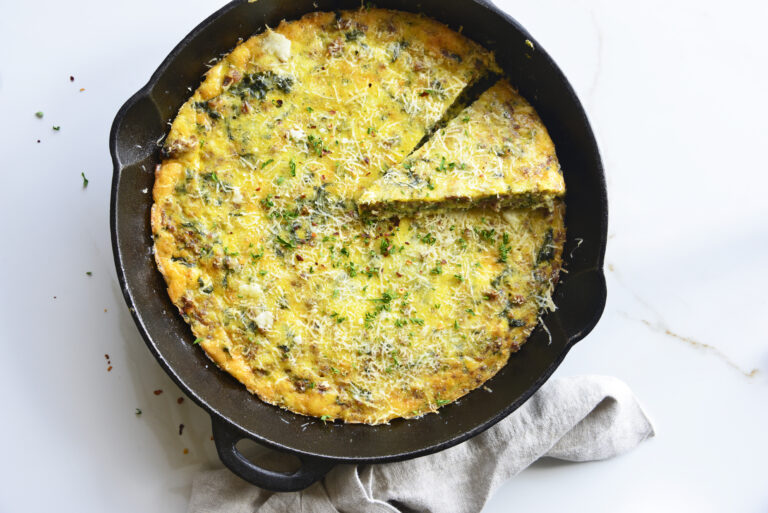 This recipe is from The Keto Queens, a website full of keto and low-carb recipe ideas from drinks to desserts. Click here for the full Baked Kale, Sausage and Cheese Frittata recipe, plus additional notes and ingredient links.
Servings: 8
Ingredients:
1 tablespoon avocado oil
1 pound bulk turkey sausage
2 cups chopped kale
2 large cloves garlic, minced
1/4 teaspoon black pepper
1/4 teaspoon crushed red pepper flakes
10 large eggs, lightly beaten
1 cup grated Parmesan cheese, divided
1 teaspoon minced fresh parsley, for garnish
Instructions:
Preheat the oven to 350F.
Heat the oil in a 12-inch cast-iron skillet over medium to medium-high heat. Once hot, add the sausage, kale, garlic, black pepper, and crushed red pepper flakes, and cook until the meat is browned, about 8 minutes, stirring occasionally. Cool to room temperature.
Lightly beat together the eggs and 3/4 cup Parmesan, and pour it into the skillet with the sausage. Sprinkle the remaining 1/4 cup Parmesan on top.
Bake until the eggs are set, about 18 to 20 minutes. If desired, broil the top to brown it slightly. Sprinkle the parsley on top.
Serve warm or at room temperature.
Nutritional Information for 1 serving:
Calories: 245, Fat: 15g, Carbohydrates: 2g, Protein: 23g