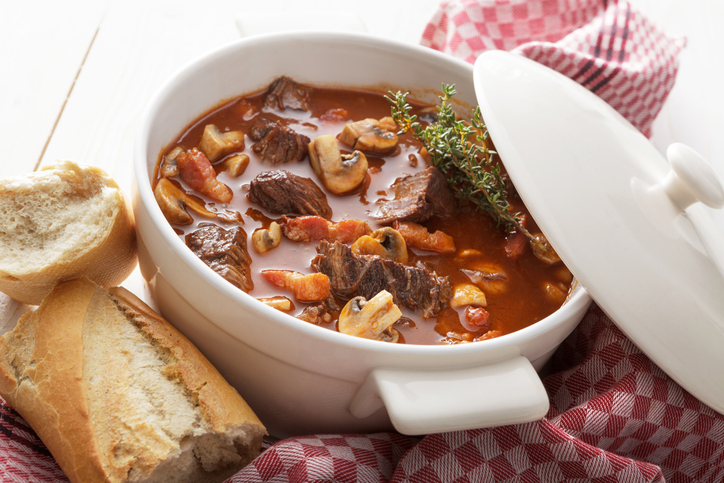 Michelle Day, our Director of Meeting Services, grew up in Montreal, where "making beef bourguignon was in our DNA". Throughout the years she perfected her own recipe for this decadent French stew. For the full French experience, enjoy a glass of red wine while cooking!
Servings: 6-8
Ingredients:
1.5 lbs of beef (sirloin, chuck, stewing beef, whatever you like) cut into cubes (you can also buy it already cubed)
1 ½ teaspoons Montreal Steak Seasoning (optional)
½ cup almond flour
3 tablespoons butter
2 tablespoons olive oil
1 large onion, chopped into pretty big chunks
2 to 4 cloves minced garlic, based on your liking
2 tablespoons fresh thyme (or 2 teaspoons dried)
1 bay leaf
1 clove
3/4 bottle of red wine
4 cups beef broth or Better Than Bouillon mixed with water
1 12 oz bag baby carrots (cut them in chunks if you prefer)
1 8 oz box low carb noodles (optional), we used Bonza Chickpea Pasta
8 oz mushrooms, sliced
3 tablespoons tomato paste
1/4 cup of fresh chopped parsley
Salt and pepper
Directions:
Pound the beef chunks a couple of times on each side with a meat pounder or rolling pin just to tenderize them. Sprinkle with Montreal Steak Seasoning or salt and pepper.
Put almond flour into a large ziplock bag or shallow dish, add the beef and coat the pieces lightly in flour.
Melt 2 tablespoons of butter with 2 tablespoons of olive oil in a big pot or Dutch oven on medium heat and brown the meat on all sides (not cooking all the way through).
Add onion, thyme, bay leaf, clove, and most of the garlic (set some garlic aside to cook with the mushrooms).
Add red wine and beef broth.
Bring to boil and simmer for 1 hour (with the lid almost all the way on, but not quite).
Add baby carrots cook for 15 minutes (with the lid almost all the way on, but not quite).
While the carrots are cooking, melt 1 tablespoon butter in a sauté pan and sauté mushrooms with remaining garlic, salt and pepper (or a sprinkle of Montreal Steak Seasoning) for about 5 minutes, just to brown them.
Add noodles and cook for an additional 15 minutes.
Add sautéed mushrooms, tomato paste and parsley.
If the stew needs thickening, add more tomato paste and leave the lid off, and if it needs thinning, add more wine and leave the lid on.
Cook for 15 more minutes or until you are ready to eat. Remove the bay leaf before serving.
Bon appétit!!!
Approximate Nutritional Info for 1 serving (based on 8 servings):
Calories: 466, Fat: 18.5g, Carbs: 27g, Fiber: 6g, Sugar: 5.5g, Protein: 38.5g