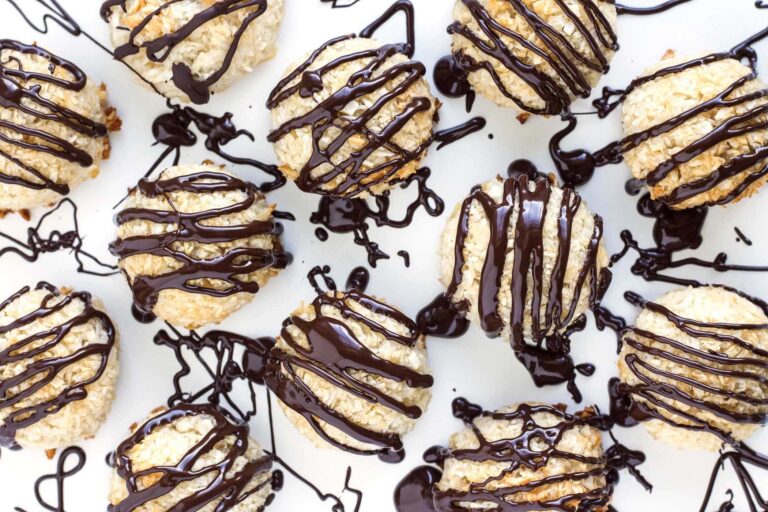 This recipe is from Kit's Kitchen, a website dedicated to healthy, approachable cooking using whole food ingredients. Click here for the full Dark Chocolate Maple Macaroons recipe, plus additional notes and ingredient links.
Yield: 12 cookies
Ingredients:
2 cups unsweetened shredded coconut
2 large egg whites
1/4 cup sugar-free maple syrup (like Lakanto)
1 tsp bourbon vanilla extract
1/8 tsp sea salt
3.5 oz dark chocolate (like Lilly's), chopped
Instructions:
Preheat oven to 325ºF (165ºC).
Line a baking sheet with parchment paper.
Mix all ingredients except chocolate together in a medium-sized mixing bowl until well combined.
Scoop out with a medium-sized cookie scoop (1.5 Tbsp size). See notes for the cookie scoop I use!
Pack the mixture into the scoop a bit, but not so much that you're squeezing out the syrup. The scoops should be almost full but not quite to the edge if you want to end up with 12 cookies in the end.
Place cookie on the parchment paper and repeat. Spacing evenly on the pan.
Bake for 25-30 mins or until the tops and edges are slightly browned.
While the cookies are baking, melt the chocolate for the drizzle on low over a double boiler.
Remove from oven and allow to cool on the pan for 2 minutes before moving to a cookie rack to finish cooling.
Drizzle with chocolate and serve!
Estimated Nutritional Information for 1 Macaroon:
Calories: 130, Fat: 7g, Carbs: 15.5g, Fiber: 5g, Sugar 6.5g, Protein:1g