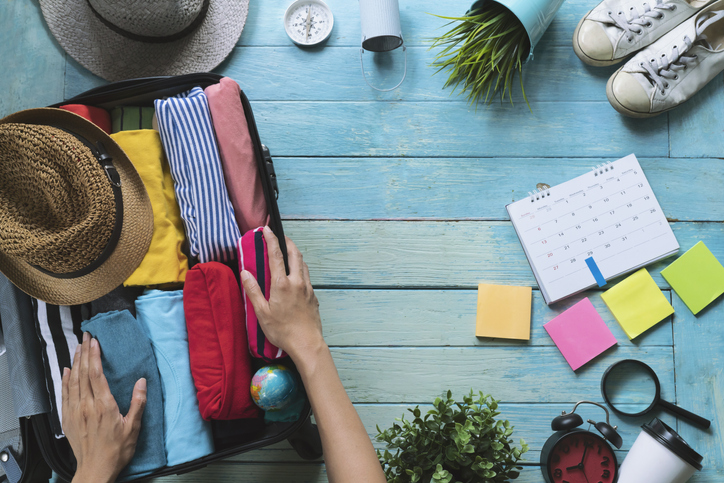 Updated 7/12/21
Many of us haven't traveled in over a year and a half (or more), and we're out of practice on the extra things we need to think about when traveling with diabetes. Here are a few important reminders, and be sure to watch the video Jeremy and I did (at the end of this article) where we show you all the supplies we pack in our suitcases…oh yeah, and Jeremy gets frisked at the airport!
7 Tips for Traveling with Diabetes
Tip # 1: Over Prepare!
If you take only one thing away from this article I want it to be this: over preparation is the best rule of thumb. I can't tell you how many times I left the house for a trip without enough insulin or enough supplies for my continuous glucose monitor, or I left my blood pressure pills at home (which is not good when you're visiting relatives). You have to really over prepare when it comes to diabetes, so I keep a list of things I take when I travel so I don't forget anything. I have it pasted to my closet wall where I do my packing. Feel free to use it as a guide for your own:
Diabetes Supply Packing List
Two blood glucose monitoring devices (yes, two!) with extra batteries and strips. Even if you're on a CGM that doesn't require calibration like the FreeStyle Libre and the Dexcom – still bring back up meters.
Enough insulin, syringes, lancets, test strips and alcohol swabs to last the entire trip and more. Regular insulin, Afrezza or rapid-acting insulin analogs for treating high blood glucose/sick days.
For CGM users, bring extra CGM supplies.
For pump users, bring enough pump supplies for the entire trip, plus extra batteries and syringes for use in case of pump malfunction or battery failure.
Prescription medicines with pharmacy labels.
Glucagon emergency kit (like BAQSIMI, Gvoke or  Zegalogue) in its original container with pharmacy label.
Identification (diabetes ID card, Medic Alert necklace, nose ring or bracelet).
First aid kit: analgesics, cold medicines, sterile gauze, tape, sunscreen, insect repellant, medications for vomiting and diarrhea.
Simple sugars to treat lows.
Complex carbs for snacks (granola bars, cheese crackers, trail mix, etc.).
Extra credit card or debit card for overseas travel. If you're traveling overseas and your credit card company terminates your card because they detect potential fraud due to expenditures in unusual cities, you're screwed! You can notify your credit card company before you travel, but you might want to take an extra card just in case.
Additional Overseas/OUS Pre-Trip Planning Tips:
Be informed of local available medical facilities before arriving at your destination.
Depending on where you're traveling, consider getting travel insurance with coverage for acute onset of pre-existing conditions.
Keep your doctor's contact information and names of your medications handy (you can keep a list in your phone).
Learn to say "I have diabetes" or "I need some sugar" in the language of your destination.
You can find English-speaking physicians abroad through the International Association for Medical Assistance to Travelers.
Tip # 2: Separate Your Sets of Supplies
Bring all your essential medications and simple sugars in carry-on bags, and have an entire second set of medications and supplies in another suitcase that you check. Or if you have a travel partner, put your second set in their luggage. You'll probably come home with the extra set every time, but the time you don't have it, something's going to happen!
Tip # 3: Make Airport Security as Easy as Possible
Get TSA Precheck if you can because you don't have to take your medications out of your bag, remove your laptop or take off your shoes. It costs $85 and is good for five years. If you travel internationally, you should get Global Entry because it's so much easier to get through customs. Global Entry costs $100 and is also good for five years.
If you have TSA Precheck, you can use the walk-through square metal detectors. My Omnipod, Eversense and Dexcom have never set it off, but if you're a traditional pump user and you have a pump holder with a metal clip, it will need to be removed. If you have any concerns or if you have to go through the walk-in scanner, ask if your pump can be hand-inspected. If you have to disconnect it, just do it for a short period of time. And by the way, scanners and x-ray machines do NOT affect insulin or medications.
If you're traveling in the United States, you do not need a letter from your doctor to get through security. And don't forget that everyone will need a Real ID to fly in the U.S. after May 3rd, 2023. Click here for a little more info on the Real ID.
If you're traveling abroad, you'll need to do a little research on where you're going to see whether a letter from your doctor is recommended.
Tip # 4: Don't Forget the Americans with Disabilities Act
Many people don't know that diabetes falls into this category. If you aren't feeling well because your blood sugar is really low or really high, you can justifiably get some special treatment if you need it. And if you have a walker, consider bringing it with you because it may be a lot easier to get through the airport. People open doors for you, you get on the airplane faster… and if you go to Disneyland you get to be first in line for all the rides. (I've only borrowed my mom's walker once for that). If you do need a walker and you think it would be too much of a hassle to bring along, just know you'll have more stability through airports.
Tip # 5: Pressure Changes Can Affect Insulin Delivery
If you're on an insulin pump, pressure changes on an airplane can change insulin delivery. As your plane descends, the pump can deliver more insulin than you expect. It's personally happened to me a few times, so it's something important to know.
Tip # 6: Test, Test, Test!
This is a simple but important tip. Test your blood sugar – a lot! You're traveling, you're eating different foods, you're in different time zones, you're experiencing different levels of exercise than normal – you're either walking like crazy or you're sitting on your butt on a beach all day. A lot of people leave their diabetes at home and don't feel like testing when they're traveling. But this is the time to test more! I've known so many people who didn't bring testing supplies on vacation and their numbers were all over the place, and they ended up in the emergency room.
Hiking, Biking, and Other Strenuous Activities
If you're going on a trip with a lot of activity, just use common sense. Bring lots of water, fast-acting carbs, sunscreen if you need it (getting burned can really mess up your diabetes…and your vacation!!) a compact first aid kit, and remember to protect your insulin. If your insulin is in the hot sun you'll denature it. If you're on a pump, bring an insulin pen with fast-acting insulin in case your fusion line comes out. A lot of people who are on pumps go to multiple daily injections or something called the untethered regimen in order to have a little more freedom.
What About Exotic Trips?
If you're going to be traveling to a developing country, go to a travel clinic several months in advance because you'll need to get shots. Bring your itinerary to the clinic because they'll want to know every place you're going to visit.
You should also bring extra meds and extra prescriptions in case you need to get a medication filled in a different country. This is where a letter from your doctor is helpful. You can even type it up for your caregiver for them to sign.
Tip # 7: Travel in Style
Now here's a really fun tip. How do you get a whole row to yourself on Southwest Airlines when the flight isn't totally full? Sit in the middle seat of an empty row, hold the throw-up bag to your mouth and don't look anyone in the eye. Works every time.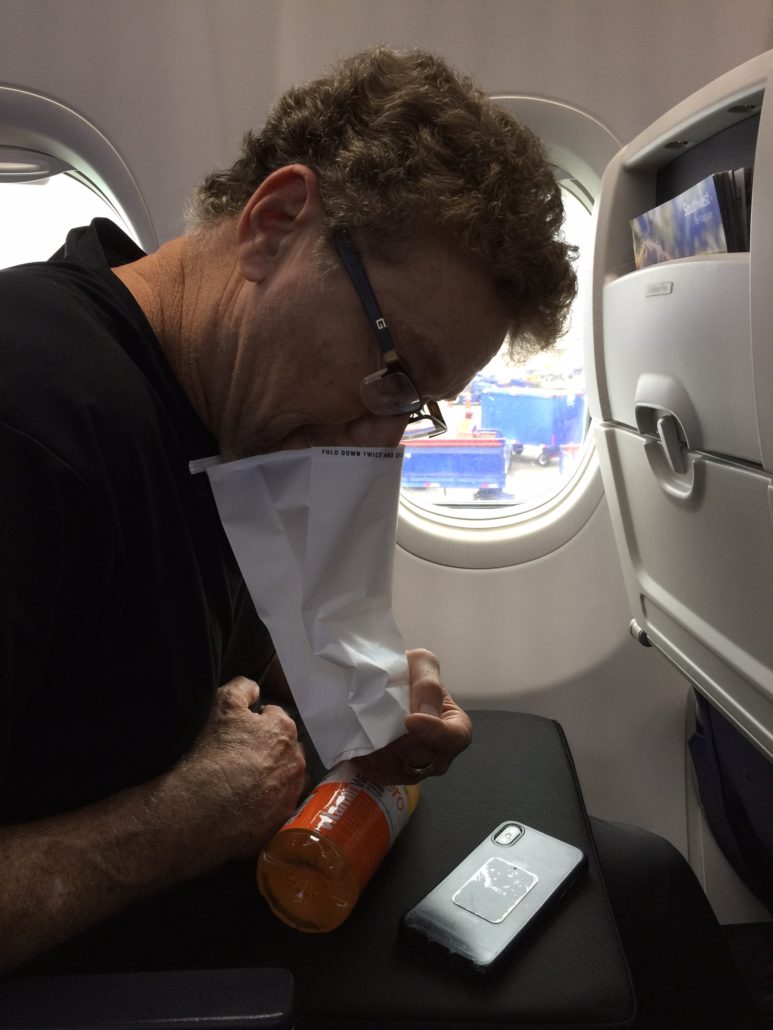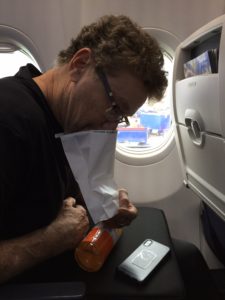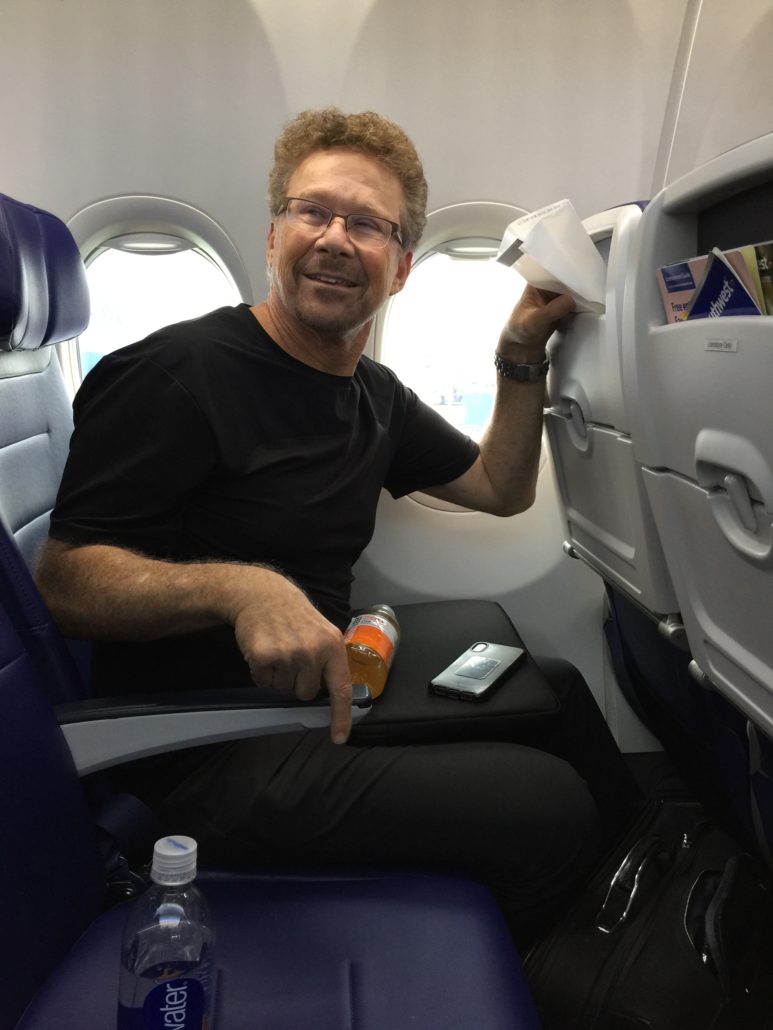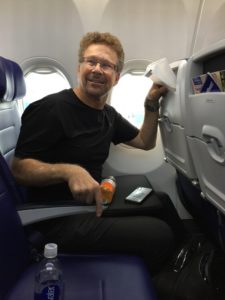 For a few additional tips and to see how Jeremy and I pack our suitcases, check out the video we did on traveling with type 1 here:
Please feel free to share your travel tips in the comments below.