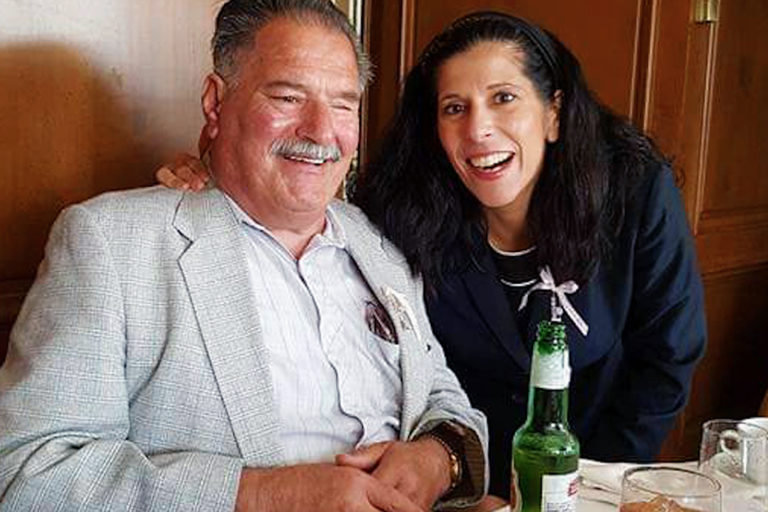 My father passed away on August 2nd from COVID due to complications with diabetes, and it's been hard for me to find the words to share with everyone.
My dad was a resilient man with a heart of gold, a strength of spirit, and a work ethic like no other. He was quick with a smile, a laugh, a story (or ten), and he loved to talk…and talk….and talk…and talk.  🙂 He taught me to be strong, to be tough, to work hard, and to believe that I could do anything. My dad was born during World War II in Kefalonia, Greece and was one of seven children. He came from an impoverished childhood and left on a boat from Greece when he was a young teenager to make a better life for himself. He met my mother in New York when he was nineteen and barely spoke a word of English. She was the love of his life; she was his "Koukla" (doll). My mom used to make him read out of the Wall Street Journal every night to learn English. Throughout his life, he was always proud to be an American and always said that we are blessed to live in the greatest country in the world.
My dad was a mechanic by trade and owned his own business with my uncle John Laskaris. He absolutely loved his family and all of his brothers and sisters and nieces and nephews. He was a beloved father, brother, uncle, and friend. He had a generous heart and spirit, sometimes to a fault. I remember coming home from college one weekend and my mother pointing out a large bag of M&Ms on the table and commenting that it was part of my Dad's "paycheck" for the week from the shop he owned in Jamul – apparently my father felt bad for someone coming in from Tecate that needed a tire and traded a tire for a bag of M&Ms. One Christmas I went to the house and saw a glorious Christmas tree, absolutely perfect…except it had no top….and I don't mean it wasn't a "perfect top"…it looked like the first fifteen plus inches were gone where you looked at the tree and wondered where the heck the top of the tree was. My dad apparently saw the tree and felt bad for it – he told my Mom "Koukla, such a beautiful tree, no one is going to buy it" and there you have it, our Greek Christmas tree with no top.
It wasn't always an easy road for my dad and I – my mom used to say "A Titan vs a Titan". We were both strong willed and stubborn. Before my mom passed away, I asked her wishes and she said, "I want you to love one another… and try not to kill him". The journey with my dad these last seventeen years was life changing and taught me everything about unconditional love and hope. My dad's health deteriorated after my mom passed away. He lost all of his vision and eventually could not walk. He was never a good diabetic – he loved to eat, he loved all sweets, particularly cookies and he loved pizza. He couldn't "hear" a lot (Dad, why are there all of these candy wrappers in the house? "WHAT? I don't understand what you are saying….") but trust me, if you said the word "pizza" within a half mile of him you would hear him say "PIZZA? I LOVE PIZZA….it's a good idea, let's get a pizza".
My dad loved to garden – he could grow anything. It was a beautiful sight to behold. He loved his fig tree (what we referred to as his third child) and his grapes. He loved to grow things and give all of it away to see the smiles on people's faces. What I will remember the most about my dad is that he never needed a lot to be happy. He always held on to hope even in the most dire of circumstances. He had a generous heart, and loved to make people happy and hear them laugh and see them smile. I will carry these gifts with me always. As I told him over the phone the day before he passed away, he was a wonderful father and the reason that I have the beautiful life that I do is because of him. It broke my heart to not be with him and hold his hand in his last days, but I know that I was in his heart just as he was in mine. He was my best friend and, while a piece of my heart feels like it is gone, I know he is dancing in heaven with his Koukla once again.
My relationship with my father introduced me to TCOYD many years ago as we tried to empower him with education to manage his disease. Seeing my father's struggle made me feel so strongly about the work that TCOYD was doing, a passion was ignited and I began a fundraising campaign in 2012 to secure donations.  I became the captain of a "Ragnar Relay" team, running 200-mile overnight relay races with a team of 12, and using that as a platform to partner with professional organizations for fundraising. I am proud to say we have raised over $100,000 for TCOYD to date, and I look forward with renewed purpose to continue fundraising in my father's honor.
For those of you that have asked, donations in my father's honor, Dionysios Laskaris, can be made to educate diabetics regarding the management of their disease at tcoyd.org/donate.