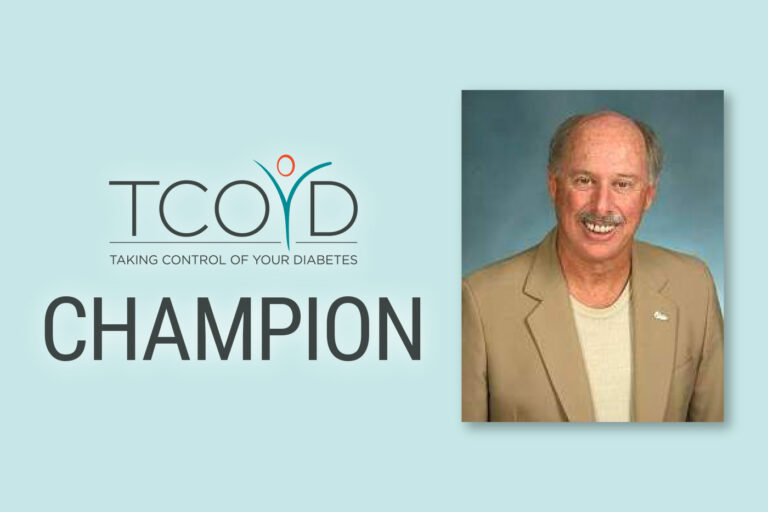 After a full career in the Navy, Bob Alden turned his attentions to volunteering and has supported over 50 non-profit organizations since, including TCOYD. He's received many high honors for his dedication, and he's showing no signs of slowing down. Bob is April 2021's TCOYD Champion!
How did you first learn about TCOYD? My dear friend, Cyndee Fena was a Type 1 and a patient of Dr. Edelman. She was a long-time volunteer. She passed away in 2006. She was a belly dancer and performed at some of the conferences.
What inspired you to become a volunteer at our conferences? Cyndee and my passion for volunteering, which is what my life has been all about for the last 25 years. I'm now a resident of Florida and when I saw that TCOYD was having a conference in Orlando a few years ago, my wife, a retired RN, and I volunteered there.
What did you like most about volunteering? Meeting new people and seeing the interesting exhibits. I remember meeting Ben Vereen at a conference in San Diego. I still have the program with his autograph.
How has TCOYD had a positive impact on your life and people living with diabetes? I didn't know much about diabetes and how it impacts people's lives, and I've learned much because of TCOYD.
What is your favorite thing about TCOYD and Dr. Edelman? He has a great sense of humor and is a real gentleman. I'd also like to say that the staff are also very nice as well, I've known Sandra and Jill for many years.
In addition to your volunteer work, you also hosted a unique fundraiser for TCOYD! Cyndee used to perform (belly dancing) at the Greek Village restaurant in Carlsbad. After she died, I hosted a TCOYD fundraiser there, and some of her dancer friends performed. We had a big turnout and raised a lot of money.
What are you currently up to? I'm a retired U.S. Navy officer and civilian defense contractor. I'm also a direct descendant of John Alden and Priscilla Mullins who came over on the Mayflower. I'm a member of the Society of Mayflower Descendants, Sons of the American Revolution, and the Alden Kindred of America.
What other volunteer work do you do? I've served on seven non-profit boards, including: Volunteer San Diego, Tariq Khamisa Foundation, San Diego Council on Literacy, Youth Tennis San Diego, Women's Museum of California (current). I'm a LEAD San Diego Graduate (2006). I've supported about 50 different non-profits, including Junior Achievement of San Diego and South Florida, The Travis Manion Foundation, Father Joe's, San Diego Food Bank, Women's Museum of California, Naval Air Station Ft Lauderdale Museum. I've been honored by Presidents Trump, Obama and Bush as a President's Lifetime awardee as well as Congresswoman Susan Davis and Senator Dianne Feinstein. I've been honored by Jr. Achievement of San Diego with their Lifetime Volunteer Award and was inducted into the Council on Literacy Hall of Fame.
What motivates you to volunteer? In 1996, I was in a relationship that had gone on for 2 ½ years and we were talking marriage and looking at houses. She walked out without any warning or conversation. I was devastated. After weeks of going to work and coming home to sit alone in the dark, I started to go crazy, because I'm a person of action. That's when the light went on – volunteering, that's what I needed to do. I started to do that, and my life became a transformation into my true self. This is who I am and will be for as long as I'm able. I've logged over 9,000 volunteer hours and as a philanthropist and have donated approximately $350,000 to charity. I'm living totally outside myself. I don't want Christmas or birthday presents, my family and friends donate to charity. I've never been happier or healthier.
What has inspired your contributions over the years? The fact that one person can make a difference, and that can inspire others to do the same.
Is there any message you would like to relay to people living with diabetes, or to family and friends who support them? Your health is the most important thing in your life, take care of yourself, don't be discouraged, and never give up.
Anything else you'd like to share? I love TCOYD and am looking forward to the time I can physically attend a live conference!
If you would like to support TCOYD's educational programs, please click below.