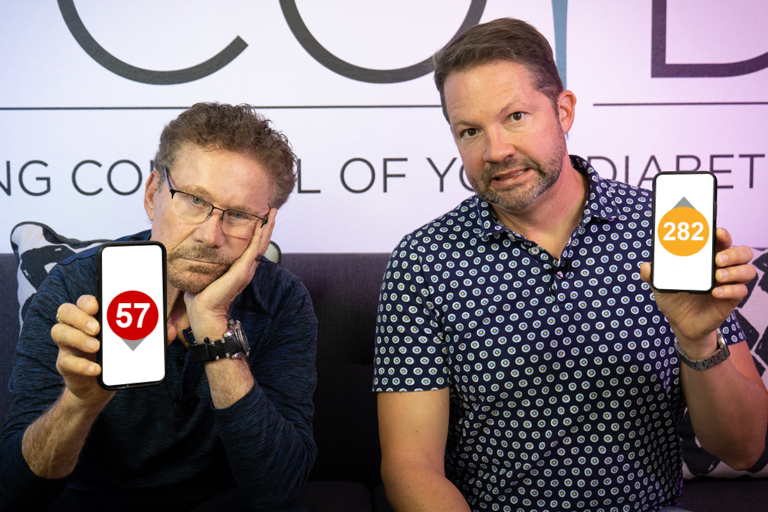 Dear Dr. E,
I always panic when my blood sugar gets really high or really low, wondering if it's going to lead to complications. How long does your blood sugar have to be high (or low) to start causing problems?
Dr. Edelman: This is a good question because I think it's something everybody with diabetes struggles with, myself included. When your blood sugar goes high, even if it's just around 250 (which is not uncommon) you can try to get it to come down with a bolus of insulin or some exercise, but sometimes it still lingers there for a while and you start to wonder, Am I doing damage here?
My advice – and this is cliché, but it's true – is that diabetes management is a marathon and not a sprint. This is about your overall control – trying to keep your time in range above 70% and trying to keep your A1c less than 7%. If you're doing that, celebrate those victories because that means that you're in a good, healthy place.
When I have a really high blood sugar, sometimes I have to remind myself to take a deep breath, try to get it down in a safe way and then move on. When it comes to lows, you definitely want to catch and treat them as soon as possible because you could have a seizure or pass out from a severe low.
There's no trigger number for complications. If you go over 300 for 15 minutes you're not going to lose your eyesight. It doesn't work that way. Serious complications like going blind or losing a limb occur from years and years of persistently high blood sugars – I'm talking years of blood sugars over 200 on average (there's no set number though so don't hold me to that). It is often said in medical literature that complications are the result of the duration and severity of hyperglycemia. It's not about having occasional highs and lows.
If you don't have a CGM, get one if you can because they are lifesavers. Not only will they tell you what your blood sugars are and how they're trending, but they will also alert you before you get excessively  high or dangerously low. They also provide data about your time in range. Time in range is the amount of time you spend between 70-180 mg/dL, and the goal is 70% or higher. It turns out that a TIR of 70% equates to an A1c of 7%.
Time in range is one of the best measures of your risk for serious complications – but don't freak out if it's not great. Time in range, along with other metrics from your CGM download, will give you an understanding of how you can improve it.
Remember, not too long ago all we had was the A1c as a measure of control. The A1c doesn't give you any information about highs and lows, but we know if your A1c is around 7%, you're going to avoid the serious complications of diabetes.
So my advice is to do what you can to try to keep your blood sugars in range as much as you can. Frustration with highs and lows is totally real and normal, but try to move on when they do occur (and they will!) and continue to do your best.