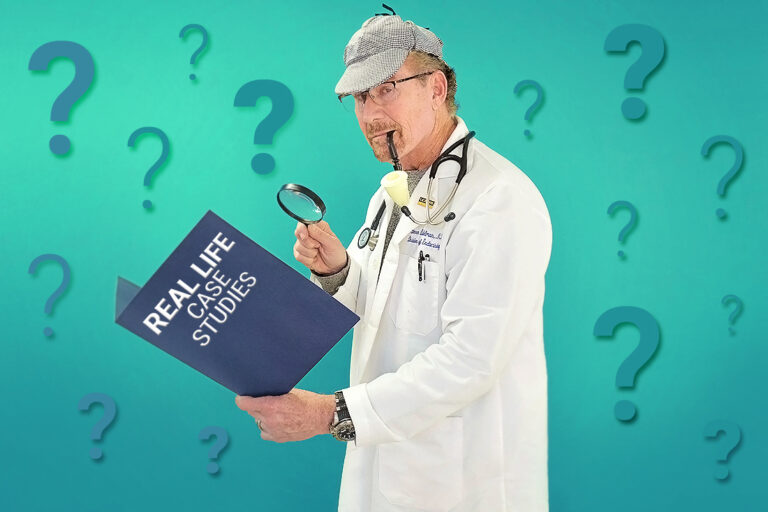 What Is Basal Insulin?
The main job of basal insulin (also known as long-acting insulin or the basal rate in your pump) is to keep your blood sugar at a consistent level when you're not eating. It's important to get your basal rate set correctly because it's the foundation of your diabetes regimen. And once you get your basal rate figured out, it usually doesn't change very much over time.
How Do You Know If Your Basal Rate Is Set Correctly?
The best way to test your basal rate is to do it overnight. Decide on the night that you're going to test – you don't want to do it on a night that you're going to be exercising late, eating late, or staying up later than usual.
The night of the test, try to have an early dinner around 5:00 or 6:00 pm. After dinner, don't eat anything more. You want your post-meal blood sugar in a desirable range (between 140-180 mg/dL) and you want it to be steady. If your post-meal blood sugar is above 200, give a little correction dose so by the time you go to bed, you're flat. If you're on a CGM, your trend arrow should be horizontal at bedtime. Check your blood sugar before you fall asleep, and write the number down if you need to so you don't forget.
If you're not on a CGM, plan on testing your blood sugar every few hours throughout the night, or at least once around 3:00 am. Important update for you type 2s – CGM is now approved by Medicare and other insurance companies if you are on one shot of basal insulin! Previously you had to be on three shots a day to be eligible to receive coverage for a CGM.
When you wake up in the morning, check your blood sugar again. If your basal rate is set correctly, you should wake up with nearly the same blood sugar you went to bed with, give or take 30 points. So if you went to bed at 150 mg/dL, you should wake up between 120-180 mg/dL.
Keep an Eye Out for Patterns
You can do this test a few times to see if you notice a pattern. If you're consistently going to bed at 150 and waking up at 250, that means you're not getting enough basal insulin. If your numbers are creeping down overnight, that means you may be on too much basal insulin. In either case, you should speak with your provider about adjusting your basal rate.
What if you go to bed at 250 and you wake up at 250? Do you need to increase your basal rate?
Trick question! The answer is no. If you're going to bed at 250 and you're waking up at 250, your blood sugar is flat. Your basal is doing its job. The problem is that you're going to bed too high, so you need to take more mealtime insulin with dinner so you go to bed closer to 150 with a horizontal trend arrow.
How Often Should You Test Your Basal Rate?
If you have type 1 or type 2 diabetes and you're on basal insulin, you should test your basal rate at least once a year. It's a simple thing to do, and it really pays dividends in your overall diabetes management.
A Real-Life Case Study
The download below is from a patient of mine who was having some trouble with glucose control. His standard deviation was very high starting at midnight, but it's not possible to tell from the download if he was on too much or too little basal, so I decided to put him through the test.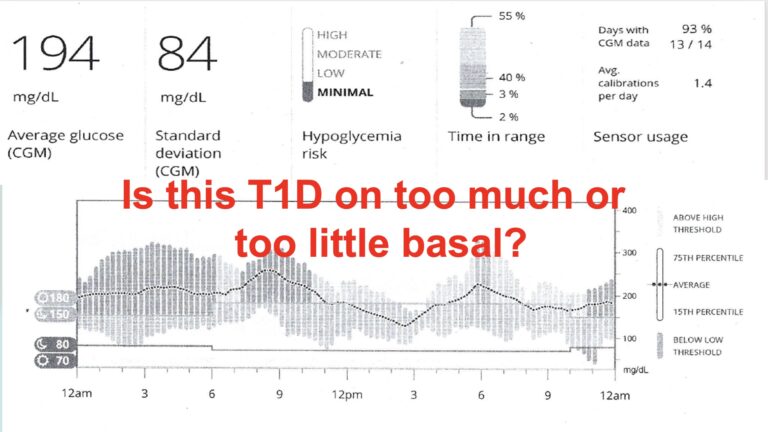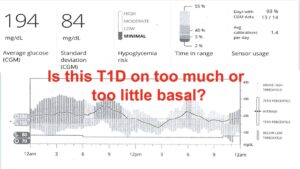 It's a little hard to appreciate the slope of the overnight glucose line from the next image below, but between midnight and 6:00 am he went from 150 mg/dL to 100 mg/dL. That's a drop of 50 points, so he was definitely on too much basal insulin.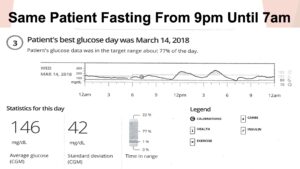 Many providers' first thought after seeing the first image with the overnight high standard deviation would be to increase the patient's basal insulin, but in actuality what he needed was less basal insulin. This patient was doing a lot of late-night snacking and not blousing, so that was the issue that we were able to address.
The Takeaway
Remember, if you are using a pump that delivers a basal rate or you take a long-acting basal insulin such as Lantus, Tresiba, or Toujeo, make sure you are getting the right amount to stay flat in the fasting state like overnight and in between widely spaced meals. Having a good basal dose is an important foundation to build upon.
Additional Resources:
Overbasalization in Type 1 and Type 2 Diabetes: You Can Have Too Much of a Good Thing!