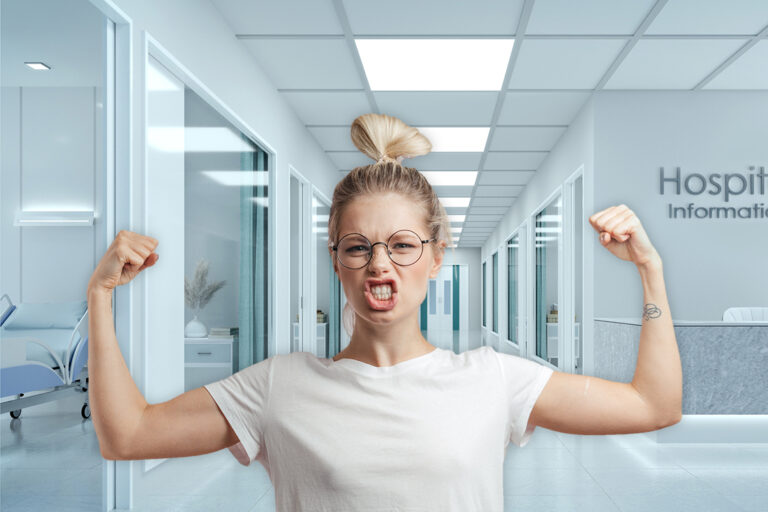 by A.M. Thomsen
Life with type 1 diabetes requires breathing and insulin. No doctor ever advised a patient to stop breathing, yet medical professionals have told me to stop taking insulin on multiple occasions. Such gaps in proper diabetic care become more dramatic when staying in the hospital for a non-diabetes-related emergency. Type 1s must prepare for ignorance, and be ready to spar with medical professionals to get acceptable care. This article will give you some tips on how to prepare and how to take action for better care when in the hospital.
My First Emergency Room Experience
My first visit to the emergency room in 2022 for a stroke and subsequent hospital stay required constant battles with my medical team to maintain proper blood sugars. After getting home I did extensive research, and my return trip nine months later for the same condition went much better. Hopefully, you will benefit from my battle scars.
My stroke care was excellent. The emergency doctor and staff whizzed gracefully around me. I received an intense drug – a clot buster for the brain – but it thins your blood to a dangerous level. The hospital staff must monitor you for 24 hours afterwards to make sure you have no internal hemorrhaging. Every 15 minutes through the night, the nurse tested neurological reactions and muscle strength to detect any hemorrhaging as early as possible. As the drug began to work, I could practically feel my brain opening, rapidly improving my speech and memory. Crisis averted … so I thought.
As soon as you pass through the doors of a hospital in an emergency situation, the hospital manages both your emergency and your diabetes care. Your ability to manage your blood sugar becomes tied to a large bureaucratic machine. This shaped my battles to come.
The Opening Skirmish: A Clash of High Blood Sugar Ranges
I asked my first ICU nurse, "What are the hospital protocols for blood glucose for type 1s?" He responded, "Between 200-300."
"THAT is NOT acceptable!" I firmly stated.
Rolling his eyes, he sternly whispered, "Well, that's what it is. Yours is 250 now. So you're good."
I knew the upward arrow on my CGM meant my blood glucose would soon reach at least 300 without a correction. He wouldn't budge to allow any insulin. Still a bit shell-shocked, I didn't put up a fight and wound up over 300. I lost the battle.
The Battle of Tresiba
The hospital offered two kinds of basal insulin, and neither one was Tresiba which is what I used at home. Fifty years of basal insulin trial and error, and Tresiba was the diabetic regimen that worked for me. Explaining that both of the hospital's basals make me hypoglycemic unaware, I refused to take them. The hospitalist was adamant that they could not get Tresiba. The hospitalist looked at my chart. "I see your A1c is 6.6, so I know you know what you're doing with your diabetes. Where are you going to get Tresiba?"
Luckily when leaving the house, even though I could not access parts of my brain, I swept all my diabetes supplies into a bag. I responded with a giant swoop of my arm to point at my hastily packed bag sitting on the chair across the room. "Right THERE!" Because of my good A1cs and preparation, I won the battle of Tresiba.
My CGM Offensive
Hospitals are suspicious of any medical supplies that are not theirs. Before proving that I was having a stroke, they would not accept my normal CGM reading. They had to dig in the closet and dust off a medieval finger pricker blood tester. Confirming a critical test before administering a dangerous stroke drug is fine. However, for the rest of my stay, the hospital's protocol was to base insulin dosing on only four blood pricks per day. I regularly consult my CGM dozens of times a day, even more when something unusual is going on, like being in a hospital for a stroke. And those beautiful CGM arrows communicate the direction of my blood glucose. The arrows factor in heavily in my dosing decisions.
In the end, I achieved a stealth victory. Officially, my insulin dose was decided on the blood prick, which was sometimes three hours old. Unofficially (and after gaining the nurse's trust) we could discuss my insulin dose with insights I provided from my CGM. Over the course of my stay, I had to convince each of my EIGHT nurses that I knew what I was doing. It paid to be courteous and respectful. Adding a few octopus impersonations during the neurological tests made them laugh and want to work with me as a team.
Taking Control of the Syringe
One time a nurse prepared a syringe with four units of insulin. She handed me the syringe, asking me to check it. "Is this correct?" she asked. Sadly I had to respond, "No, the plunger is set at 4 units, but there's a bubble in it. Let me try." The bubble took up 1.5 units of space. Afterwards, the nurses allowed me to dose my own syringes, which they simply reviewed. Earn their trust to work together as a team.
Sugar Siege
The dinner I ordered arrived. The menu provided details – it was vegetables and brown rice, totaling 3.5 grams of carbohydrate. It was sickeningly sweet. Despite not eating the entire meal, it shot my blood glucose from 112 pre-meal, plus insulin dosing for 3.5 carbs, to 350 with an arrow shooting straight up. The next trial was to begin.
I described the situation to the nurse as she entered the room. I said that I wanted to correct my glucose with another insulin injection. She thought about it. She stated that it was impossible because there was no more insulin dosing for the rest of the day. I told her that the 350 BG was not going to fix itself on its own. It would only go higher. She frowned at me, saying, "Sorry, nothing can be done." She was truly sorry. I implored her for another insulin shot, showing her the CGM arrow. She was silent. Her silence ended with a strategy, "I can't let you just take another shot. But when you took your pre-meal shot, you didn't need a dosing correction. You're allowed one correction, so I'll let you use it now." This negotiation produced some sweaty hands!
Endocrinologist Negotiations
On April 27 of this year, I had another stroke, duplicating last July's patterning in nearly all ways. Again I swept my diabetes supplies in the infamous canvas bag. Because my research never uncovered a hospital with better protocols, we decided to give the same hospital another try.
The same stroke drug was administered and I was admitted to ICU all over again.  Upon arriving at the ICU this time, I started my newly learned mantra: "I want to see an endocrinologist!"  There was the usual hustle and bustle.
In the morning, the hospitalist came to my ICU room. It was a different hospitalist this time. She said to me, "I understand you want to see an endocrinologist. We contacted your clinic endocrinologist and she contacted the hospital endocrinologist, who both contacted me. The three of us don't want you to really see an endocrinologist in the hospital, but we know why you want one. So we're prepared to make you an offer. If you give up all three of us doctors, we will allow you to use your Tresiba, take the number of injections you want, and dose your own insulin." Pleasantly shocked, I agreed!
Toast Warfare
There was a good food glitch in this hospital round. I arrived at the hospital early on a Thursday evening, and due to the circumstances, I had had no food since 11:30 a.m. that morning.
On Friday morning I had to pass several swallowing tests before I was allowed to order food from the kitchen. At 10:30 a.m., I was given the go-ahead to order breakfast. The food order lady told me that I couldn't order any food – the kitchen was closed. When was it going to open up? She couldn't tell me, she had no idea. She had no knowledge of when it might open for any particular meal. They were short on staff. What was I supposed to do? She recommended ordering all my meals now, and maybe they'd get to me eventually. The 'eventually' does not help maintain blood sugar the same way food does.
She warned that the food is delivered from the top of the hospital down. I was on the bottom floor, so I'll be last. Maybe the food would arrive by late afternoon.
Describing my dilemma, she suggested that one of the nurses make me some toast.
The nurse entered the room and I told her what the food order lady said. The nurse bulged her eyes out in horror and disbelief, "WHAT?" I empathized with her, but reconfirmed that that's what she said. Willing to help me, but understandably unhappy to do it, the nurse finally brought back two pieces of toast. It arrived by lunchtime.
Apparently the next time I am going to have to pack my own toaster with my diabetic supplies. Maybe pack a can of chicken noodle soup and a can opener too.
My Key Points to Win the Best Diabetes Care Possible in the Hospital:
Get your A1cs and time in range under control now. A good A1c will support you in gaining trust to work with the team. The hospital won't listen to you if you don't have proof that you manage your diabetes well.
Ask for an endocrinologist in the hospital. They may not know your personal diabetes regimen, but they understand type 1 diabetes. They can become a key ally in negotiating the best care for your hospital stay.
Approximately 80% of ICU diabetics have type 2. The medical staff often apply type 2 treatment to type 1 patients, something that can be very dangerous for type 1s.
Some hospitals strip patients of their insulin pump. Have a basic understanding of how to manage your diabetes with multiple daily injections.
An MRI and some other tests require you to remove your CGM. Bring a replacement sensor.
Do some research on local hospitals and their diabetes care. Hospitals are very reluctant to share their protocols, so your best source is asking other type 1s about their hospital experiences and the protocols.
Hospitals have protocols for diabetes care, but medical staff may interpret those protocols differently. Try to get a medical professional who knows diabetes and will work for better protocols. My hospital's protocol for glucose range is a standard hospital range of 100-180.
I was able to use some of the medicine I brought from home. The hospital pharmacist played an integral role in insulin selection with the hospitalist. I had to use some insulin brand equivalents the hospital used. Know what works for you, be flexible where you can, and be firm with them when you can't use a particular medicine being offered.
Earn medical staff trust by maintaining good A1cs before you enter the hospital. Advocate for yourself by asking questions and diligently searching for experienced people who will help you. Be resilient and fight for optimal care. Be a Warrior!
Additional Resources: