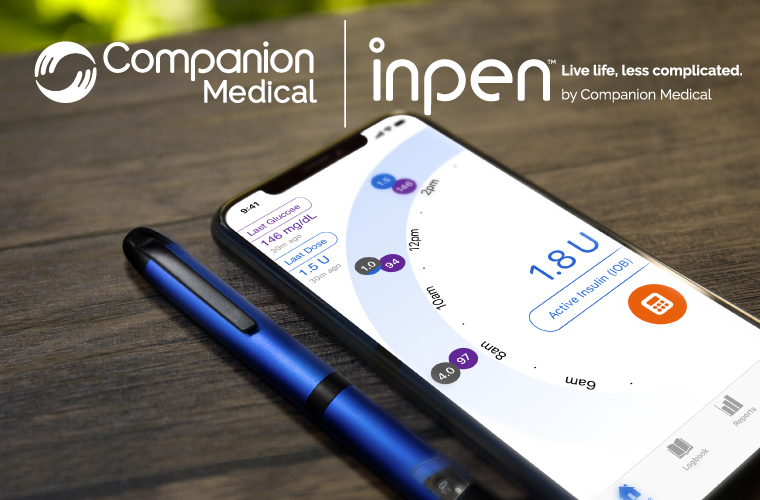 Companion Medical, makers of the first FDA approved smart insulin pen, recently announced their Bluetooth-enabled InPen is now available in retail pharmacies nationwide. At the same time, their new copay assistance program ensures that patients with commercial insurance will never have to pay more than $99 a year to use the InPen.
As more people with diabetes start taking advantage of the InPen, other companies like Novo Nordisk have also announced plans to bring wireless pens to the U.S. market. Generally speaking, these "smart" or "connected" insulin pens are reusable and work with insulin cartridges, the often forgotten alternate form of insulin (in contrast to vials and disposable pens). Beyond being more friendly to the environment, these smart pens offer a memory feature that records the time/date of insulin injections that have been delivered.
Companion Medical's InPen goes several steps further by also pairing with an iPhone or Android app that functions as a bolus calculator, complete with Insulin on Board. When I previously wrote about the InPen here, I had not yet been able to use and prescribe the InPen in real-world use. Having many more patients using the InPen now, I can share a few additional insights regarding this exciting new device.
The InPen Offers Half-Unit Increments
One of the InPen's most popular features is its ability to dispense Novolog or Humalog in half-unit increments. Many people with type 1 diabetes take pretty small doses of insulin, so when 5 units might make you go low, but 4 units is not enough insulin to cover a meal, having the option to take 4.5 units is a big deal! Mathematically, that's about a 10% difference in dose, which is clinically meaningful.
Other options on the market can also deliver half-unit doses (Luxura HD, Novopen Echo, Kwikpen Junior), but I'm surprised by how many people are not aware of them. Furthermore, the Luxura HD and Novopen Echo use reusable insulin cartridges like the InPen, so the added functionality of the InPen makes it a compelling choice if you plan to go that route.
The InPen Offers Pump-Like Features to Pen Users
Many people with diabetes have previously tried using an insulin pump but have chosen to go back to using pens for a variety of reasons. The high cost of insulin pumps (in the thousands of dollars) can unfortunately be a dealbreaker for many. Other people find wearing an insulin pump on the body to be a nuisance over time, leading to "holidays" or a permanent switch back to using insulin pens.
Users familiar with using insulin pumps are able to quickly grasp the added value of the InPen. They know how convenient it can be to use a "bolus wizard" or "bolus calculator" to figure out how much insulin to take to cover a certain amount of carbohydrates and/or to correct a high blood sugar. In addition, pump users are familiar with the concept of "Insulin on Board", or insulin that is still active in their system after a bolus. The InPen app prominently displays on its main screen how much insulin is on board and accommodates for this fact when suggesting new doses of insulin.
While the InPen doesn't offer every feature of insulin pumps (customizable basal rates, for example), it does provide a way for pen users to adopt some of the functionality of a pump.
The InPen Takes Guesswork Out of Dosing
Let's face it. When it's time to take a dose of fast-acting insulin, most insulin pen users don't follow a systematic method to calculate their dose. Instead, they often eyeball their meal and guesstimate a dose that should cover it. Many people do perfectly fine with the eyeball method, but for those who have a hard time, improving blood sugar control can be challenging without having a clear method in place to modify.
Thanks to the in-app bolus calculator, InPen owners can methodically and quickly calculate a suggested dose without having to do any mental math. As a side bonus, the calculator makes it easier to use precise carbohydrate ratios (the number of carbohydrates that 1 unit of insulin will cover) and correction factors (how many points they expect 1 unit of insulin to bring their glucose down) that might not lead to round numbers.  For example, the InPen bolus calculator doesn't find it any harder to calculate a dose for a carb ratio of 1:13 than 1:10.
Conclusion: Why Not Use a Smart Insulin Pen?
With the more affordable guaranteed price of $99 a year for commercially-insured patients, is there even a downside of using a Companion Medical InPen? Only two come to mind. The InPen can only deliver a max of 30 units at once, and it can't deliver Fiasp insulin due to Fiasp not being offered in cartridge form in the U.S.
Now for everyone else who takes less than 30 units of rapid-acting Humalog or Novolog in an insulin pen, you should seriously consider switching to the InPen. Even if you don't use every single feature of the smartphone app, at the very least your InPen still allows for half-unit dose delivery and keeps a record of your insulin history to help you and/or your doctor.
Also, there are bonus benefits to using the InPen, such as the fact that insulin pen cartridges take up about half as much room as disposable pens in your refrigerator or suitcase. (Finally, you can put butter in your fridge's butter compartment!) Also, the InPen includes a temperature sensor that triggers if the insulin becomes too hot/cold, and it will also remind you when your insulin cartridge needs to be changed after 28 days.
If you haven't used a smart insulin pen yet, discuss with your doctor about trying the Companion Medical InPen.
Do you live in or near Orange County, California and want to participate in a clinical trial with the InPen? The Mary and Dick Allen Diabetes Center is actively looking for participants. For details, click here.