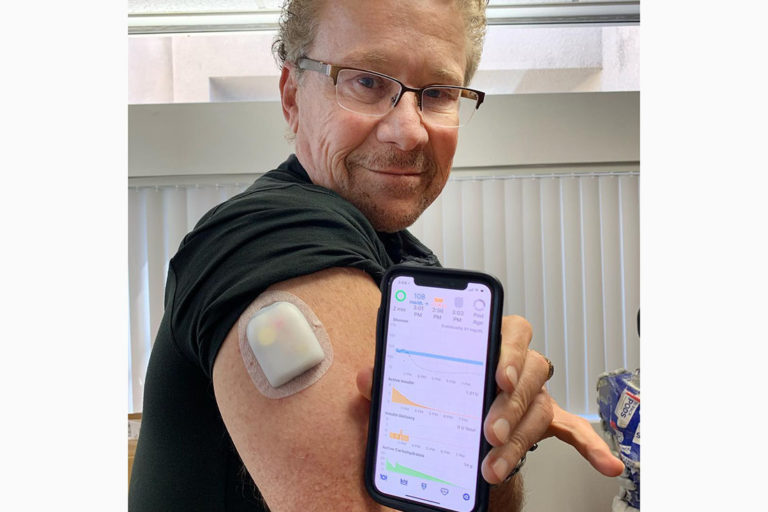 For many months I have been super jealous of Jeremy looping with his 1909 Medtronic pump and RileyLink. After he sent me his 100% time in range download just to mentally torment me, I finally got the RileyLink ($150 at https://getrileylink.org/product/rileylink433) for my Omnipod a few weeks ago. My friend from Stanford, Rayhan Lal, loaded the app on my iPhone for me when I was in Santa Clara for one of our TCOYD conferences, and Jeremy physically put my RileyLink together (it comes with a rechargeable battery that needs to be inserted) and got me up and running. I entered all of my settings (insulin to carb ratio, correction factor, duration of insulin, how long do carbohydrates take to be absorbed, etc.) and with two smart buddies who both have T1D helping me, it was super easy!
I can tell you I absolutely love it and my daily time in range after looping only two weeks has been in the upper 80 to low 90% range, when before it was in the 70s.
Below are some of my thoughts on the system:
I do not have to carry my Omnipod controller around ANYMORE as all of the controls are on my iPhone and I can see it in the sunlight…wooo hoooo! Of note is that looping with the Omnipod does not work with the new Bluetooth pods that pair up with the DASH.
You must be super honest when using Loop. You have to enter all of your carbs (fast acting, intermediate acting and longer acting), only bolus via your pump and tell it when you are going to exercise and for how long. The more data you put in, the better it works.
Loop will take all of this information along with the data from your G6 and predict what your glucose level will be in the next few hours. When you give a correction bolus, you will see the predicted line adjust downward a few seconds after bolusing. I have found the predictions are pretty darn accurate when the settings are correct and I am honest.
Loop is a basal rate modulator, also called a hybrid closed-loop system. It will adjust your basal rate upward when your glucose is above your target range and also if the software predicts your glucose will eventually get above your target range. It will lower or turn off your basal rate if it predicts you will get low as well. I have found that the system really works to keep you in range if your glucose is not too high (~200) or too low (~70). Above 200 I would give myself a correction bolus, and below 70 get some carbs depending on the trend arrow. It took me awhile, but you have to trust the system and be patient in that it will bring you into the target range eventually.
My overnight glucose levels have NEVER been better. I do have gastroparesis and a bad case of the werewolf syndrome (after the sun goes down I eat anything that cannot move faster than me – watch our Edelman Report on werewolf syndrome here).  That typically messes me up almost every night. I seem to cruise down slowly overnight and land between 115 and 125 without lows, night after night. Really amazing. My GF really appreciates it and my monthly Martinelli's apple juice bills have really gone down and so has my weight!
If I really eat a lowish carb diet, the system takes care of my glucose level without bolusing at all. The modulating basal rate feature keeps me in range. When Jeremy got his 100% time in range day after day, he was on a low carb diet. I now call him Jeremy Pettus, MD, LLC (Looping Low Carbs). You must bolus for meals if you are on a regular diet by entering the carbs. I do not carb count, but I add in the amount of carbs that would translate into my usual WAG (wild ass guess) method.
From the screen shot of the Loop app (below), from top left to top right you have the green circle indicating the system is active and connection to the G6 and Omnipod is good.
Then you have the glucose level and trend arrow, followed by the basal rate modulation (-0.45 U/hr). My normal basal rate is 0.8 U/hr so the system has lowered my basal rate as you can see from the insulin delivery view. Next to the basal rate are how much insulin is left in your pod and when your pod will expire. The first view below is the glucose both present (dark dots) and predicted (lighter dashed line). The next three views are the active insulin, insulin delivery and active carbohydrates. There is a ton more info but I do not want to overload you.
Looping can really make an improvement in your diabetes control, but there is a learning curve and problems that pop up here and there. For example, you will lose connection and your loop will not be active. You sometimes need to reboot things and move the RileyLink closer to your Omnipod for a few minutes. This happens to be when I wear my Pod on my upper back and keep the RileyLink in my pants pocket. You can also update your software from time to time online as well. Have a back up plan for sure if the system goes down or you lose your RileyLink, just as you should if you were not looping. Overall the occasional hassle is well worth it for me.
Looping is not FDA approved, but studies are currently being conducted with the folks who use open source software.  This data will be used to obtain official sanction from the regulators. These rogue algorithm developers have accelerated the pace of diabetes technology for all of us!