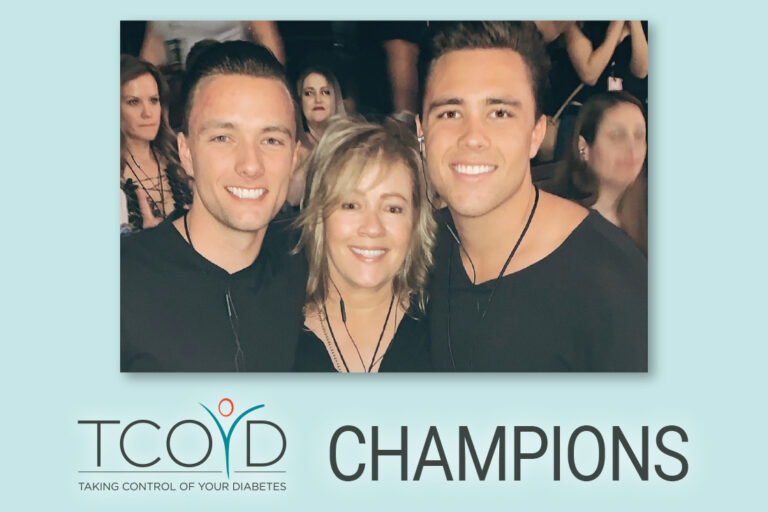 Diabetes is a family affair for Nancy Crowe and her two sons Derrick and Daniel. Derrick was diagnosed with type 1 when he was only eight years old, but somehow diabetes turned into an unexpected teacher over the years, encouraging the family to live in the present moment. Derrick's strength in living with diabetes had such an impact on his brother Daniel that Daniel and his wife Victoria requested charitable donations to TCOYD in lieu of gifts for their recent wedding, raising over $15,000. Nancy shares how diabetes has shaped their family, and why TCOYD is so close to their hearts.
How long has your son been living with diabetes? 
Derrick was diagnosed 20 years ago at age eight. He seemed to be hungry every hour, and couldn't quench his thirst. Within a day or two, he was urinating a lot. My mind raced to his diagnosis of hydronephrosis shortly after his birth. Naturally, I thought it was a kidney problem.  I calmed myself and chose to observe for a couple of days. One night, while tucking him in, I thought wait, diabetes is associated with frequent urination and thirst. I promptly dismissed such because diabetes was for older people who've made poor dietary choices. Or so I thought.
A day or so later, during my annual physical exam, I shared my concerns with my physician who is Derrick's Godmother. We agreed a "clean urine spill test" would be best. Derrick and I went to the lab and within hours the lab called distressed. They suggested I get Derrick to the nearest hospital with a pediatric endocrinologist on staff. I think his A1c was close to a 9. Uh, OK. The county hospital was the only resource. Turns out an endocrinologist needs to be supported by a hospital because there isn't an insurance billing code for teaching.
The doctor was terrific, but he was beyond skeptical that I could endure such a regimen with my request for a short hospital stay. He advised me the diabetes educator was on vacation for a week. "Derrick will be hospitalized until you receive the proper (one week) education." Wait, what? Are you saying Derrick must be hospitalized for two weeks?  "Yes, I am." I looked at him with dismay. I shared we had courtside tickets to a Laker's game in three days which Derrick had been looking forward to for months. The doctor was stern. "I've been clear. You must learn how to manage every facet of this disease before your son leaves."  We had a standoff.  He tossed me a manual and challenged me to learn it all within 24 hrs.
His oral exam was challenging but I passed, and Derrick was promptly discharged! Goodness, we had so many prescriptions to fill. NPH, NovoLog, Zophran, a glucagon pen, syringes, an inject-ease device, and ketone strips. Of course, lots of quick sugar snacks and juice boxes too. Yes, we made it to the Laker's game. Within days of being home, I contacted Derrick's pediatrician. He squeezed us in and shared his love and brotherhood for an endocrinologist he attended medical school with.  He reached out to his colleague and shared our story. The endo turned out to be Dr. Edelman! Dr. E. aka "Dr. Genius" (I nicknamed him) appropriately mailed me his first edition of the TCOYD book. Who does such a nice thing? I read front to back numerous times and quickly determined I wanted to be a part of this kind soul's mission.
How did you adapt to Derrick's diagnosis as a family?
Not so well. My husband, a veterinarian, lived in immense denial of the diagnosis. Sadly, he disengaged. The disengagement affected Derrick in numerous ways and probably still does to some degree. The rest of us have rallied around Derrick and provided him with unconditional love and support.
What did you find most challenging about caring for a child with diabetes?
In 2001, the insulin regimen was brutal. I wasn't feeding the child, but rather the insulin. I feared hypos. Lantus and a continuous glucose monitor became a game-changer for us.
How has TCOYD had an impact 0n your life?
TCOYD taught me to trust the process of teaching a loved one how to manage their diabetes.
What has inspired your contributions over the years?
Good question! I'm approached and donate to many diabetes organizations, but my heart always reverts to TCOYD. I probably do more in the way of referring people to the TCOYD website or videos than donating. The videos are lighthearted and often hysterical. It's the teaching of how to manage the disease and/or diagnosis that warms my heart in ways words cannot describe.
What is your favorite thing about Dr. Edelman?
Sheesh, a favorite, as in singular? I suppose Dr. E's infectious optimistic personality resonates the most for me.
Derrick's brother Daniel and his wife decided to raise funds for TCOYD and another charity in lieu of gifts for their wedding. That is so thoughtful and generous!
Daniel and Victoria (childhood sweetheart crushes) grew up comfortably with all of their needs, desires and wishes met. They each have loved ones who struggle with a disease. Essentially, they chose to give versus receive. I may have suggested TCOYD, but either way, they were both on board.
Has diabetes had a positive impact on your life and your son's life in any way?
What a tough question! I suppose, diabetes prompted and often insisted, I stay "in the now and ever so present." In other words, no future tripping of any sort because all sorts of unnecessary chaos surfaces with the "what if" question. As for my son, he's made the choice to accept it and embrace the lessons of living your best life no matter what.
Is there anything you wish people without diabetes knew about living with diabetes?
Sure. I wish people knew:
The disease didn't manifest because a loved one indulged in too much sugar.
It's a real disease which requires 24/7 management.
Our loved ones deserve superior health care, support, compassion and education.
I wish general practitioners were required to learn a bit more about diabetes and how to care for a patient in a kind manner.
Coaches, teachers, and others interacting would do best to understand the individual with diabetes is no different.
Is there any advice you would offer a parent of a child newly diagnosed with type 1 diabetes?
Yes. I'd encourage deep breaths before having a full-blown panic attack! Like everything in life, education, awareness, and access to tools to navigate are key. I'd encourage a course or series of courses of TCOYD, a support group, and an environment that simply loves the person dealing with the day-to-day roller coaster of managing their metabolic response to food, hormones, and stress. No two days are the same, but our loved one is.
Do you mind sharing a little about yourself?
I'm a mom first and foremost. I've been blessed with my family, wonderful friends, and my work. Staying humble is my place of joy.
If you would like to help support TCOYD's educational programs, please click below.