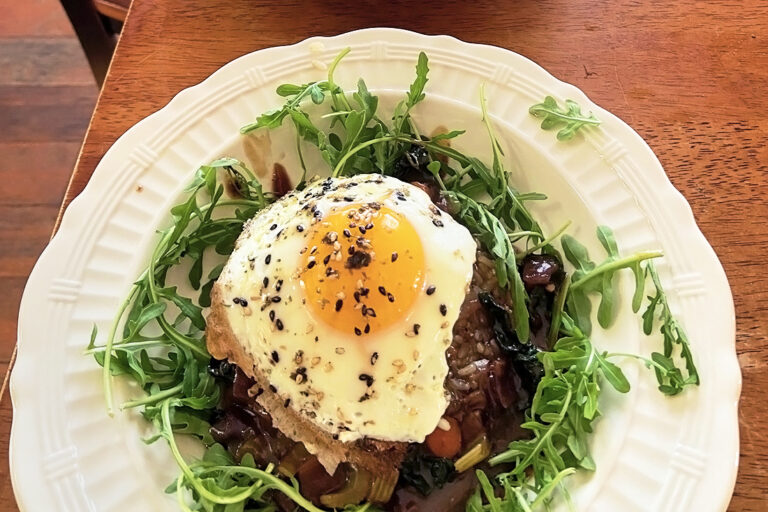 TCOYD's longtime Director of Meeting Services (and health and fitness guru) Michelle Day embodies the aloha spirit, and brings it with her everywhere she goes. She recently created this recipe for her family and described it as, "a loco moco that won't make your blood sugars go loco!" Mahalo, Michelle!
Servings: 4
Ingredients:
1 lb ground beef
1 tablespoon Montreal steak seasoning (or you can just use a dash each of salt, pepper, and garlic powder)
2 teaspoons olive oil
1 large diced carrot (or 6 baby carrots, diced)
1/2 an onion, diced
2 celery ribs, diced
1 cup of chopped kale
Salt and pepper to taste
1 prepared gravy packet (I used this one)
2 cups cooked cauliflower rice
4 eggs
4 handfuls arugula
1 teaspoon Furikake seasoning (or Everything But the Bagel seasoning, or just salt and pepper)
Directions:
Make 4 beef patties. Season with Montreal steak season (or salt, pepper and garlic). Brown patties in large frying pan.
In a medium sized frying pan, sauté diced carrot, onion, and celery in olive oil for 5 minutes. Add chopped kale and sauté another 2 minutes. Salt and pepper to taste.
Place sautéed veggies over the patties in the large frying pan.
Pour the prepared gravy over the veggies and meat. Simmer for 5 to ten minutes.
Heat the cauliflower rice.
Fry the eggs.
Assembly time! Use 4 plates or shallow bowls. Scoop 1/2 cup of rice into the center of each plate. Layer on meat patty and sauce. Add an egg on top of each patty and season with Furikake. Place a handful of arugula around the rice pile.
ALOHA!!! Great for breakfast, lunch or dinner!!!
Approximate Nutritional Information for 1 Serving:
Calories: 435.5, Fat: 32g, Carbs: 8.5g, Fiber: 3g, Sugar: 3.5g, Protein: 28g