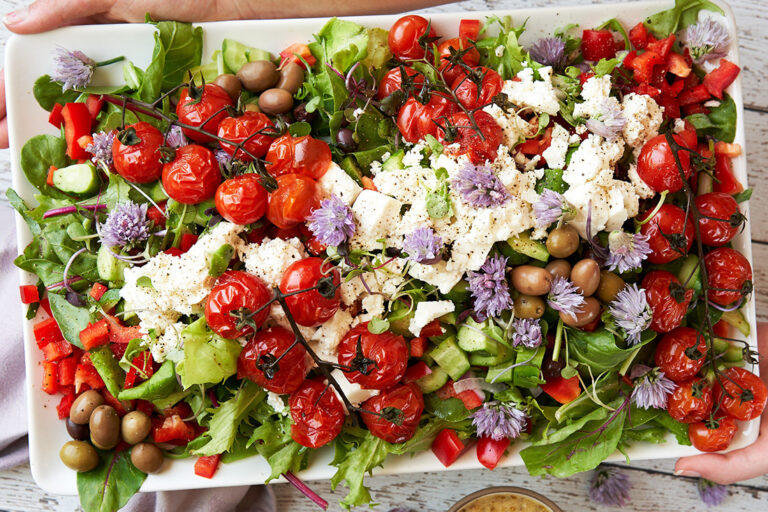 Jennifer Shun is the parent of a type 1 diabetic teen and the author of For Good Measure, which features low-carb, farm-to-table California cuisine — a resource with specific ingredient lists and nutritional data geared to people living with diabetes. Click here for the original California Greek Salad recipe and additional notes.
Yield: 12, Size: 1.5 cups
Ingredients:
1 cup cherry tomatoes
1 tablespoon olive oil
¼ teaspoon salt
12 cups mixed lettuce
2 cups cucumber, chopped
1 cup red pepper, chopped
½ cup red onion, chopped
½ cup kalamata olives
¼ cup red wine vinegar
1 tablespoon dijon mustard
2 teaspoons garlic, minced
2 teaspoons oregano, dried
1 teaspoon salt
½ teaspoon black pepper
½ cup olive oil
1 cup feta
¼ cup oregano, fresh
Directions:
Preheat oven to 450 degrees. Line a rimmed baking sheet with parchment.
Toss cherry tomatoes in olive oil, spreading on prepared baking sheet. Sprinkle with salt.
Roast for 20 minutes, until skins blister and burst. Let cool.
Rinse and drain lettuce, placing in a shallow bowl.
Add cucumber, red pepper, red onion and olives.
Whisk red wine vinegar, dijon, garlic, oregano, salt and pepper in small bowl until well combined. Slowly whisk in olive oil until emulsified.
Drizzle dressing over salad mixture. * Top with feta and fresh oregano.
Naturally low-carb & gluten-free
* Dress to desired taste — leftover dressing will keep for one week refrigerated. Bring to room temperature & whisk before re-serving.
Nutritional Information for 1 Serving: 
Calories: 150, Fat: 13g, Carbs: 4g, Fiber: 1g, Sugars: 2g, Protein: 2g