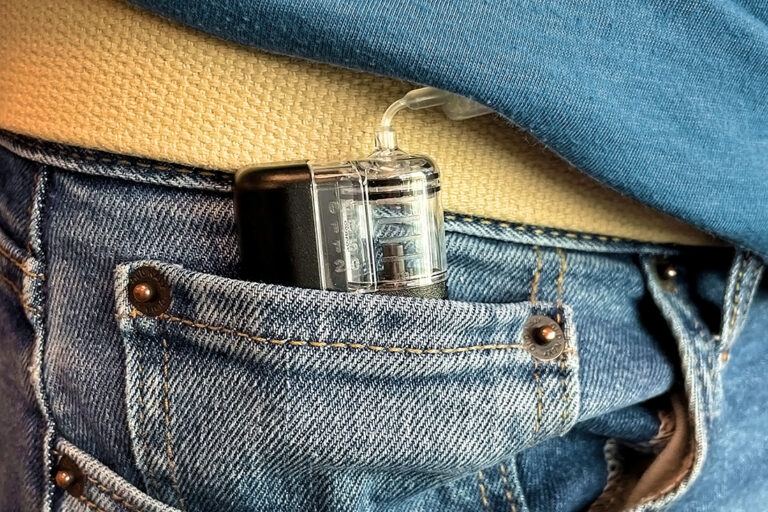 Introducing the Tandem Mobi
Insulin pump options for people with diabetes just got bigger (and smaller) with the FDA's recent approval of Tandem's Mobi insulin pump. Mobi is roughly half the size of Tandem's t:slim X2 and is so small you can fit it in that tiny little pocket of your jeans that never seemed to serve a purpose, until now.
The Mobi looks like it's going to be an excellent device. It has all the hybrid closed-loop tech (details below) and is powered by the same Control-IQ technology that powers Tandem's t:slim X2, but it's so much smaller. Mobi holds 200 units of insulin compared to t:slim X2's 300 units, but the majority of people with type 1 don't need that big of a reservoir. I personally would try this pump!
Unlike the t:slim X2, Mobi will not have a touch screen and will instead be fully controlled by a mobile app. There is an on-pump button though for people to manually bolus if they don't want to bolus with their phone. Mobi is currently only compatible with iPhones, but will hopefully integrate with Androids soon. A list of compatible iPhones will be released closer to commercial availability.
Overview of Features:
Approved for people with diabetes ages six and older who require insulin
Control-IQ technology (C-IQ technology uses CGM data to predict blood sugar levels and adjusts insulin delivery every five minutes to prevent highs and lows and help users spend more time in range)
Roughly half the size of the t:slim X2 pump
200-unit insulin cartridge
5-inch tubing option
Wireless charging capability
Remote software updates
Water-resistant (tested at 8 feet for 2 hours, IP28 rating)
Led status indicator
Mobi can be worn almost anywhere, offering more discretion, comfort, and wearable options. You can clip it to your clothes, you can slip it into the coin pocket of your jeans, and you can wear it on-body with a lightweight adhesive sleeve (sold separately).
When Will Mobi Be Available?
A limited release of the Mobi system is expected to start in the U.S. in late 2023, with full commercial availability expected in early 2024. Current t:slim X2 customers with at least 12 months remaining on their pump warranty can find more information on how to switch to the new Tandem Mobi through the Tandem Choice Program.
Click here for more information and to sign up to receive the latest news on the Tandem Mobi system.
We've got so many great diabetes device options to choose from now, and the list keeps growing!
Additional Resources:
Tandem's t:slim Gets a Mobile Bolus, and There's Lots More in Store