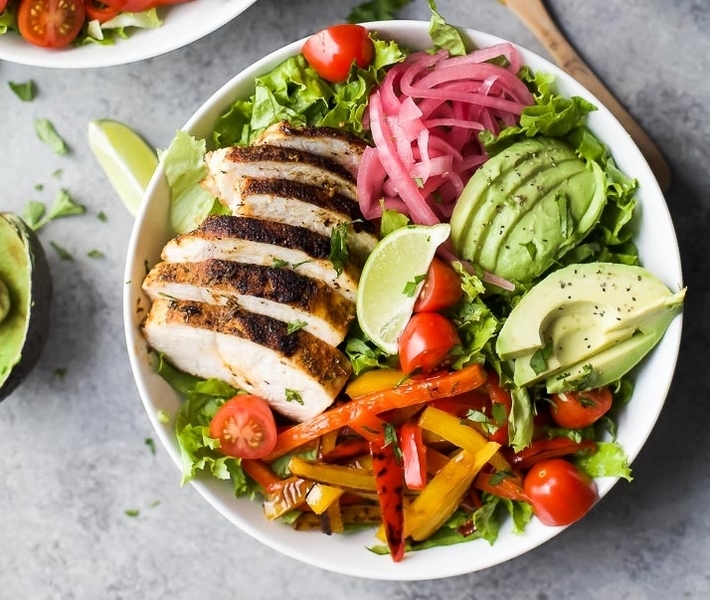 Celebrate spring with this colorful, easy and filling (yes, filling!) Mexican salad from joyfulhealthyeats.com!
Servings: 4
Ingredients:
For the Salad:
1 lb. boneless skinless chicken breast
½ teaspoon smoked paprika
½ teaspoon garlic powder
½ teaspoon ground cumin
½ teaspoon dry cilantro
½ teaspoon sea salt
¼ teaspoon chipotle chili powder
¼ teaspoon black pepper
1 tablespoon grape seed oil
1 head of green leaf lettuce, chopped
1 tablespoon grape seed oil
1 yellow pepper, juilienned
1 red pepper, julienned
1 cup pickled red onion
2 avocados, sliced
For the Chimichurri Dressing:
1 garlic clove
1 cup fresh cilantro
2 tablespoon red wine vinegar
1 tablespoon lime juice
3 tablespoons olive oil
¼ teaspoon smoked paprika
¼ teaspoon red pepper flakes
salt & pepper to taste
Instructions:
In a small bowl, add smoked paprika, garlic powder, ground cumin, dry cilantro, sea salt, chipotle chili powder and black pepper. Mix to combine.
Season both sides of the chicken breast with spice mixture. Set aside.
Heat large skillet to medium high heat. Add 1 tablespoon of grape seed oil to the pan and then add julienned peppers. Saute until slightly browned, about 4-5 minutes.
Remove from the pan and then add 1 tablespoon of grape seed oil and then immediately add the seasoned chicken breast. Sear both sides for 6-7 minutes, or until the chicken is no longer pink. Remove from the pan and let rest. Slice when the chicken has cooled down.
For the dressing: add garlic clove, fresh cilantro, red wine vinegar, lime juice, ¼ teaspoon smoked paprika, red pepper flakes, salt and pepper to a small food processor or blender. Blend until the cilantro is finely chopped. Then add olive oil to the food processor and blend until the dressing combines.
To assemble the salad add green leaf lettuce to a large bowl (or four individual bowls), top with sliced chicken breast, sautéed peppers, pickled onions and sliced avocado. Serve with chimichurri dressing on the side.
Nutritional Info for 1.5 cups of salad:
Calories:  456  Total Fat: 31g, Total Carbs: 22g, Fiber: 9g, Sugar: 6g Protein: 27g
Recipe shared with permission from joyfulhealthyeats.com. Click here to see the original recipe and notes.