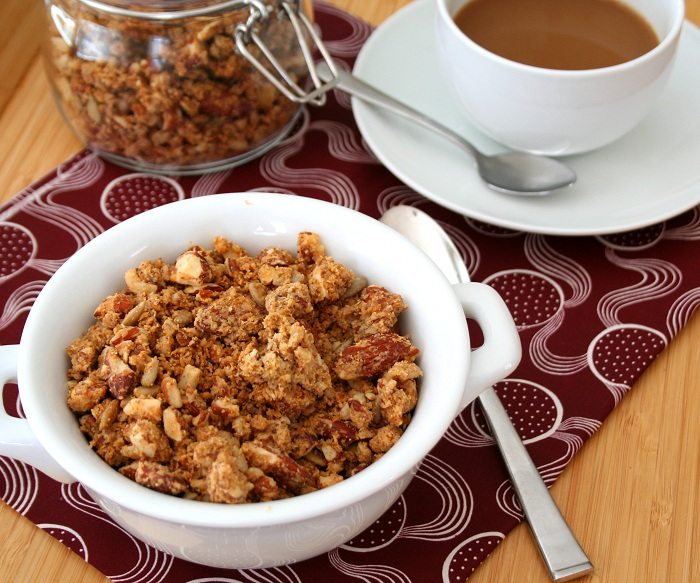 Who says you can't have your granola and eat it too?  Well, actually nobody because that's not a saying, but in this featured recipe from the popular food blog alldayidreamaboutfood, we think you'll discover a new breakfast favorite. For all of you granola lovers out there looking for a low-carb option, this one's for you!
Servings: # 12
Ingredients:
1½ cups almonds
1½ cups pecans
1 cup shredded coconut or almond flour
¼ cup sunflower seeds
1/3 cup Swerve Sweetener
1/3 cup vanilla whey protein powder or collagen protein powder
1/3 cup peanut butter
¼ cup butter
¼ cup water
Instructions:
Preheat oven to 300F and line a large rimmed baking sheet with parchment paper.
In a food processor, process almonds and pecans until they resemble coarse crumbs with some larger pieces. Transfer to a large bowl and stir in shredded coconut, sunflower seeds, sweetener, and vanilla protein powder.
In a microwave safe bowl, melt the peanut butter and butter together.
Pour melted peanut butter mixture over nut mixture and stir well, tossing lightly. Stir in water. Mixture will clump together.
Spread mixture evenly on prepared baking sheet and bake 30 minutes, stirring halfway through. Remove and let cool completely.
Nutritional Info per serving (recipe makes 12 servings):
Calories: 338, fat: 30g, carbs: 10g, fiber: 5, protein: 9g
Recipe shared with permission from alldayidreamaboutfood. Click here to see the original recipe and notes.