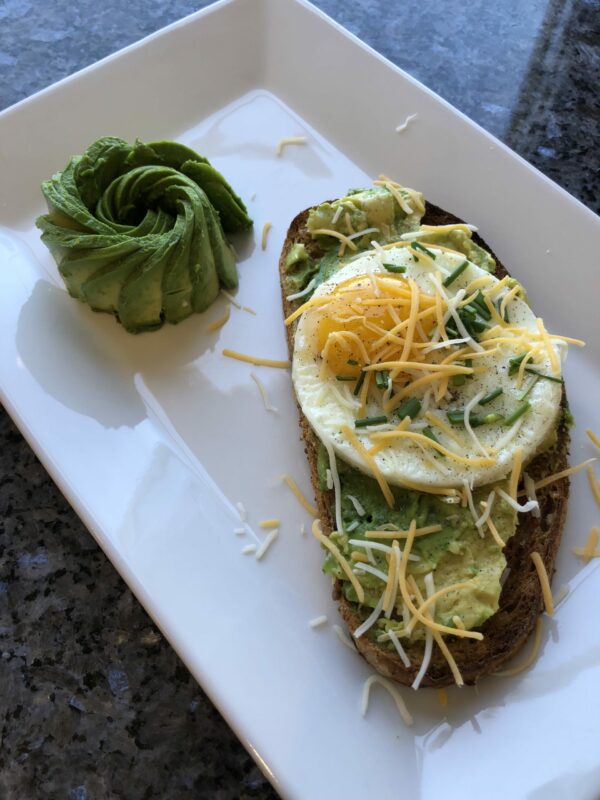 This recipe will probably be one of the easiest ones we will ever publish, but that doesn't take anything away from how flavorful it is.  Plus it's a super fast on-the go option for breakfast, lunch, dinner, or anything in between.
Servings: 1
Ingredients:
1 slice low carb bread of choice (click here for a great list of options)
Half of a ripe avocado
1 egg
Salt and pepper to taste
1 teaspoon chives (optional)
1 tablespoon shredded cheese (optional)*
Instructions:
Toast bread until golden brown.
While the toast is toasting, cook egg to your liking (fried, scrambled, poached, hard boiled).
Mash the avocado in a bowl and spread onto toast.
Top with egg, chives and cheese (if desired) and serve immediately.
Optional seasonings: garlic powder, chili flakes, fresh dill…the options are endless!
*Chef's Note: Be aware of added fat and calories with cheese, but it can be a great flavor enhancer . Try pepper jack for a spicy twist!
Nutritional Info per Serving (recipe makes 1 serving):
Calories: 285.5, fat: 22g, carbs: 14.5g (3 net), fiber: 11.5, protein: 14.5g
(using Great low Carb Bread Company Rye)