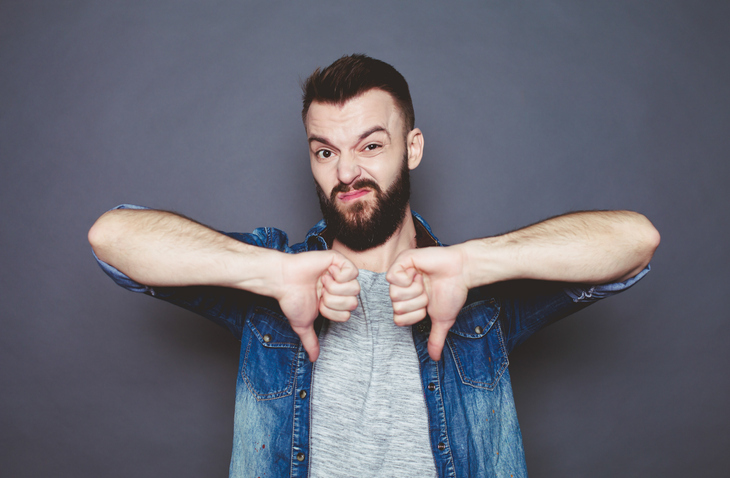 The A1c has been around for a zillion years and is supposed to give people with diabetes and their healthcare professionals an idea of what the average glucose value has been over the prior two to three months.
For example, an A1c of 7% would equate to an average glucose value of 154mg/dl (see table).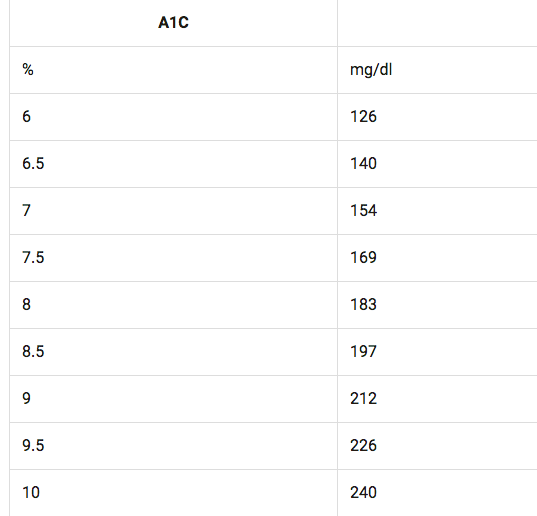 The A1c has been an important test since most folks with diabetes cannot be pricking their fingers every five minutes, 24 hours a day for three months and then just take the average. They would need a blood transfusion on a weekly basis! I will come back to the role of CGM (or continuous glucose monitoring) a little later.
Why does the A1c suck?
The A1c sucks because it does not tell you anything about the fluctuations in your glucose values throughout the day and night, which is extremely important. If your A1c is high, you know your glucose is on the higher side in general, but you still can have serious, unrecognized low values and would never know it. On the other hand, if your A1c is low, you are probably having a lot of lows but with no clue what time of day, and be fooled since you are "at goal" with an A1c below 7%.
In addition, there are many situations where the A1c is not accurate. First of all, the laboratory methods of each hospital or clinic may be faulty, and this is not an uncommon situation. At UCSD where I work, the laboratory had an issue measuring the A1c falsely high by 1 or more percentage points. This really upset my patients as the A1c test did not match their glucose values. Having a falsely high A1c is like being falsely accused of a crime and once in your medical records, it is impossible to take out. You will then be labeled as a "bad diabetic" by caregivers who look over your results.
You may also get spurious results if you are African American or pregnant (or both). If you are anemic (low blood count) from kidney disease or other chronic illnesses, the A1c may be artificially low. Sometimes we just cannot figure out why the A1c does not match home or continuous glucose monitoring results.
On the other hand, the availability of CGM has opened our eyes to the inaccuracies of the A1c test, but also has given us new glycemic indices or ways to measure how our diabetes management is doing. A typical CGM will give you and your HCP the average glucose value and SD (standard deviation or degree of bounce) over the past three months, made up of 25,920 values if you wear your CGM 24/7.
You can get an extremely accurate estimate of your A1c simply by plugging it into this formula:  eA1c = (average glucose + 46.7) divided by 28.7,  or you can also go online and plug your average glucose value into this eA1c calculator: https://professional.diabetes.org/diapro/glucose_calc
This is my famous quote so pay attention:
"The most accurate way to measure the average glucose over the past three months is to measure the average glucose over the past three months!"
And now we can do it with CGM devices.
The CGM downloads now all give a measurement called TIR or Time in Range. It is defined as the time spent between 70 and 180 mg/dL. It simply is a measurement of the ups and downs over a period of time. TIR really says it all as it typically gives the percentage of time above 180 and below 70 (see diagram – the yellow section is time spent above 180 mg/dL, the green is between 70 and 180, the red is below 70 and the gray is below 55.) It also relates to how much you are fluctuating throughout the day and night. A good TIR is 70%, and folks on the artificial pancreas systems are getting in the 90% range!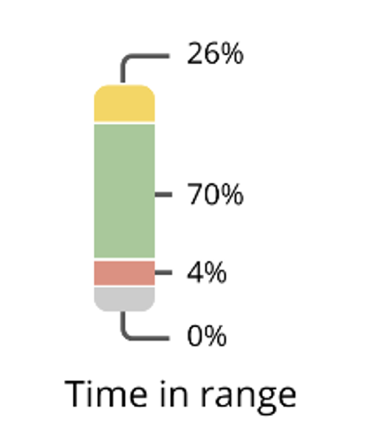 When I see patients in my diabetes clinic, I look immediately at their average glucose, standard deviation and TIR. Not everyone has a CGM and not everyone needs one, but every type 1 should have one. If you have type 2, are NOT on insulin, have a great A1c and are not taking any medications that cause hypoglycemia, you probably do not need a CGM and the A1c will be important. It is a new era of looking at time in range, which is so important to us folks living with diabetes compared to the A1c.
Additional Resources:
5 Ways to Turn Your A1c Into Action
Which Is Better…a Lab A1c Test or the Estimated A1c (GMI) from a CGM?
How to Improve Your Time in Range Solely by Adjusting Your Alerts and Alarms!
The Benefits of CGM and Time in Range for People with Type 2 Diabetes
How Does Time in Range Affect Quality of Life?
Facebook Live: Everything You Need to Know about CGMs