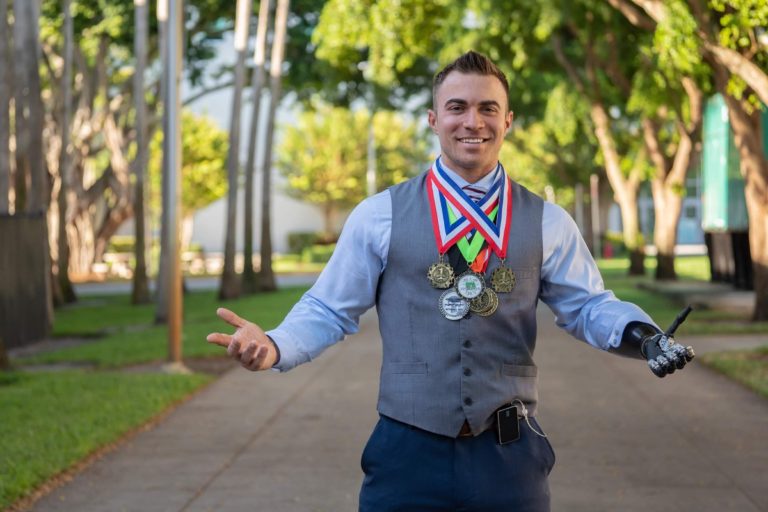 Chris Ruden just can't help himself. He is so naturally motivating, he could make balancing a checkbook seem inspiring, entertaining and exciting. This wasn't always the case, however, and things did not always go so easily for him. Born with only two fingers on his left hand and a shorter left arm, it's an understatement to say he faced his share of challenges growing up. He was bullied his entire childhood, he struggled with depression, and he felt for a long time that being born with a disability was his fault. His condition had such an impact on his confidence and self-esteem, he turned to alcohol and drugs his freshman year of college to mask his insecurities.
As if struggling with a visible physical congenital disorder and everything that went along with it wasn't difficult enough, he was diagnosed with type 1 diabetes when he was 19 years old. After his diagnosis there was a moment when he thought, Am I just a disabled diseased person? Am I a bad person because of these things that are happening to me? Is this my fault?
But then something shifted in his perspective, and he decided he didn't want another health condition to define him. His diabetes diagnosis became a catalyst to change the way he thought about his life.  He knew he had to stop destroying himself and start making positive changes. "When you go through enough pain, struggle or adversity, you're positioned with a fork in the road. Are you going to take this challenge and make something of it? Are you going to turn the obstacle into an opportunity, or are you going to let it crush you? I felt like the choice was obvious because I didn't want to be labeled as a person who was just disabled or just diabetic. I refused to accept those labels for myself because I felt like I could do more, and that I could help other people too."
He began educating himself about diabetes as well as his limb difference. He quickly developed a passion for health and fitness and ended up changing his major from political science to exercise science and health promotion. "I found my true passion through my obstacle. The obstacle in the way became the way. And just as I used my diagnosis as a tool to improve myself, I also began using my physical condition as a motivator. Instead of using it as an excuse to limit myself, I used it as a reason to do and achieve more."
Chris focused his personal fitness goals on powerlifting, and he went on to break four state records as a disabled type 1 diabetic powerlifter. He also started becoming an advocate for both the disability and diabetes communities online, building up a huge following on YouTube, Facebook, Instagram and Twitter.  In 2018, NBC recruited him to compete for a spot on a fitness competition TV show called The Titan Games, hosted by Dwayne "The Rock" Johnson. He was selected over 100,000 people to be on the show, and although he didn't win his episode's competition, he was thrilled with the opportunity to share his message that limitations are self-imposed.
"My disability and my diabetes diagnosis are not my fault, but what I do with them are my responsibility. I choose to advocate for better quality of life through the way we think. Diabetes is not the problem, it's the way we think about it. It's the little habits we have or don't have, the thoughts we constantly think or don't think – small habits lead to big change. You can check your sugar one extra time a day. You can eat a little bit better one extra time a day, and that will add up over a year…two years…twenty years. But if you don't do those things, there's that concept of death by a thousand pokes. You don't notice it's a problem until it's a major problem. And it's only a major problem because it was a minor problem for years."
Coaching people in their health and wellness journey has also become one of his biggest passions, and it inspires him to manage his own condition even better.
"I love being able to see someone get that lightbulb moment where they realize, 'I'm in a little bit more control than I thought I was.' I think the easiest way to be happier is to help someone else. And you keep yourself accountable because you're much more likely to take care of yourself when you feel like other people are leaning on you. That's what motivates me to this day. I value helping other people so much that I want to make sure I become the person I never had growing up."
Chris is on a few different insulin regimens, but he tracks through his Senseonics' Eversense CGM regularly so he's aware of his numbers and trends going into training or a competition. He also stresses the importance of mental health and wellness, knowing that it takes effort just like diabetes management takes effort. "Diabetes is not a daily disease, it's a minute by minute condition, and the goal is to just improve quality of life. I am not an A1c chaser, I'm not a perfection blood sugar line chaser, I'm a quality of life chaser. I create a mindset and a lifestyle that helps it come to me rather than me chasing it all the time, and that's just me changing my habits, changing my thoughts, focusing on what I can control and not worrying about all the things I can't."
With over 5.7 million views on YouTube and over 57,000 followers on Instagram, Chris uses his platform and speeches to increase diversity and inclusion around the world. He continues to  advocate for fitness, diabetes management, and the power of a positive mindset in overcoming any limitation.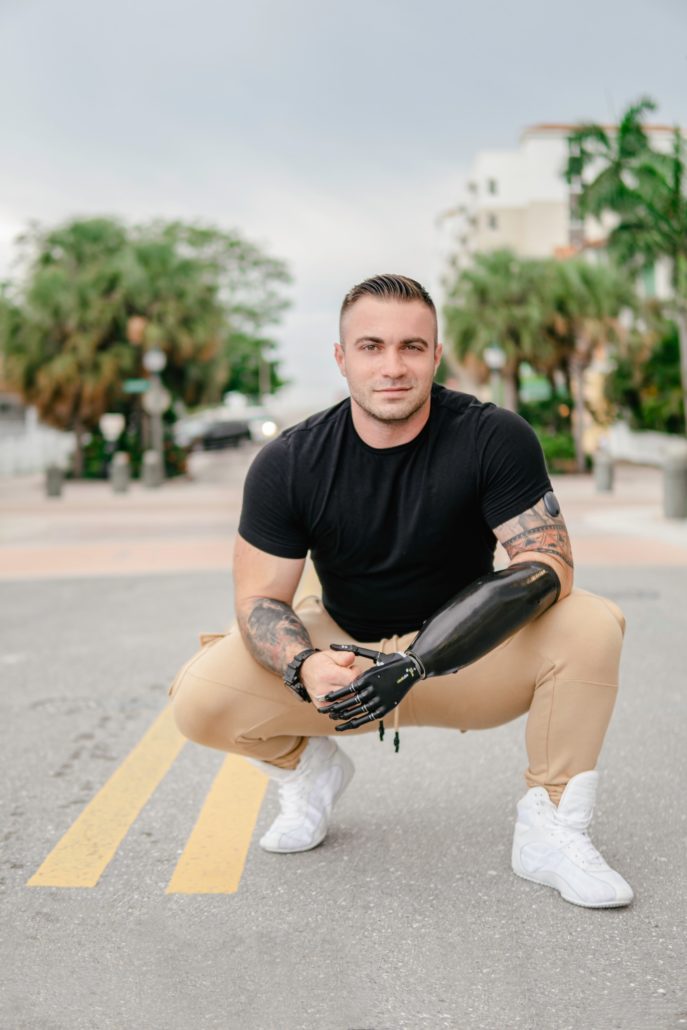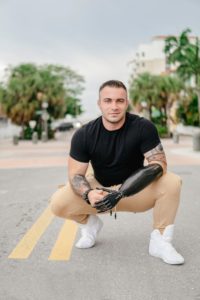 When he's not intentionally (or inadvertently) inspiring everyone who comes in his path, you can find him online:
Website:
Twitter
https://twitter.com/ChrisRuden
Facebook
https://www.facebook.com/ChrisRudenOfficial/
Instagram
https://www.instagram.com/chrisruden/
Youtube
https://www.youtube.com/chrisruden
LinkedIn