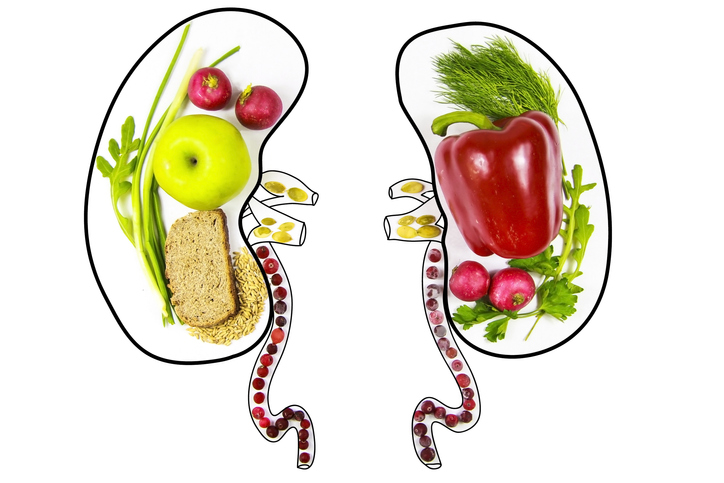 Dear Doctors,
What kinds of foods are best to eat to protect your kidneys? Also, what foods should you eat or avoid if you have diabetic kidney disease?
Dr. Bethany Karl:  Great questions as we celebrate the holidays with food and cheer!
If you have diabetes and have NOT been diagnosed with diabetic kidney disease or chronic kidney disease, you should follow the general recommended diet for people with diabetes. Eating a diet to best control your diabetes will be protective to your kidneys.
If you HAVE been diagnosed with diabetic kidney disease or chronic kidney disease (CKD) you may need to modify your dietary choices more. It is important to discuss your lab results with your physician, particularly your potassium and phosphorus levels since they will be important to avoid in CKD. There is no good evidence to restrict foods high in these electrolytes unless your kidneys are having difficulty managing the dietary intake. Foods high in potassium are great for lots of other reasons, a good source of essential vitamins and nutrients as well as have been shown to help lower blood pressure, so restriction should only be started if necessary (high levels on your laboratory results) through direction of a physician. Most patients with kidney disease should watch the salt content of their diet. A specific sodium limit should be individualized and discussed with your physician. Everyone will have their own goals for salt intake. What you can avoid are proteins in the diet that are heavily animal based. Studies support that diets focused on plant-based protein (whole grains, nuts, fruits, and vegetables) keep kidneys healthy and I have seen this repeatedly in my patients who are able to make that BIG lifestyle change from frequent red meat consumption to plant-based options…go Beyond Burger!
Helpful Resources:
National Kidney Foundation: Kidney Basics > Diet & Nutrition
Healthy Foods, Foods to Avoid & Dining Out Guides:
https://www.davita.com/diet-nutrition
Kidney Friendly Recipes:
https://www.davita.com/diet-nutrition/recipes
UCSD (University of California San Diego) CKD Clinic Educational Videos: