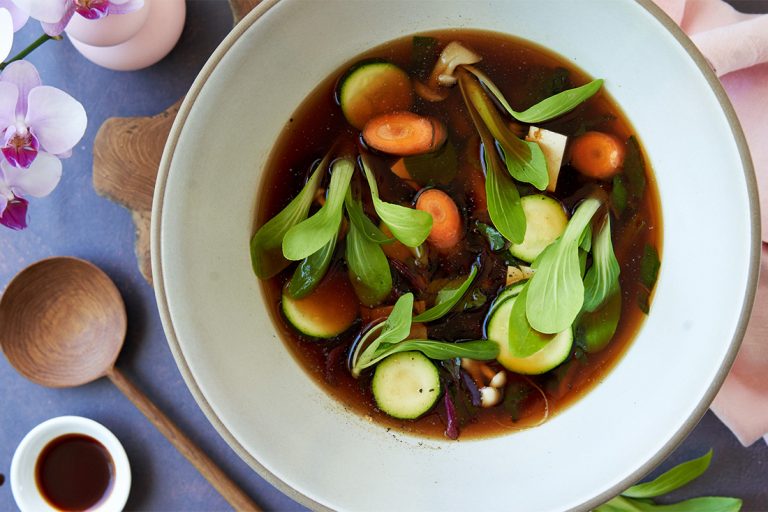 Jennifer Shun is the parent of a type 1 diabetic teen and is the author of For Good Measure, which features low-carb, farm-to-table California cuisine — a resource with specific ingredient lists and nutritional data geared to people living with diabetes. Click here for the original recipe and notes.
YIELD: 8
Ingredients:
1 large piece of kombu
6 cups water
5 garlic cloves, smashed
¼ cup ginger root, peeled
1 ½ cups carrots, sliced
2 cups chard, chopped
1 teaspoon olive oil
1 cup white beech mushrooms
2 cups zucchini, sliced
4 tablespoons red miso
3 cups firm tofu, cubed
1/4 cup scallions, chopped
Directions:
In a large stockpot, combine kombu and water.

Simmer on medium for 30 minutes.

Discard kombu, adding garlic and ginger to broth.

Simmer on medium for 30 minutes.

Discard garlic and ginger, a

dding carrots and chard to broth. Simmer for 5 minutes.

Meanwhile in a small skillet over medium heat, add olive oil and mushrooms, sautéing until golden.

Add zucchini to broth. Simmer 5 minutes until just tender.

Meanwhile, add miso paste to a small bowl.

Temper miso with ½ cup of hot broth, stir until dissolved.

Add tempered miso to stockpot, stir until combined.

Add cooked mushrooms and tofu.

Remove from heat.

Top with scallions & serve immediately.
Naturally low-carb & gluten-free.
Nutritional Info for 1 serving (1 cup):
Calories: 94, Fat: 3g, Carbs: 9g, Fiber: 2g, Sugars: 4g, Protein: 9g