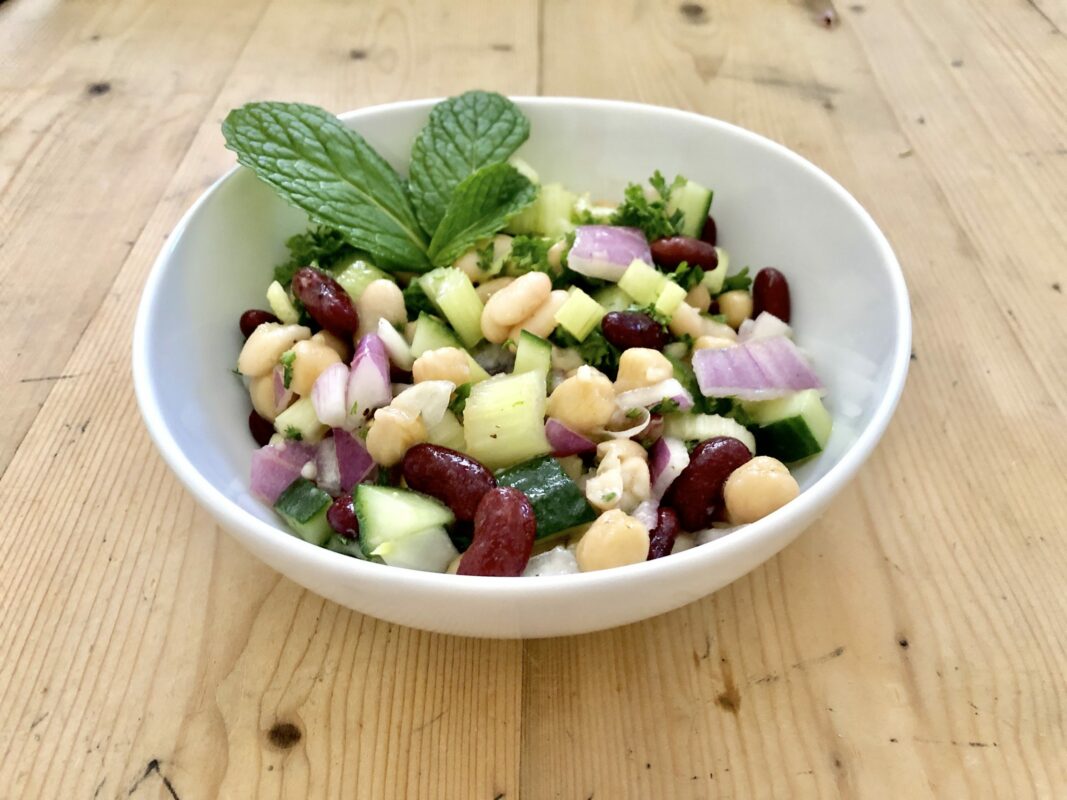 "Beans, beans, the magical fruit…"   "Beans, beans, good for the heart…"
Even though beans can have some "after-effects" as these popular jingles suggest, beans are magical in that they are healthy, filling, and full of fiber.
This light and colorful Mediterranean-style 3-bean salad, created by our CME Manager Sarah, is the perfect hearty side-dish any time of year because canned beans are always in season.  🙂   As Sarah mentions, be sure to rinse the beans well to reduce the sodium content. Rinsing can reduce the sodium by 41%.
Yield: 10 servings
Ingredients: 
1 can garbanzo beans
1 can kidney beans
1 can great northern beans (aka white beans or navy beans)
1 bunch parsley
2-3 stalks celery
1 cucumber
1/2 red onion
1/2  cup apple cider vinegar
1/4  cup olive oil
2 tablespoons sugar free sweetener (I used Swerve, but you can also omit it for a tangier dressing)
1 teaspoon sea salt
1/2 teaspoon black pepper
Directions:
Drain and rinse all three cans of beans. Allow them to dry for a bit and then add them to a large bowl.
Finely chop the onion, celery, and parsley, and add them to the bowl.
Cut the cucumber lengthwise and use a spoon to scoop out the seeds/center to decrease the moisture in the salad. Then slice and chop it into small cubes and add them to the bowl.
For the dressing, combine the apple cider vinegar, olive oil, sugar (if using), salt, and pepper, and mix together. Add it to the bowl and use a large spoon to toss the salad until its evenly coated.
Nutritional Info for 1 serving (1 cup):
Calories: 175, Fat: 6.5g, Carbs: 22 (16.5 net) Fiber: 5.5g, Sugar: 2g, Protein: 7.5g