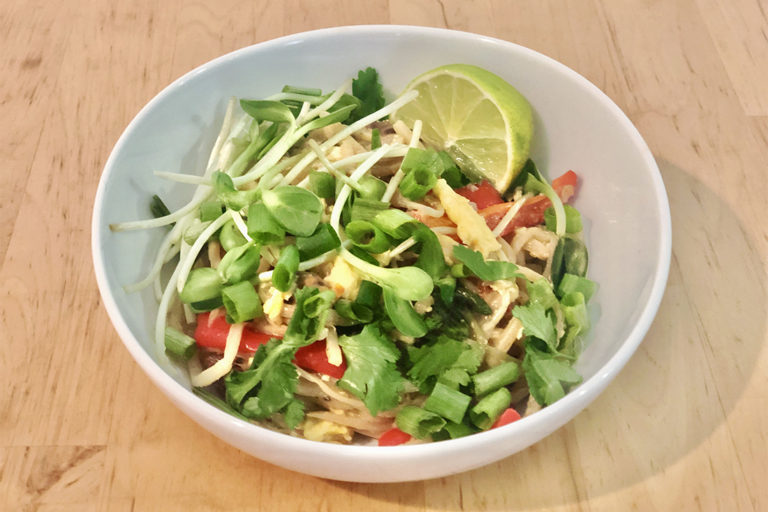 This lightened up version of the popular Thai dish is made with hearts of palm "pasta" that keeps our hearts and blood sugars happy.
Servings: 2
Ingredients:
1 9-oz package hearts of palm noodles
2 eggs
1/2 red bell pepper
1 tablespoon minced garlic
2 tablespoons sesame oil
1 cup bean sprouts
For the Sauce:
2 tablespoons nut butter
1 tablespoon coconut aminos
2 tablespoons rice vinegar
3 tablespoons fish sauce
For the Garnish:
Green onion
Cilantro
Lime wedge
Directions:
Rinse the hearts of palm pasta in cold water and allow to drain.
Mix all sauce ingredients in a separate bowl.
Heat sesame oil in a pan, add sliced red pepper and minced garlic, sauté for a few minutes.
Add two eggs and use a spatula to continuously scramble/mix with the veggies.
Add in hearts of palm noodles, bean sprouts, and sauce, mix to coat evenly.
Transfer to bowls and garnish with green onion, cilantro, and a lime wedge.
Approximate nutrition per serving:
Calories: 340, Fat: 27g, Carbs: 16g, Protein: 14g