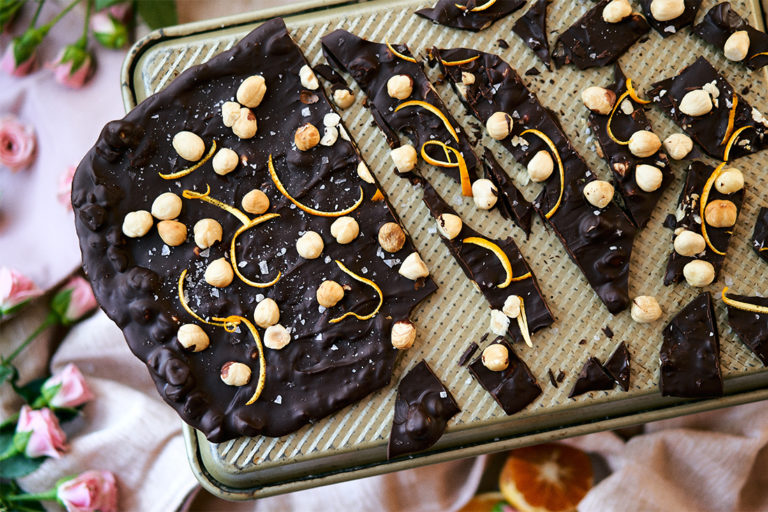 Jennifer Shun is the parent of a type 1 diabetic teen and is the author of For Good Measure, which features low-carb, farm-to-table California cuisine — a resource with specific ingredient lists and nutritional data geared to people living with diabetes. Click here for the original recipe and notes.
YIELD: 16
Ingredients:
9 ounces 85% dark chocolate
1 cup hazelnuts, skins removed & chopped *
¼ cup orange zest, finely sliced
¼ teaspoon sea salt
Directions:
Line a small rimmed baking sheet with parchment, refrigerate.
Break apart chocolate into small pieces.
Set a double boiler over medium heat. **
Add chocolate pieces and stir occasionally until melted. Remove from heat and add ½ cup hazelnuts & ⅛ cup orange zest, stirring until combined.
Pour chocolate mixture onto prepared sheet.
Sprinkle remaining hazelnuts, orange zest & sea salt over surface.
Refrigerate for 30 minutes, until set. Break into quarter-sized pieces. Store refrigerated in an airtight container.
Naturally low-carb & gluten-free
* To remove bitter skins, heat oven to 400 degrees. Lay hazelnuts in a single-layer on a rimmed baking sheet. Roast for 10-15 minutes, until skins have darkened, mindful not to burn nuts. Place roasted nuts in a clean kitchen towel & rub until skins flake off. Repeat roast and rub process until all skins are removed.
** If you do not have a double boiler, simmer a few inches of water in a medium saucepan, fit a glass bowl inside, ensuring water does not enter the container.
Nutritional Info for 1 serving (2T):
Calories: 166, Fat: 14g, Carbs: 6g, Fiber: 3g, Sugars: 4g, Protein: 3g