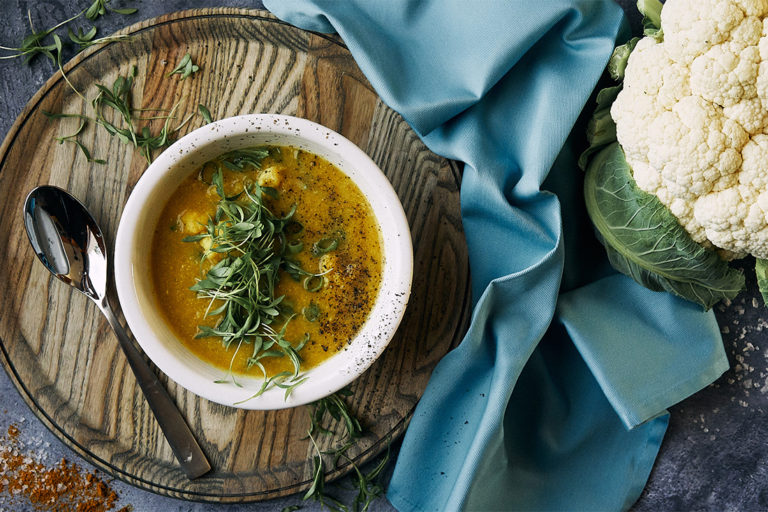 Jennifer Shun is the parent of a type 1 diabetic teen and is the author of For Good Measure, which features low-carb, farm-to-table California cuisine — a resource with specific ingredient lists and nutritional data geared to people living with diabetes. Click here for the original recipe and notes.
YIELD: 6
Before you begin, please note you will need an immersion blender or processor for this recipe.
Ingredients:
1 tablespoon olive oil
1 cup yellow onion, rough chopped
2 teaspoons garlic, minced
2 teaspoons curry powder
½ teaspoon black pepper
¼ teaspoon turmeric
4 cups cauliflower, cored & rough chopped
4 cups low sodium vegetable stock
2 teaspoons salt
¼ cup cilantro, chopped
¼ cup scallions, chopped
Directions:
On medium heat, warm olive oil in a Dutch oven.
Add onion, cooking until soft, about ten minutes.
Add garlic, stir until fragrant, about one minute.
Add spices, stir until fragrant, about one minute.
Add cauliflower, vegetable stock & salt, stir to combine.
Bring to a boil. Cover and reduce heat to low, simmering for 30 minutes.
Puree soup, preserving some texture, using an immersion blender or processor. Top with cilantro & scallions and serve.
Naturally low-carb & gluten-free
Nutritional Info per Serving (1 cup):
Calories: 61, Fat: 2g, Carbs: 9g, Fiber: 2g, Sugars: 3g, Protein: 1g