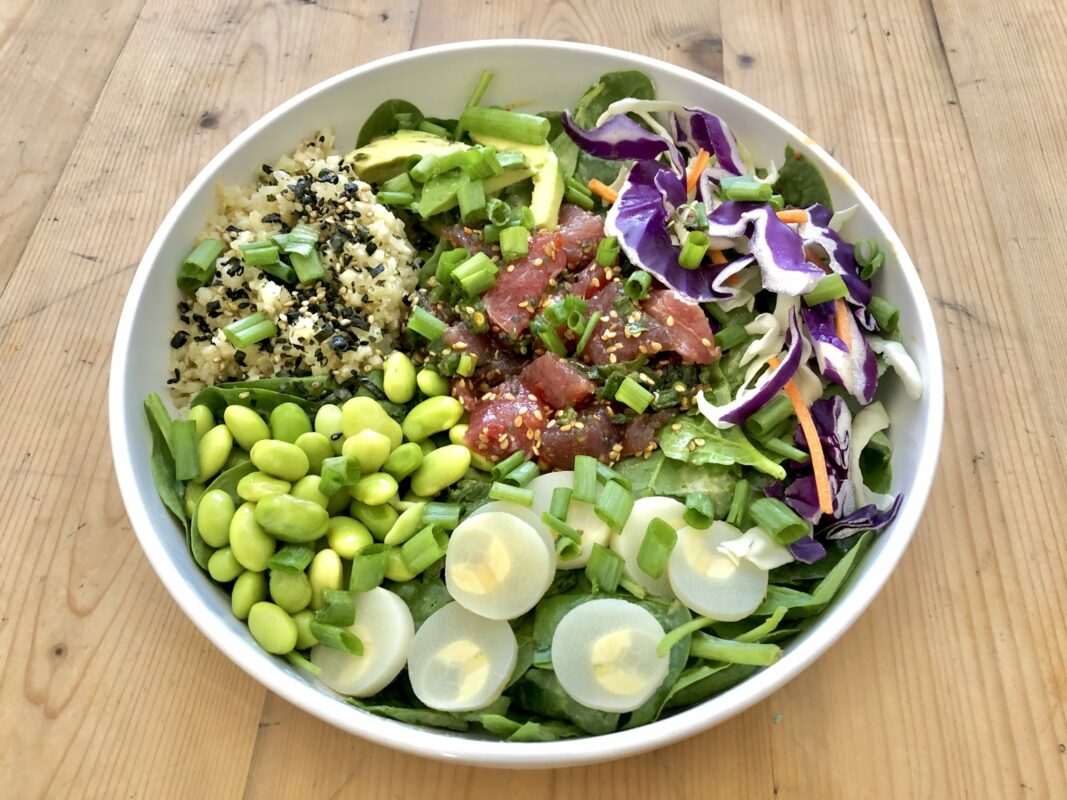 The great thing about a poke bowl (or any type of veggie bowl with optional added protein) is that you can customize it with a variety of fixins. Perfect for solo lunches or dinners, or fun for the family to assemble on their own, it's a feast for the eyes as well as the palate.
Ingredients:
2 cups spinach
¼ cup riced cauliflower
½ cup shredded cabbage/carrot blend (many grocery stores sell a "coleslaw" blend pre-shredded/packaged, or you can substitute with plain shredded cabbage or omit altogether)
½ cup poke (or your favorite protein) – my local Costco has poke pre-made and available, no need to brave the open waters for this!
¼ cup edamame
3 slices of avocado
Sliced heart of palm
Chopped green onion garnish
Furikake seasoning blend
Coconut amino acid (soy sauce substitute)
Rice vinegar (optional)
Cashew dressing from Trader Joe's (optional, or substitute with any Asian flavor light dressing)
Instructions:
The only "cooking" for this recipe is to sauté the riced cauliflower until tender. I sautéed with a little bit of sesame oil for flavor. Sauté for about 5-7 minutes depending on the quantity of cauliflower in the pan, or until tender. You could also steam it to avoid using oils. Allow the cauliflower to cool. Then simply assemble your desired ingredients into the bowl.
Create a bed of spinach.
Lightly drizzle the spinach with your dressing of choice (this one from Trader Joe's has cashew butter, lime ginger, cilantro, red chili).
Add protein of choice. Poke was readily available and pre-made at my local Costco. If this is unavailable to you, feel free to substitute with any protein of your choice, which you may opt to marinate/cook with a simple Asian dressing* or omit and have a vegetarian bowl. You can still get plenty of plant-based protein in any dish from tofu, beans, legumes, nuts, and seeds!
Add a scoop of riced cauliflower with a splash of coconut aminos and rice vinegar, and a sprinkle of furikake seasoning for added flavor (if desired).
Add the edamame, avocado and sliced heart of palm.
Garnish with a sprinkle of finely chopped green onion.
*Homemade Asian style dressing (about a 1:1:1 ratio for oil/vinegar/aminos, or to desired taste and consistency):
Coconut aminos or low-sodium and gluten free soy sauce
Sesame oil
Rice vinegar
Fresh or ground ginger to taste (a little goes a long way!)