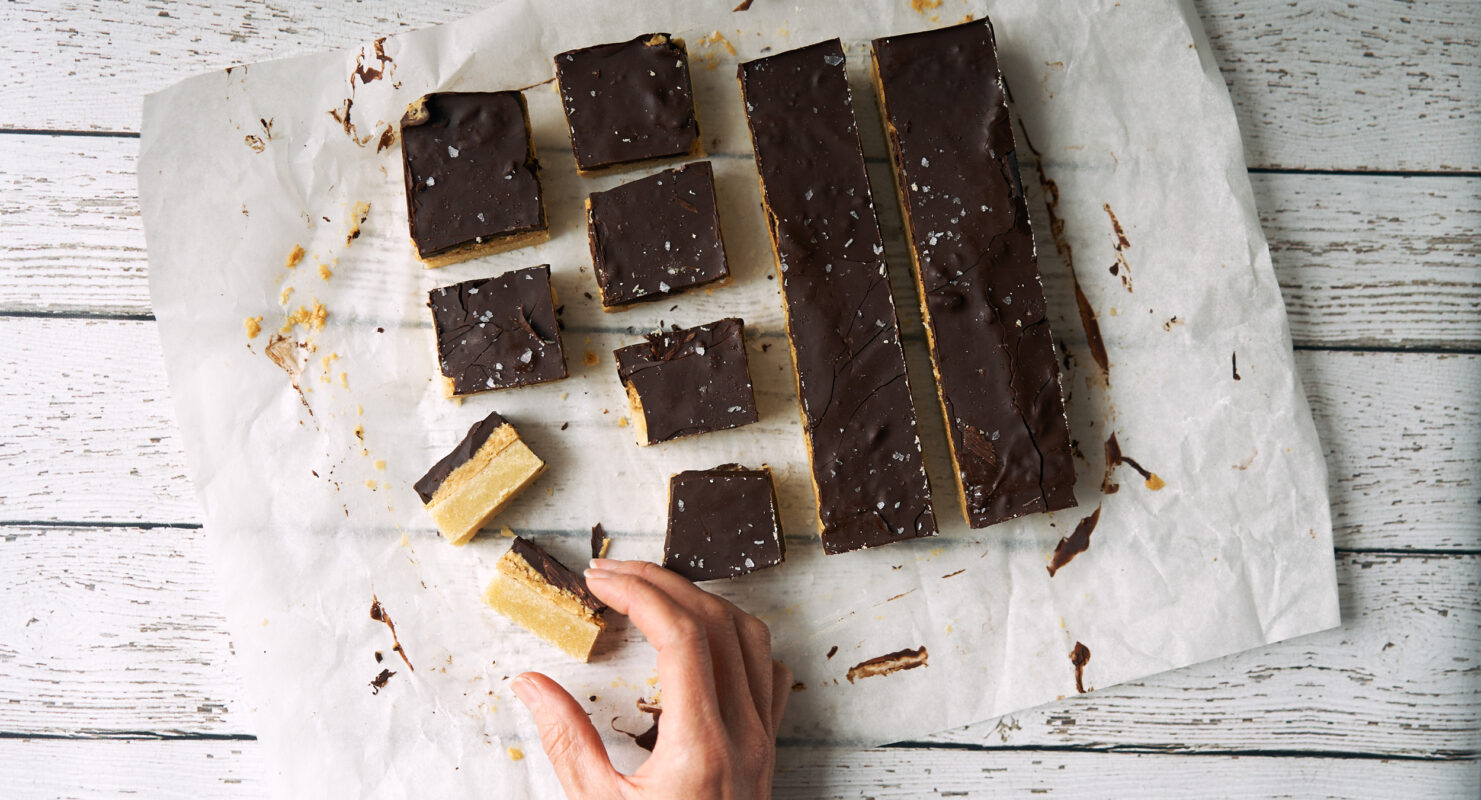 Jennifer Shun is the parent of a type 1 diabetic teen and is the author of For Good Measure, which features low-carb, farm-to-table California cuisine — a resource with specific ingredient lists and nutritional data geared to people living with diabetes.  Click here for the original recipe and notes.
Yield: 16
Ingredients:
1 cup almond flour
½ cup coconut flour
⅓ cup butter, melted
1 ½ tablespoons maple syrup
1 teaspoon vanilla
⅛ teaspoon salt
1 cup peanut butter, warmed
6 ounces 85% dark chocolate
1 tablespoon coconut oil
⅛ teaspoon espresso
¼ teaspoon flakey sea salt
Directions:
Please note, you will need a food processor for this recipe.
Preheat oven to 325 degrees.
Line an 8″ square baking pan with parchment.
Pulse almond flour, coconut flour, butter, maple syrup, vanilla and ⅛ teaspoon salt in processor, until well combined.
Press dough into the bottom of prepared pan, ensuring an even layer to the edges.
Bake 15 minutes, until golden. Remove to cool.
Meanwhile, break apart chocolate into small pieces.
Set a double boiler over medium heat. **
Add chocolate pieces, coconut oil and espresso, stirring occasionally until melted. Once cooled, spread warmed peanut butter over shortbread.
Top with melted chocolate, spreading evenly. Freeze for 5 minutes.
Top with flakey sea salt, returning to freezer until set, about 25 minutes.
Remove parchment sling from pan, slicing shortbread into 16 uniform squares.
Store refrigerated in an airtight container.
Naturally low-carb & gluten-free
**If you do not have a double boiler, simmer a few inches of water in a medium saucepan, fit a glass bowl inside, ensuring water does not enter the container.
Nutritional Information (for 1 bar):
Calories: 268, Fat: 22g, Carbs: 12g (net 7g), Fiber: 5g, Sugars: 5g, Protein: 7g