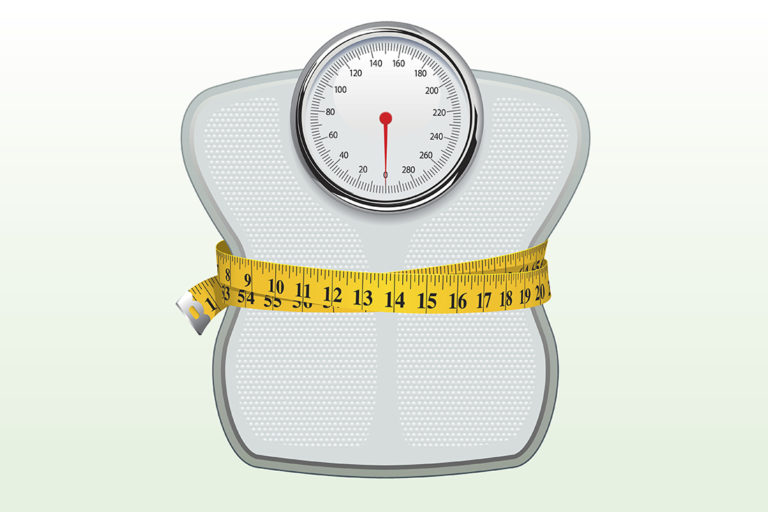 A cornerstone to the management of type 2 diabetes (and related health issues) is achieving and maintaining a healthy weight, especially because type 2 diabetes often coexists with obesity. To that end, diet and exercise are necessary–but frequently not sufficient–to attain and sustain a healthy weight.
There are several medications available to assist this battle of the bulge. Currently approved obesity medications include: orlistat, phentermine-topiramate (Qsymia), and naltrexone-bupropion (Contrave). Now joining these weight-loss medications are glucagon-like peptide-1 receptor agonists (GLP-1 RAs), a new class of medications initially developed for and used in the treatment of type 2 diabetes.
While most GLP-1 RAs are used primarily for type 2 diabetes management, liraglutide (Saxenda) is FDA approved for obesity management. When used for weight loss, higher doses of liraglutide (Saxenda) may result in people experiencing greater weight loss. Notably, however, all GLP-1 RA-class medications (e.g., semaglutide/Ozempic and dulaglutide/Trulicity) improve weight loss and glycemic control, despite not officially being approved to treat obesity.
GLP-1 RAs work by mimicking glucagon-like peptide-1 (GLP-1), a natural incretin hormone that is released into the bloodstream when ingesting food.
GLP-1 RAs Produce the Following Effects:
An increase in the release of insulin
A decrease in the release of glucagon (a counter-regulatory hormone to insulin)
A delay in gastric emptying, and an increase in satiety/fullness
Weight loss with GLP-1 RA medications can be seen in just a few weeks. More importantly, this class of medication is also effective in maintaining weight loss.
FDA-Approved GLP-1 RA for Weight Loss – Liraglutide (Saxenda):
Liraglutide (Saxenda) is a once-daily injection. When used at lower doses for managing type 2 diabetes, liraglutide is marketed under the name Victoza. In this setting, liraglutide (Victoza) typically is started at a dose of 0.6mg/day, with weekly increases of each daily dose by 0.6mg for five weeks, as tolerated. However, when liraglutide is used at higher doses as a weight-loss medication, it is marketed under the name Saxenda. In this setting, Saxenda may be titrated up to a dose of as much as 3.0mg/day, if tolerated. An injector pen is used for multiple doses of Saxenda and it may be stored at room temperature for up to a month.
Weight loss seen with liraglutide (Saxenda) is dose-dependent, with higher doses associated with greater weight loss. In the SCALE diabetes randomized clinical trial, people taking liraglutide (Saxenda) who dosed at 3.0mg/day for 56 weeks lost an average of 6.4 kg (14.11 lb), while those not taking the medication lost 2.2 kg (4.85 lb) during the same period.
Other GLP-1 RAs for Diabetes That Also Help with Weight Loss:
Trulicity (dulaglutide) is a once-weekly injection dosed at 0.75mg, 1.5mg, 3.0mg, or 4.5mg. The AWARD-11 clinical trial evaluated the efficacy of higher-dose dulaglutide on weight reduction in people with type 2 diabetes. The trial found that dulaglutide at its maximum dose of 4.5mg weekly was associated with a 10.4% decrease in weight, and a 1.9% reduction in HbA1c.
Ozempic (semaglutide) is a once-weekly injection dosed at 0.25mg, 0.5mg, or 1.0mg. The STEP 2 clinical trial looked at the impact of semaglutide on weight reduction in people with type 2 diabetes over a 68-week period. The trial found that semaglutide at a 1.0mg dose was associated with a 7.0% reduction in weight and a 1.5% drop in HbA1c. At a higher dose of 2.0mg (not currently FDA approved), HbA1c findings were consistent with the lower dose, but the weight reduction was even higher at 9.6%.
While most GLP-1 RAs are injectables, there is one oral formulation of semaglutide marketed under the name Rybelsus. In this formulation, semaglutide is dosed at 7mg/day and 14mg/day.
Benefits:
The GLP-1 RAs discussed in this article have additional benefits beyond improving glycemic control and weight loss. All three have been shown to lower the risk of cardiovascular events. Further, these three medications slow the progression of diabetic kidney disease.
Considerations:
While GLP-1 RAs have many positive effects, there are some common side effects that are most often gastrointestinal, such as nausea, vomiting, and diarrhea. To minimize the risk of these side effects, these medications are started at the lowest dose and gradually titrated up based on a person's tolerance. Additionally, other diabetes medications known to predispose people to hypoglycemia, such as insulin and sulfonylureas, may require a dose reduction to prevent hypoglycemia. However, GLP-1 RAs do not cause hypoglycemia independently.
Final Thoughts:
A diagnosis of type 2 diabetes is often accompanied by comorbid conditions like obesity. Some medications used for diabetes management can lead to weight gain (e.g., insulin and sulfonylureas). Now, newer agents, like GLP-1 RAs are available. These medications have several benefits including cardiovascular protection and weight loss that extend beyond their glucose-lowering ability.  To find out more, ask your doctor about whether adding a GLP-1 RA to your course of care might be right for you.
Additional Resources:
Practical Tips for Weight Management
Wegovy: What Is This New Blockbuster Weight Loss Drug?
Diabetes Medicines That Help Your Waistline and Your Heart
Can Medications Like Ozempic and Mounjaro Reduce Belly Fat?